Zombies are terrifying. Not only are they rotting corpses that have a cannibalistic hunger for flesh, but the fact that they were once human makes them send shivers up people's spine. While frightening audiences, zombies have been used as metaphors to comment on aspects of real life. Film-makers like George A Romero, who shaped zombies into what we know them today, is a prime example with many of his films commenting on society. While, film has been the most prominent outlet for the zombie narrative comic books have been the next obvious outlet. The advantage being that you can tell whatever story you like for your budget and the nature of the ongoing narrative has been appealing to many and there have been many successful zombie comics in recent times.
Here are a collection of the the ten zombie comics you should read, especially if you are a fan of the genre.
The Walking Dead
Written by Robert Kirkman, art by Tony Moore and Charlie Adlard.
Most of people reading this article will be familiar with The Walking Dead, whether it be from the TV Show or the highly successful comic series, and it is definitely worth reading. While it is a zombie comic, zombies become the backdrop and ultimately the bigger threat becomes the survivors themselves. The Walking Dead uses your classic zombie concepts but the further the series progresses begins to add some interesting twists on them, especially when it comes to becoming one.
If you are new to The Walking Dead then here is a helpful article on where to start reading and the various formats the series is collected in.
The New Deadwardians
Written by Dan Abnett, art by I.N.J. Culbard.
The New Deadwardians is a unique take on zombie comics, commenting on the English class system, especially in the Edwardian period. The series follows Chief Inspector George Suttle in a world where the upper-class are vampires and the lower classes are zombies and humans. George must investigate a string of murders in the upper-class, which is baffling considering everyone is already dead. The series is full of mystery, while at the same time using zombies and vampires in a way that hasn't been seen before.
The New Deadwardians was an 8-part miniseries that has been collected all together in a single trade paperback.
Marvel Zombies
Written by various authors, art by a variety of artists.
Have you ever wanted to see all your favourite Marvel superheroes as zombies? Then Marvel Zombies is for you. Marvel Zombies is a string of miniseries and one-shots featuring a large cast of zombified superheroes from fan-favourites to the obscure. I suggest reading the earliest miniseries first as they have the greatest shock value.
Marvel Zombies is collected in a variety of trade paperback collections as well as a massive omnibus collection.
Zombies Vs Robots
Written by Chris Ryall, art by Ashley Wood.
The title gives you a good indication as to what this zombie comic is about. Why are they fighting? To protect the last living human baby. Visually, this zombie comic has created an interesting world with crazy robot designs and a bleak post-apocolyptic landscape. The series also uses wild ideas from robots that can reassemble themselves at the push of a button to Zombietaurs (a zombie Minotaur).
Zombies Vs Robots is available in a complete trade paperback collection.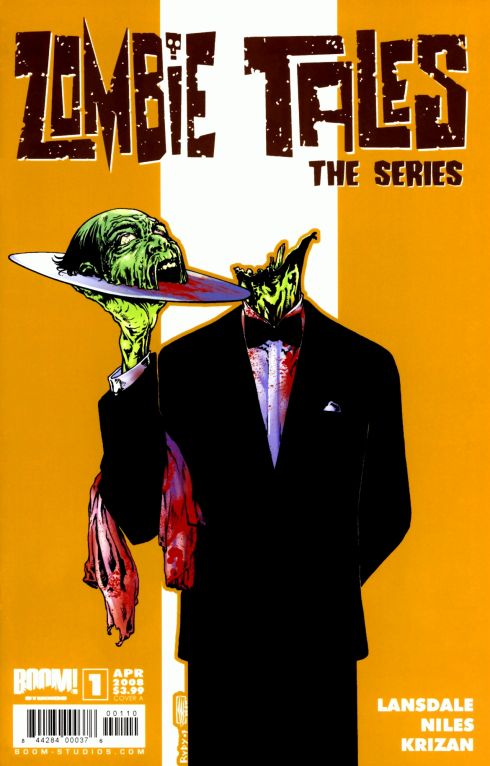 Zombie Tales
Written by various authors, art by a variety of artists.
Zombie Tales was an anthology series that contained short stories all about zombies. The series featured many top writers and artists including Steve Niles, Monte Cook, Ming Doyle and many more.
Zombie Tales is collected in one trade paperback collection.
iZOMBIE
Written by Chris Roberson, art by Mike Allred.
Gwen is zombie, but in order for her to pass off as a normal person, as well as keep her memories and intelligence, she must eat a brain a month. This is not hard when you work as a grave digger. Although, when Gwen eats a brain she receives some of that person's thoughts. Using these thoughts, she teams up with an array of odd characters to fulfil the recently deceased final wishes.
iZOMBIE ran for 28 issues and is collected in four trade paperback collections.
28 Days Later
Written by Michael Alan Nelson, art by a variety of artists.
Technically 28 Days Later was not a zombie film, but it used a lot of the themes and ideas of a zombie film. In 2009 Boom! Studios released a 28 Days Later comic series that bridged the gap between the movie and its sequel, 28 Weeks Later. If you enjoyed the films then you will most likely enjoy this series.
28 Days Later ran for 24 issues and is collected in six trade paperback collections.

Night of the Living Dead
Written by Mike Wolfer, art by John Russo.
Based upon the classic film by George A Romero, Night of the Living Dead comic first serving as a prequel. Being published by Avatar Press, this zombie comic has lots of gore. So if gore is what you look for in a zombie comic then this is the series for you.
Night of the Living Dead is published in five trade paperback collections.
Fanboys Vs Zombies
Written by Sam Humphries, art by Jerry Gaylord.
Fanboys Vs Zombies is a zombie comic about what would happen if there was an outbreak at Comic-Con. The series follows a group of nerds who must use everything they have learnt through pop-culture in order to survive.
Fanboys Vs Zombies is a currently running series and, at the time of writing this, is up to issue #19 and is collected in 3 trade paperbacks.
Revival
Written by Tim Seeley, art by Mike Norton.
Not strictly a zombie comic, but Revival does use a handful of ideas from the genre to create a "rural noir." Revival tells the story of a small in rural Wisconsin that suddenly has all the dead come back to life. Although not as zombies but as living people.
Revival is a currently series, that at the time of writing this, is up to issue #14 and has been collected in two trade paperback collection. You can read Read Revival #1 for free.
Do you have a favourite zombie comic?
If you do, let me know in the comments below or via Facebook or Twitter.
Trevor Van As
Trevor Van As is the founder of How to Love Comics and has loved comics all his life. When he's not reading or talking about comics he can be found eating frozen yogurt and dancing like no one is watching.