Over the years, Loki has been many things – a villain, a god of mischief, a god of stories, a presidential candidate, Tom Hiddleston, and a child who's too smart for his own good. With these identities and phases, there are many fantastic comic stories from early Thor comics to the modern day.
Are you interested in reading some Loki stories due to the Marvel Cinematic Universe? Luckily, you've come to the right place. This list spotlights eight of the best Loki comic stories. In these, sometimes he's a villain. Other times, he's a heroic trickster. But what they have in common is that they're fantastic reads.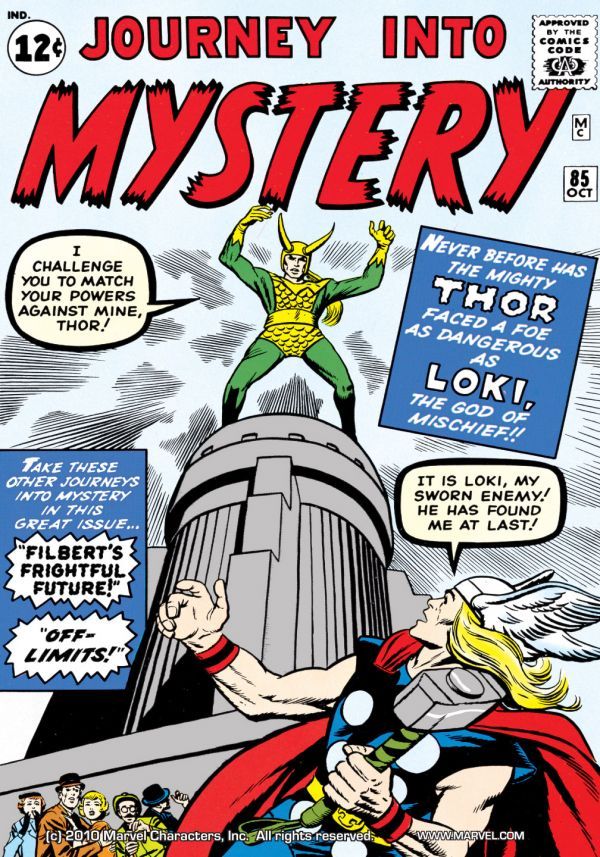 Trapped By Loki, The God Of Mischief
Written by Stan Lee and Larry Lieber. Art by Jack Kirby.
In his first appearance, we're introduced to the mischievous god trapped in a tree – somewhat inspired by Norse mythology, albeit a less gruesome version – as he tricks himself into freedom. Once free, he decides to take his revenge on Thor in Midgard. The result is a series of escalating trickery that stops Thor from using strength to win the day.
Loki quickly positions himself as one of Thor's greatest foes. Instead of brute strength, like previous Thor villains, he uses trickery to get the upper hand – even if that means putting others in danger.
Issue: Journey Into Mystery #85
Trade paperback: 'Thor Epic Collection: The God of Thunder' or 'The Mighty Marvel Masterworks: The Mighty Thor Volume 1 – The Vengeance of Loki' or 'The Mighty Thor Masterworks Volume 1'
Buy: Amazon/Kindle | eBay
The Trials of Loki
Written by Roberto Aguirre-Sacasa. Art by Sebastian Fiumara.
This four-part miniseries delves into how Loki became a villain and fell out of favour with the gods. He begins as well-liked – but the butt of many jokes – and evolves into the twisted being we know him to be. You'll see what motivates him to go down this path and what he's willing to do to reach his goals.
As well as acting as Loki's dark origins, The Trials of Loki gives a crash course in Norse mythology. Aguirre-Sacasa sprinkles various legends throughout, making a richer narrative that builds the world around Loki and other cast members.
Issues: Loki (2010 series) #1-4
Trade paperback: 'Thor: The Trials of Loki' or 'The Trials Of Loki: Marvel Tales'
Buy: Amazon/Kindle | eBay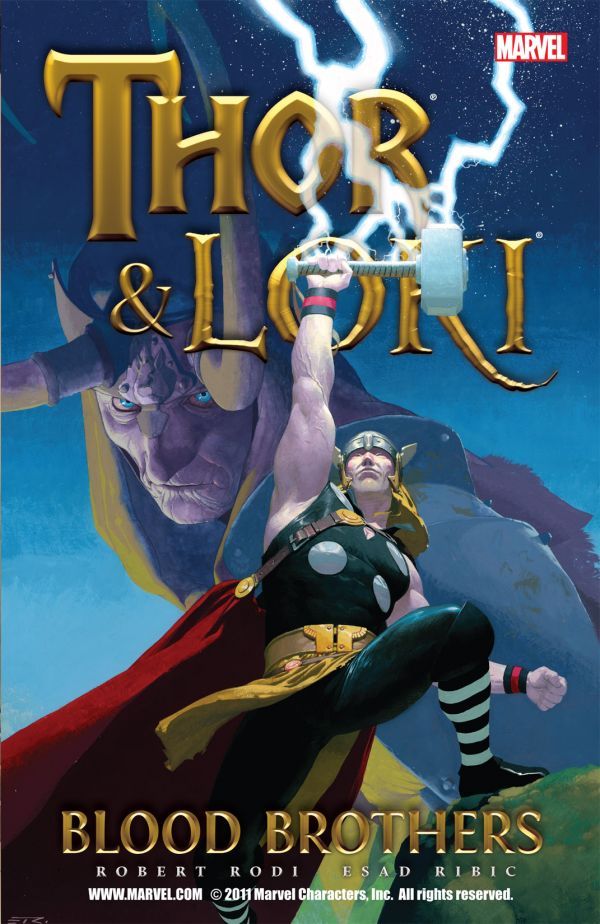 Blood Brothers
Written by Robert Rodi. Art by Esad Ribic.
Loki finally gets what he wants – the Asgardian throne. Now that he has it, he has to deal with all the responsibilities that come along with it. Something that he realises isn't all that it's cracked up to be. This four-part miniseries explores Loki's motivations and how they've twisted through his experiences into a ball of bitterness. This creates unnecessary conflict as a ruler, especially when it concerns Thor.
Esad Ribic, still relatively unknown at this stage, is a marvellous fit for this story. His painted style matches the fantasy setting, with a strong understanding of light and shadow, allowing for atmospheric scenes that add to the drama. Ribic depicts Loki as leather-faced with twisted features, reflecting the bitterness and hate that he feels inside.
For those curious, Blood Brothers was adapted into a motion comic during that short period when they were all the rage.
Issues: Loki (2004 series) #1-4
Trade paperback: Thor & Loki: Blood Brothers
Buy: Amazon/Kindle | eBay
Thor Croaks
Written and art by Walter Simonson.
Odin is missing, presumed dead, with Thor and Loki the candidates to replace him as the new leader of Asgard. Loki takes advantage of this by turning Thor into a frog and leaving him on Earth. With Thor out of the way, the trickster can work his charm to manipulate the people into selecting him for the throne.
Walter Simonson depicts Loki as cunning and devious. Loki's plans are intricate and maliciously thought out but can easily be pivoted to his advantage when circumstances arise. Once everything is in place, all that is required is some choice words, a few tricks, and charm to make things happen for him. It's honestly fun to see these plans come together, even if Loki is meant to be the bad guy.
The Thor as a frog parts are tremendous fun as well. So much so that this comic has also made it onto our Thor list.
Issues: Thor #364-366
Trade paperback: 'Thor by Walter Simonson Volume 4'
Buy: Amazon/Kindle | eBay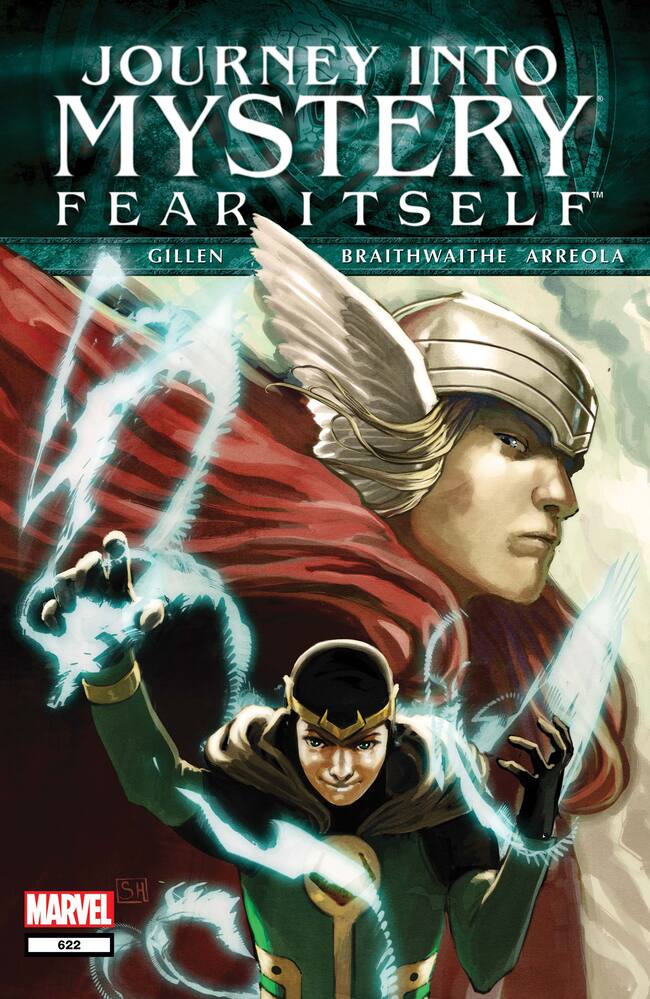 Journey Into Mystery: Fear Itself
Written by Kieron Gillen. Art by Doug Braithwaite and Whilce Portacio.
This selection heralds a peculiar but well-loved period in Loki's history – the one where he was reincarnated as a kid. In this opening arc, set on the backdrop of the Fear Itself event, Kid Loki uses all of his trickery and cleverness to manipulate the forces around him for a noble cause.
The comic explores nature vs. nurture. Kid Loki has many qualities of his old self but has the choice of whether he should do evil acts. Instead, he opts for a child-like trickery of a boy who's too smart for his own good. This results in a lot of clever storytelling full of twists and surprises.
Although it ties into the Fear Itself event, this story can be read independently. The events parallel, but through clever exposition, it never requires readers to read the main event to understand their story. In fact, the events of Journey Into Mystery enrich those of Fear Itself by giving it more depth by going behind the scenes.
Issues: Journey Into Mystery #622-626, #628-629
Trade paperback: 'Journey Into Mystery by Kieron Gillen: The Complete Collection Volume 1' or 'Loki Modern Era Epic Collection: Journey into Mystery'
Buy: Amazon/Kindle | eBay
Trust Me
Written by Al Ewing. Art by Lee Garbett.
Loki has been a villain. He's been a child. Now, he wants to do some good. To do that, he has become an Asgardian equivalent to a secret agent, with every mission he completes allowing for a prior bad deed to be withdrawn from history. That's not to say his scheming and trickery are gone for good. He's just using them in a different outlet.
Ewing and Garbett have crafted a story that's a fusion of genres – combining elements of spy action, mythological fantasy and the Marvel Universe into a coherent narrative. The result is often fun, with weird and wonderful ideas, and one that has plenty of character development for Loki and those around him.
Trust Me is the first arc of the 2014 series Loki: Agent of Asgard. Read a preview of Loki: Agent of Asgard #1.
Issues: Loki: Agent of Asgard #1-5
Trade paperback: 'Loki: Agent of Asgard Volume 1: Trust Me' or 'Loki: Agent Of Asgard – The Complete Collection'
Buy: Amazon/Kindle | eBay
BONUS PICK: If you enjoy Trust Me, I highly recommend reading the rest of Loki: Agent of Asgard. The whole series ran for 17 issues.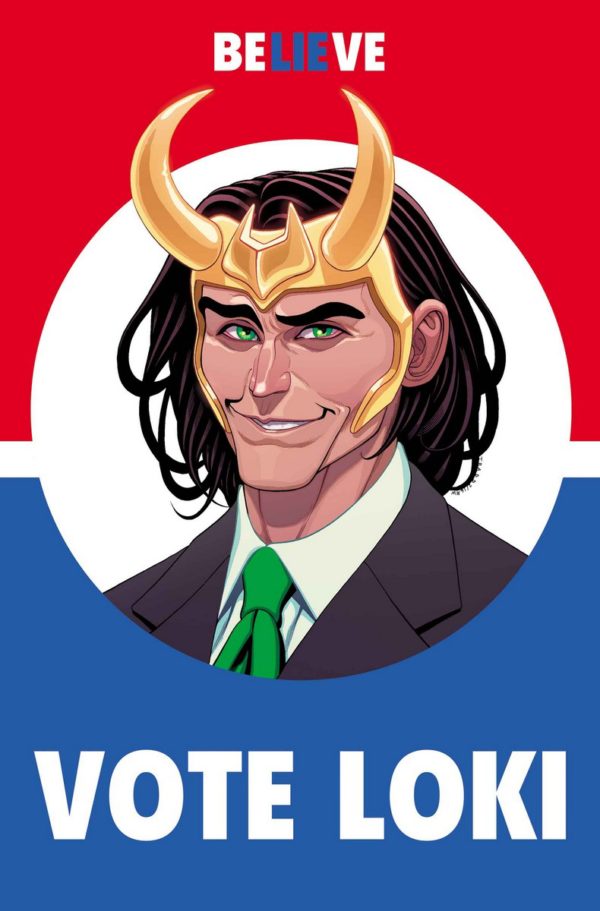 Vote Loki
Written by Christopher Hastings. Art by Langdon Foss.
Loki has tried taking over the Earth through villainous means numerous times. However, this time, he has gone through legitimate means by running for President. Using all his mischievous tricks, Loki plays the political system and the media to his advantage.
Released at the back end of 2016, Vote Loki took inspiration from the 2016 US election. It explores the sensationalism of candidates, with Loki telling people what people want to hear instead of having actual policies or platforms. As a result, it also explores the media circus surrounding elections and how people vote for candidates who may not be qualified.
For those paying attention, a prominent Loki variant in the first season of the Disney+ show was inspired by this comic.
Issues: Vote Loki #1-4
Trade paperback: Vote Loki
Buy: Amazon/Kindle | eBay
Diversions and Misdirections
Written by J. Michael Straczynski. Art by Olivier Coipel.
J. Michael Straczynski and Olivier Coipel level up Loki in this spotlight issue. In it, Loki has gone back and altered the past, including his own, so that he can take advantage of the changes in future issues against his brother Thor.
This story takes steps to align Loki closer to Norse mythology by establishing details not previously in the comics. This includes confirming that Hela is Loki's daughter and the character's gender fluidity, where they're occupying the body of a familiar Thor cast member. These add new dimensions to Loki while not straying away from the Marvel Comics depiction.
Diversions and Misdirections is also a notable pick if you want a truly villainous Loki. The character is at his most evil – going to extraordinary lengths to get revenge on Thor. Coipel draws Loki with a permanent scowl, only stopping to smile when devious plans come to fruition.
Issues: Thor (2007 series) #12
Trade paperback: 'Thor By J. Michael Straczynski Volume 2' or 'Thor Modern Era Epic Collection: Reborn from Ragnarok'
Buy: Amazon/Kindle | eBay
Have your say!
What is your favourite Loki story? Share your thoughts in the comments below or via Facebook, X (formally Twitter), or Mastodon. You can also subscribe to the How To Love Comics newsletter too.