When it comes to horror, there's no one like Junji Ito. He's a master in the genre, with a unique take on body and psychological horror that has disturbed Japanese and Western readers since 1987. His extensive work is imaginative, visceral, and includes shocking concepts with staying power.
Through this Creator Spotlight, I'll discuss what makes Junji Ito the leader in the genre, highlight some of his art, and recommend three books you can pick up if you want to start reading his work.
Perhaps you're familiar in some way with Junji Ito's work. Many of his iconic imagery have been presented online without context for about 20 years or so. On their own, it's wild stuff. Like some of the images in the gallery below, they depict twisted and warped anatomy, disgusting creatures, and weird concepts. It takes an imaginative mind to come up with these kinds of ideas. However, that's only half the equation.
While these images are often presented in isolation online, they work even better in context. Ito builds up to these shocking images, slowly establishing the characters and scenarios. Things will start normal, with an odd element creeping in and building the tension. From there, layouts become denser, with panel compositions having a tighter focus – focusing on an expression of terror or even an eye. It's only then that the shocking image is revealed.
They take up three-quarters to a full page and give Junji Ito enough space to shock readers. The additional real estate allows for more detail through the line work, adding more depth to the subject matter through the density. The result is a fully realised nightmare that will stick with you long after you've closed the book. (I know a particular image in a short story called Greased living rent-free in my mind.)
Check out a selection of Junji Ito's work from his 30+ year career below.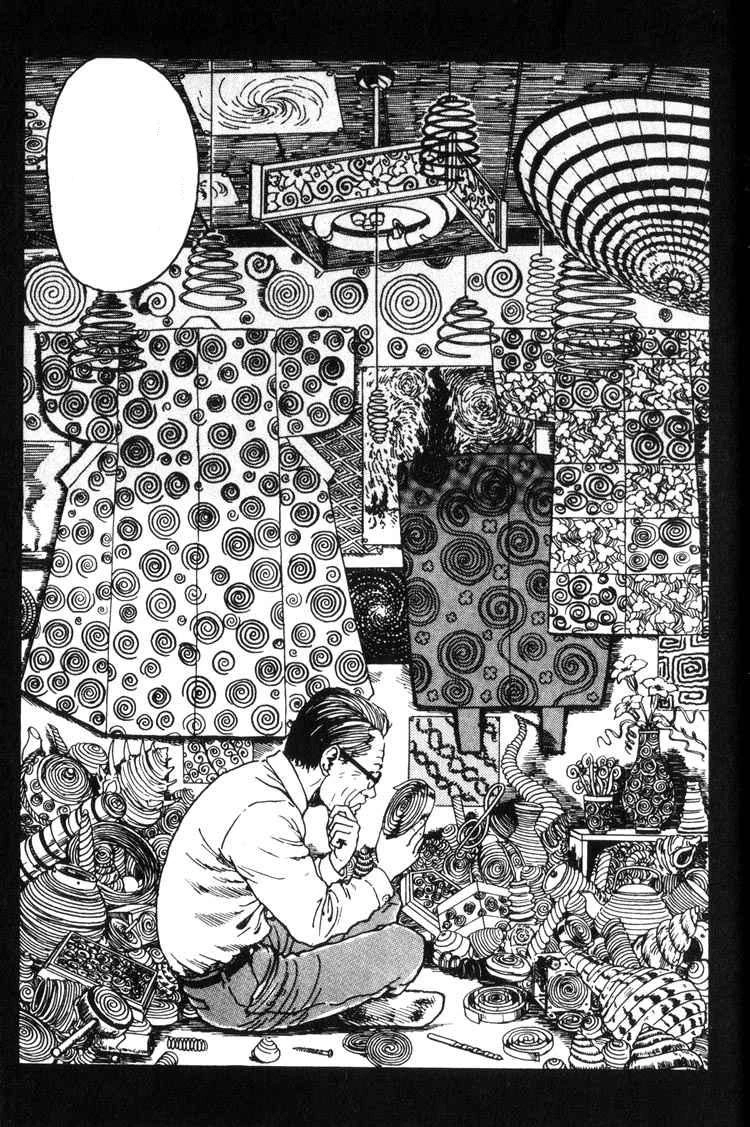 Recommended reading
So, you want to check out some of Junji Ito's work? Take a look below at three books that are a good place to start reading.
Uzumaki
Written and drawn by Junji Ito. Published by Viz Signature.
Junji Ito's most famous work, Uzumaki, centres on a cursed town, which, though a series of loosely connected stories, sees terrifying things happen when a spiral appears. Ito uses this visual motif to explore themes such as obsession, fear, love, and vanity.
From a visual standpoint, this classic manga is not for the faint of heart, with twisted body horror front and centre. While they're often positioned as surprises, being revealed through page-turns, Ito shocks the reader with contorted bodies and bizarre transformations in all their gory detail.
When he's not exposing readers to wild feats of the human body, he's building a sense of unease. This builds over time, but when it reaches a boiling point, the composition of his panels becomes incredibly tight and claustrophobic. Often to the point where a single eye can fill a panel, bulging in fear and rendered with dense linework.
Buy: Amazon/Kindle | eBay
Shiver: Selected Stories
Written and drawn by Junji Ito. Published by Viz Signature.
A large portion of Junji Ito's work consists of short stories. In these, Ito introduces a strange concept, explores it a little, and then leaves the reader with a shocking surprise. Shiver: Selected Stories is by far the best collection of tales, featuring a curated selection by Ito. As a result, these ten stories are an excellent introduction to his short-form work.
This collection includes many notable stories. There's the body horror Shiver; the putrid family drama of Greased; the deeply disturbing Hanging Blimp; the creature feature of Fashion Model; and the exploration of obsession in Used Record. It's a superb showcase of what Junji Ito is all about, highlighting how he takes the ordinary and twisting it into something frightening.
Shiver: Selected Stories features the creator using his unique skills to shock readers through the bizarre, disgust readers with gross details, or straight-up scare with a detailed creature. It makes for imagery, while not always for the faint of heart, that has made him an icon.
Buy: Amazon/Kindle | eBay
Junji Ito's Cat Diary: Yon & Mu
Written and drawn by Junji Ito. Published by Kodansha Comics.
After reading all that horror, you might need to cleanse your palate with something lighter. If so, Junji Ito's Cat Diary: Yon & Mu is the perfect read. Ito takes all the techniques he uses in his horror comics and flips them to create autobiographical gag comics about living with cats.
Due to the nature of this comic, we see Ito exercise different storytelling muscles. While his gag comics tend to require less detail than his horror work, there are times when he will put incredible amounts of detail into how he renders the cats. This is generally for a punchline or to use horror elements as part of a laugh. There is a lot more exaggeration in his character's expressions, not worrying too much about realism, which helps set up and execute many jokes.
Cat people will find plenty to relate to in these comics. But if you're not so much a cat person, it's still worth reading to see the comedic side of Junji Ito.
Buy: Amazon/Kindle | eBay
Have your say!
I've only scratched the surface of Junji Ito's body of work. What is your favourite? Sounds off in the comments below or via Facebook, Twitter, or Mastodon.