The X-Men franchise has gone through radical changes in the past few years. Compelling ideas such as the mutant nation of Krakoa, mutant resurrection, and other concepts have opened the door to countless story possibilities and garnered a dedicated fanbase. As these ideas are explored, the comics have progressed through this bold new era in different phases. These shifts in the meta-narrative have seen a variety of new comics and stories.
The latest phase for the X-Men comics is the ominous-sounding Fall of X that sees Marvel's mutants on the brink of war. The comics will explore this from several directions as many long-stewing plot threads reach a conclusion.
Find out everything you need to know about this phase of X-Men comics. This extensive guide points out the comic books that are part of Fall of X and answers some of the questions you might have along the way.
Tables of Contents
Updating…
This is not the definitive guide on the Fall of X. Instead, it's an evolving document. Marvel will introduce new comics through the phase; series already announced will get more information; and trade paperback collections will need to be added later. These will be added to the guide as they're made available.
Like other guides on the site, this one will be updated regularly over the space of two years or more. I suggest bookmarking it so you can refer back to it over time.
What is Fall of X?
Fall of X is the fourth phase in the Krakoan Age of the X-Men comics. It's not a comic book event, but several comics published from August 2023 onward under the same banner. While a part of it is marketing, allowing these comics to be grouped under a name, it also sees the next stage of the Krakoa era's meta-narrative.
Story details are light at the moment. However, the name "Fall of X" and the above teaser image (referencing the classic Fall of the Mutants storyline) give a sense that everything built over the past few years could come crashing down.
Marvel has mentioned that plot threads from House of X/Powers of X will get a payoff. They didn't mention specifics, but longtime readers can assume there will be a conclusion to long-brewing arcs like Orchis, Nimrod, and more.
Another characteristic of this phase is that – at least based on several launch titles – the X-Men comics will interact more with the wider Marvel Universe. Marvel has traditionally siloed the X-Men from the rest of the comics, opting to have fewer connections with them. Fall of X appears to buck this trend, overlapping with characters and concepts from Avengers, Iron Man, Spider-Man, Thor, Ghost Rider, and Alpha Flight.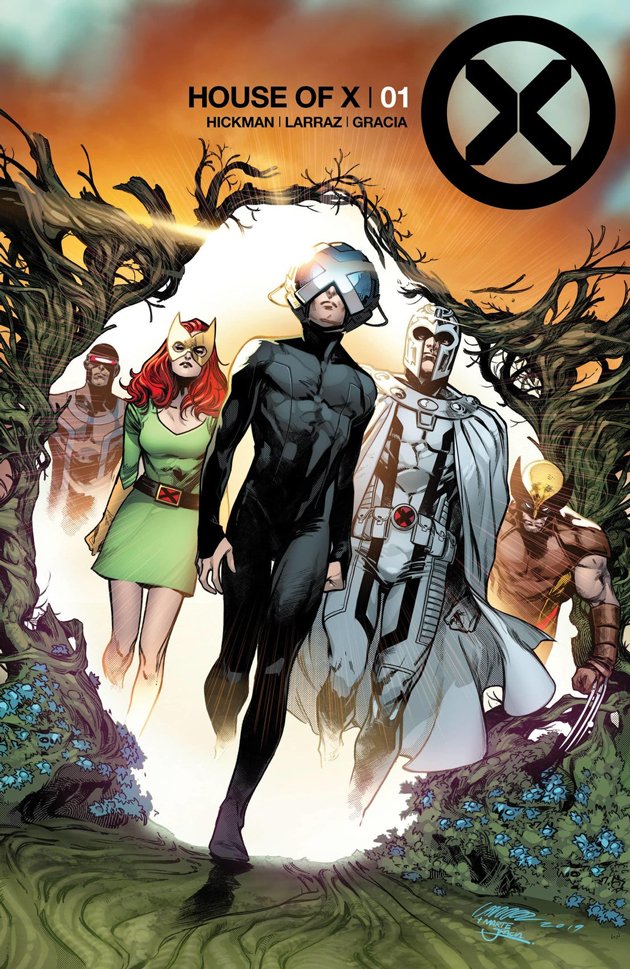 What should I read beforehand?
If you're brand new to the X-Men comics or haven't read them in a while, you might wonder what background reading you should do. Below are a few reading recommendations that cover the larger Krakoa era meta-narrative.
Looking for background reading for a specific series? I'll include those where I think it could be helpful in the title listings later.
House of X/Powers of X
Written by Jonathan Hickman. Art by Pepe Larraz and R.B Silva.
These duel miniseries are the foundation for the Krakoa era and introduce all the core concepts you'll need to know. This includes the island nation of Krakoa, mutant resurrection, Orchis, and much more. While they have evolved throughout the Dawn of X, Reign of X, and Destiny of X phases, they'll give you good starting knowledge.
Find out how to read House of X/Powers of X with this reading order.
X-Men: Before the Fall
X-Men: Before the Fall is several one-shots that help set up Fall of X. However, some of them act as a way to tie-up loose plot threads making them less of a good place to jump-on. Find more details about them below:
X-Men: Before The Fall – Sons of X
Written by Si Spurrier. Art by Phil Noto.
Sons of X ties up Legion of X and helps to set up plot points for Fall of X.
X-Men: Before The Fall – Heralds of Apocalypse
Written by Al Ewing. Art by Luca Pizzari.
Find out what Apocalypse has been up to since the conclusion of Swords of X.
X-Men: Before The Fall – Mutants First Strike
Written by Steve Orlando. Art by Valentina Pinti.
Mutants First Strike sees Jean Grey, Cyclops, and Bishop looking into a deadly mutant attack on a small town to discover a much deeper mystery.
X-Men: Before The Fall – Sinister Four
Written by Keiron Gillen. Art by Paco Medina.
Discover some of the fallout of Sins of Sinister and what's next Sinister.
Free Comic Book Day 2023: Avengers/X-Men
Written by Gerry Duggan and Jonathan Hickman. Art by Joshua Cassara and Valerio Schiti.
Marvel gave readers a taste of what the new Uncanny Avengers series will be like as part of their Free Comic Book Day selection. You can read it for free online if you missed it. It also includes a preview of Jonathan Hickman and Valerio Schiti's upcoming G.O.D.S. project.
Hellfire Gala 2023 one-shot
Written by Gerry Duggan. Art by Kris Anka, Joshua Cassara, Russell Dauterman, Adam Kubert, Pepe Larraz, R.B Silva, Luciano Vecchio, and others.
The annual Hellfire Gala one-shot always has some big revelations. This is the final issue of the Destiny of X phase and will feature events that kick-start the Fall of X. Many of the series launching as part of this phase will spin out of events in this one-shot.
Do you have to read everything?
No. You don't have to read every comic part of Fall of X.
While Marvel would love it if you bought every comic, this publishing phase, like the previous ones, is written in a way where you don't need to. Some comics may reference events of another series – usually if something major happens. However, each series focuses on its own stories, with its own tone and themes. Further to this, some comics will be more aligned with the overarching X-Men narrative. Others will go off in their own direction to explore concepts that are more tangential.
Note sure which ones you want to read? You could pick them up based on:
The premise of the comic book series
The writer(s) and artist(s) involved
The characters featured
It's your decision as to which Fall of X comics you decide to read. This guide has all of them listed in the next section for your convenience.
What comics are part of Fall of X?
The below section lists all of the comic book series that are part of Fall of X. Some of these are existing series, which have continued on from a previous phase, but many are new. By reading on, you'll discover where to start reading these comics in the Fall of X phase, what they're about, and plenty of other details. These are not listed in some strict reading order but are based on the launch date.
X-Men #25
Written by Gerry Duggan. Art by Stefano Caselli.
X-Men is one of the flagship titles of the Fall of X phase and the one that's closest to being a traditional superhero title. Following the Hellfire Gala, the team's lineup will be shuffled with new members. This includes Kate Pryde, who's going by the persona of "Shadowcat".
X-Men #25 goes on sale 2nd August.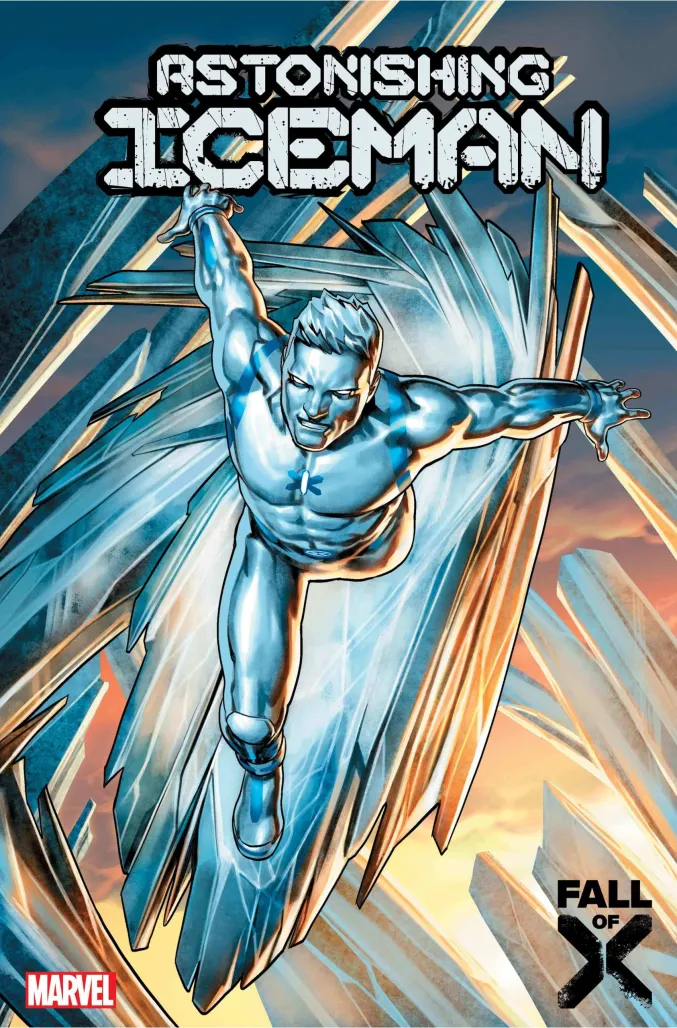 Astonishing Iceman #1 (of 5)
Written by Steve Orlando. Art by Vincenzo Carratù.
Since the 1990s, storylines have focused on how Iceman is an omega-level mutant that hasn't used his gifts to the best of his ability. In Astonishing Iceman, readers will finally see him live up to his potential.
This solo series, spinning out of the Hellfire Club 2023 special, will feature a new base of operations, inventive uses of Iceman's powers, and never-before-seen foes. These will all push Iceman to his limit and position him as one of the most powerful mutants. However, this will also have a dark side effect that could threaten his mission.
Astonishing Iceman #1 goes on sale August 2nd.
Immortal X-Men #14
Written by Kieron Gillen. Art by Lucas Werneck.
Immortal X-Men is a series that focuses on the mutant dramas of the Quiet Council, the decision-makers for mutantkind. The solicitation for this jumping-on point is light-on. However, it's clear that things are not going well.
TO ME, MY NO ONE. In IMMORTAL X-MEN #14, witness the X-Men's founder at his lowest. Xavier had a dream. Now he has nothing. He fell. He fell furthest.
Immortal X-Men #14 goes on sale 9th August.
Children of the Vault #1 (of 4)
Written by Deniz Camp. Art by Luca Maresca.
The Children of the Vault are a group of post-human villains who have used time displacement to fast-track evolution. They originally appeared in Mike Carey's X-Men run in the mid-late 2000s but were brought back from obscurity by Jonathan Hickman for the Krakoa era.
We'll see even more of them in this series, with Cable and Bishop deciding the best way to deal with these villains is to take them head-on.
For those who want to read up on the Children of the Vault should check out the following comics:
X-Men (1991 series) #188-193
X-Men: Legacy #238-241
X-Men (2019 series) #5, #18-19
X-Men (2021 series) #16-18
Children of the Vault #1 goes on sale 9th August.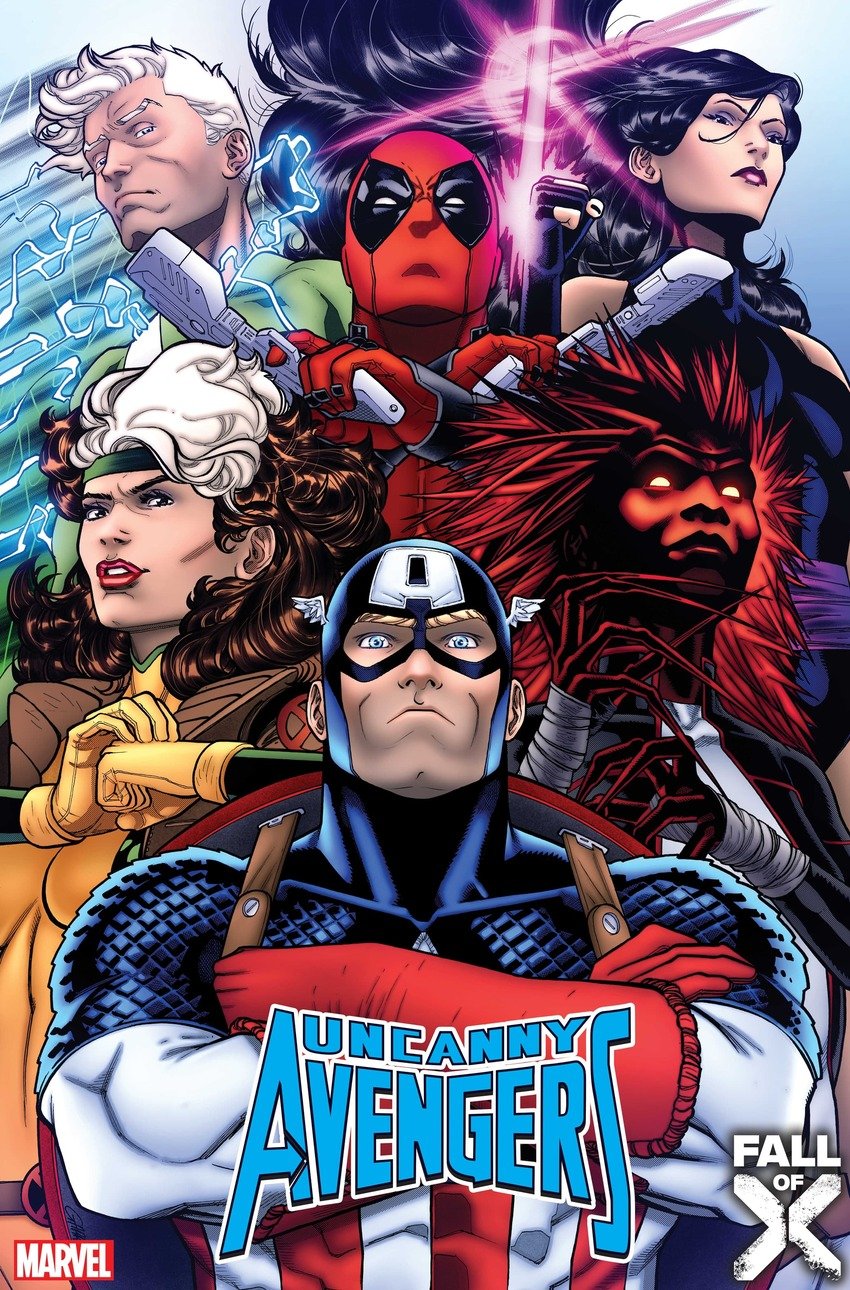 Uncanny Avengers #1 (of 5)
Written by Gerry Duggan. Art by Javier Garron.
Uncanny Avengers is a team book consisting of members of the X-Men and Avengers to form the Avengers' Unity Squad. Working together, they will try to figure out the identity of the new Captain Krakoa (formally an identity of Cyclops) – who's leading an army into a new world war.
The team will include Captain America, Rogue, Deadpool, Quicksilver, Psylocke, and Penance.
Uncanny Avengers #1 goes on sale 16th August.
X-Men Red #14
Written by Al Ewing. Art by Yildiray Cinar.
As revealed in 2021's Hellfire Gala that the X-Men had terraformed Mars. It's now home to the Arraki, the ancestors of the mutants. X-Men Red explores the ins and outs of the planet. However, after a revelation in 2023's Hellfire Gala special, it appears the planet is on the brink of a civil war.
X-Men Red #14 goes on sale 16th August.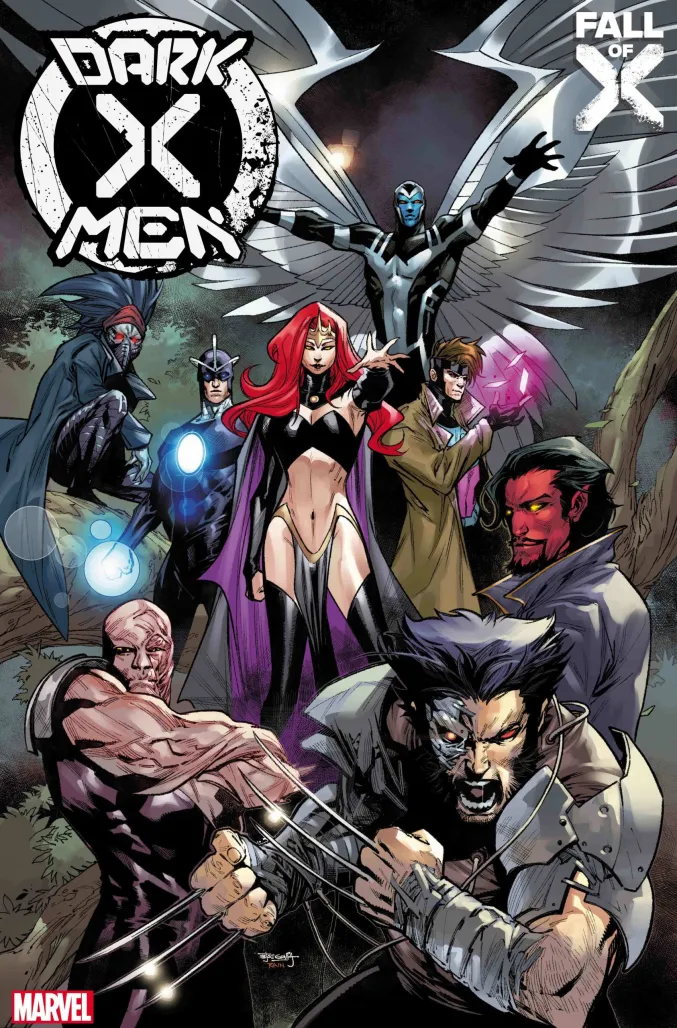 Dark X-Men #1
Written by Steve Foxe. Art by Jonas Scharf.
The X-Men various villains were offered an amnesty when the island nation of Krakoa was established. While many have turned over a new leaf, some cannot let old habits die or see opportunities to put their questionable methods to good use. Madelyne Pryor is one of those who will lead a team of ex-villains to help out mutantkind.
The series will feature Madelyne Pryor, Havok, Archangel, Gambit, Azazel, Zero, Albert, and Emplate.
Dark X-Men #1 goes on sale 18th August.
Alpha Flight #1 (of 5)
Written Ed Brisson. Art by Scott Godlewski.
Alpha Flight has had connections with the X-Men come and go over the years. At the moment, it appears the premier Canadian superhero team is connected to Marvel's mutants – even if they happen to be against them during Fall of X. This, however, will have personal stakes as the team will face former mutant teammates and friends.
Alpha Flight #1 goes on sale 16th August.
X-Force #43
Written by Benjamin Percy. Art by Robert Gill.
In the Krakoan era of X-Men comics, X-Force has acted as the counter-intelligence agency for mutantkind, eliminating threats before they become a problem. Issue #43 sees a team shakeup led by Colossus and featuring Deadpool, Wolverine (Laura Kinney), Omega Red, Domino, and Black Tom Cassidy.
X-Force #43 goes on sale 23rd August.
Ghost Rider/Wolverine: Weapons of Vengeance
Written by Benjamin Percy. Art by Geoff Shaw.
Wolverine begins the Fall of X with a crossover with Ghost Rider, another series that's penned by Wolverine scribe Benjamin Percy.
A demonic serial killer is targeting mutants and it will take the combined forces of Ghost Rider and Wolverine to stop them in this four-part crossover.
Keep a look out for a reading order on the site closer to launch.
Ghost Rider/Wolverine: Weapons of Vengeance begins on 9th August and will conclude in September.
Written by Gerry Duggan. Art by Juan Frigeri.
Invincible Iron Man #9
At first glance, Iron Man being part of the X-Men line may seem weird. However, the title has been moving that way since it was launched. Feilong, a member of Orchis and a primary villain in this Kraoka era, has taken over Stark Unlimited and is using Stark tech to build mutant-hunting sentinels. With that in mind and the fact it's written by X-Men scribe Gerry Duggan, Tony Stark's adventures look to be aligned with the X-Men for a little while.
Invincible Iron Man #9 will be the first issue in this new shift in the series, which will also see Tony Stark making a new alliance with Emma Frost.
Invincible Iron Man #9 goes on sale 23rd August.
Jean Grey #1 (of 4)
Written by Louise Simonson. Art by Bernard Chang.
Using the shocking events of the 2023 Hellfire Gala as a backdrop, Jean Grey reflects on her past to help find answers for what she can do in the present.
Recently, Marvel has brought back classic X-Men creators for nostalgic-driven stories set during a specific time in a character's publication history. However, what sets this one apart is that it also ties into current events. This allows the series to be less of a nostalgia-fest for older readers and something that is more character-driven.
Jean Grey #1 goes on sale 23rd August.
Realm of X #1 (of 4)
Written by Torunn Grønbekk. Art by Diógenes Neves.
Magik, Mirage, Marrow, Dust, and Typhoid Mary have found themselves stranded in the realm of Vanaheim – one of the ten realms seen in Thor comics. The unlikely group will need to band together if they will want to fulfil the local's prophecy, survive the mysterious figure that's amassing power on the outskirts of the realm, and get home in one piece.
Realm of X #1 goes on sale 23rd August.
Uncanny Spider-Man #1 (of 5)
Written by Si Spurrier. Art by Lee Garbett.
There's a new Spider-Man in New York City – Nightcrawler.
After barely escaping the event of the Hellfire Gala, Nightcrawler has relocated to New York City and given himself a new mission. Expect plenty of swashbuckling action as he faces Spidey's rogues' gallery and potentially finds love. There is also a long-simmering mystery around his mother Mystique that needs to be solved.
Uncanny Spider-Man #1 goes on sale on 6th September.
Will there be more Fall of X titles?
I would suggest that Marvel will announce more titles in the future if the previous phases of the Krakoa era are any indication. These will be sprinkled throughout the phase, spinning out of existing titles and replacing completed miniseries. I would also speculate that there would also be a comic book event later down the line.
Expect to see these titles announced in late 2023 and into 2024.
Have your say!
Which of the Fall of X titles are you looking forward to reading? Share your thoughts in the comments below or via Facebook, Twitter, or Mastodon.