Horror is known for its robust franchises. If an idea has legs and enough people enjoy it, then it's possible to have sequels that approach the double digits. Take a look at how many A Nightmare on Elm Street or Paranormal Activity movies there are to see what I mean. What's less likely, though, is for horror to approach things from the perspective of a shared mythology. An approach that Jeff Lemire and Andrea Sorrentino are going for with The Bone Orchard Mythos.
Off the back of successful horror series like Gideon Falls and Primordial, the pair are once again returning to the genre for an ambitious project that will cover multiple stories over many years. The result is a frightening world of tales steeped in atmospheric horror that A24 fans will enjoy.
The Bone Orchard Mythos is a unique approach to horror comics. As a result, this guide will explain everything you need to know, including the nature of the shared universe, the different formats, and what stories are available. Read on to learn more.
What is The Bone Orchard Mythos?
The Bone Orchard Mythos is a horror universe which features horror comics in a variety of formats. Over a series of self-contained stories, it will build up a horror mythology in a similar fashion to H.P Lovecraft's Cthulhu mythology.
These comics have a consistent vision, with each story having the same creative team. This includes:
Writer: Jeff Lemire
Artist: Andrea Sorrentino
Colourist: Dave Stewart
Letterer: Steve Wands
Editor: Greg Lockard
Publisher: Image Comics
How is The Bone Orchard Mythos structured?
The Bone Orchard Mythos is doing things differently from other comics with its publishing format. The horror universe will dabble in limited series, longer series, and standalone graphic novels. The format chosen will depend on the nature of the story, with some requiring longer lengths than others.
So, it's a shared universe?
Correct. The Bone Orchard Mythos is a number of horror stories that occupy the same world and share the same mythology. However, don't expect something too similar to superhero universes like Marvel or DC. The comics won't explicitly crossover with one another and won't build to some larger comic book event.
With that in mind, you can read one story and get a self-contained experience. However, Jeff Lemire explains in his newsletter that "what will link the stories will be a shared timeline and shared horror mythology that will grow with each new book." This means that the more you read The Bone Orchard Mythos, the more you will see a larger picture of the horror world that these tales inhabit.
The Bone Orchard Mythos comics
Take a look below at all the Bone Orchard Mythos stories that have been announced so far.
Note: This section will be updated as more series are announced, so make sure you check up on it every few months.
The Bone Orchard Mythos Prelude
This one-shot was given away for free as part of Free Comic Book Day 2022. It features a tale called "Shadow Eater", which gave readers a small taste of the kind of horror readers can expect with The Bone Orchard Mythos universe.
The Bone Orchard Mythos: The Passageway
The Passageway is a 96-page standalone graphic novel that is the first major release of The Bone Orchard Mythos. It follows a geologist sent to a remote lighthouse to investigate a strange phenomenon. What first appears to be a pit of rocks becomes far more frightening when it's discovered that there's something sinister lurking within.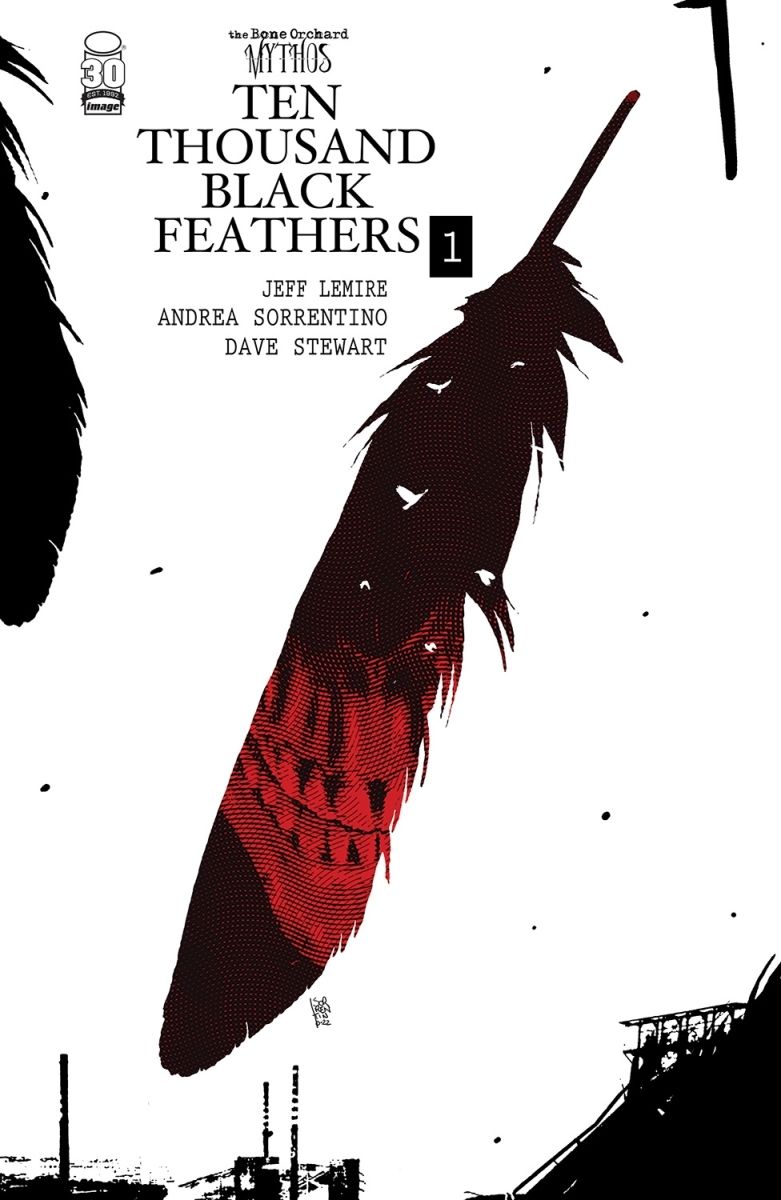 The Bone Orchard Mythos: Ten Thousand Black Feathers
Ten Thousand Black Feathers is a five-part limited series that was published between September, 2022 and January, 2023. This story focuses on two avid gamers, Trish and Jackie, whose life is about to take a turn for the terrifying when the horrors of reality and their fantasy world collide. Can they fight the darkness and be the heroes of their own story?
Image Comics will collect The Bone Orchard Mythos: Ten Thousand Black Feathers in trade paperback in May, 2023
The Bone Orchard Mythos: Tenement
Not much is known about Tenement at this stage. What we do know is that it will be a standalone graphic novel that will be released sometime in 2023.
Will the be more Bone Orchard Mythos stories?
According to promotional material and Jeff Lemire's newsletter, there will be more Bone Orchard Mythos stories. These will be released in 2023 and beyond, with more information about them coming when closer to release.
This guide will include these new projects in the section above when they're announced.
Is there a specific reading order?
While this site includes many reading orders, you won't need one for The Bone Orchard Mythos.
Each story is self-contained and features its own cast. As a result, you don't need to know what has happened in other Bone Orchard Mythos tales to understand what is going on. Even if earlier stories are referenced, this will be done in a way that is not detrimental to those who haven't read them.
As a result, you can read as many Bone Orchard Mythos stories as you like and in whatever order suits you.
Buy The Bone Orchard Mythos comics
The Bone Orchard Mythos can be found at all good comic book shops, online retailers, Amazon/Kindle, and eBay.
You learn more about where you can find comics and graphic novels in this extensive guide.
Have your say!
Do you like the idea of a shared horror universe? Share your thoughts in the comments below or via Facebook or Twitter.