Written by Chris Claremont. Art by Bill Sienkiewicz. Coloured by Glynis Wein. Lettered by Tom Orzechowski. Published by Marvel Comics.
It feels like an odd dream, but the long-delayed New Mutants movie is finally coming to cinemas this week. Whether it was worth the wait is yet to be seen. There's one thing for sure, the story that the movie inspired by is excellent. So let's dive into it. Let's dive the teen superhero horror that is New Mutants: The Demon Bear Saga.
Don't worry if you're not familiar with this X-Men spin-off. Writer Chris Claremont has a famously exposition-heavy writing style, which gets readers up to speed with the characters, their powers, and the plot elements. It's an old-school approach, but it's understandable in this 1984 tale. Newsstand distribution was still prevalent and meant the casual reader could pick-up the latest issue and not be completely lost. In 2020, this works to the advantage of anyone coming into the series cold.
The prior seventeen issues of New Mutants were of teen hero variety. With The Demon Bear Saga, Chris Claremont got to flex his genre muscles and delve into horror. To make this genre distinction, artist Bill Sienkiewicz, who was hot off Moon Knight, was brought on board.
Up until that point, it was rare for Marvel to match an artist to a genre in that way they did with Sienkiewicz and this story. Marvel had a house style that was strictly enforced by editor-in-chief Jim Shooter so the majority of comics had a similar look and feel. With Sienkiewicz on board, The Demon Bear Saga feels like a horror comic first and a superhero comic second.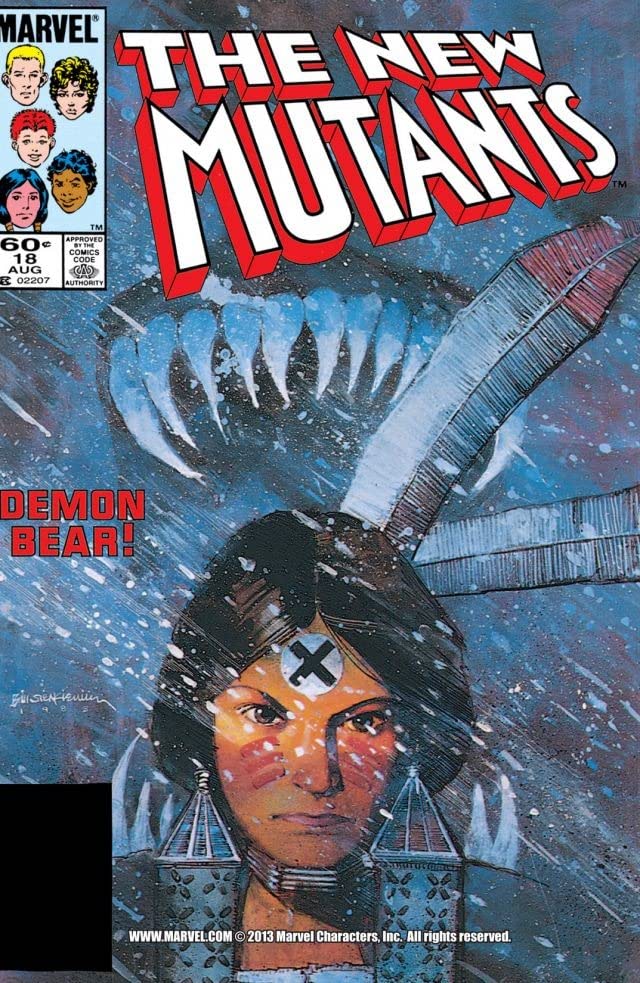 The covers for this story are the first clue that this is going to be different. They're a stark contrast in tone and style from the ones that come before it. Instead of the usual pencil and ink, Sienkiewicz painted covers are dark, brooding, and more abstract in the way he depicts the characters. You can tell that this is not going to be your usual superhero fare.
Check out the opening page if you need more confirmation of this. We see one of the Dani Moonstar hiding under her blankets. The blankets are conventional at first, but as we move our eyes down the page the pattern becomes the face of a bear. The linework is scratchy and has a heavy use of ink. Glynis Wein drenches the image in a deep red to amplify the terror. Claremont then tops it all off with minimal dialogue, but just enough to get your mind thinking about the horrors that await.
The comic goes onto focus on Dani Moonstar (aka Mirage), who is being stalked by a demonic bear. At first, it haunts her in her dreams but then transitions into real life. When she confronts it, it leaves her with serious injuries and while she clings to life in the hospital the rest of the New Mutants try to stop it before it can get to Dani.
As the story progress, Sienkiewicz's art gets increasingly abstract. The bear's appearance morphs, living up to the demon part of its name, with a mess of sharp teeth, elongated claws, and an overwhelming side. Bears can be scary on their own but the demonic elements take it to another level.
When the horror is in full swing the pages become more abstract. The page layouts become chaotic. Panel borders go from being the conventional rectangles to being lopsided, with rough edges, and overlapping each other. That sounds like it could be hard to read, but they're laid in a way that moves your eyes around the page in the right direction.
With Claremont at the helm, the X-Men was essentially a soap opera. New Mutants was no different, with the cast of teen's character-driven stories evolving through this story. We get crushes, bubbling mistrust, characters learning to handle their abilities, and friendship in the time of hardship. Even if this is your first time reading New Mutants these character beats are prevalent enough that you're invested in them when they're faced with danger.
When reading The Demon Bear Saga, you'll notice some scenes that seem disjointed from the main story. This is the soap opera structure at play again and they set up futures stories down the track. In the most notable instance, the comic introduces readers to mainstay character Warlock.
New Mutants: The Demon Bear Saga is a groundbreaking comic that still fresh in 2020. Marrying horror, superheroes, and teen drama together, we have a story that visually frightening, experimental yet accessible, and character-driven. Whether you think it's okay to go to the cinema in the middle of a pandemic or not, you're much better off reading this classic.
The Demon Bear Saga ran through New Mutants (1983 series) #18-20 and is collected in New Mutants Epic Collection: The Demon Bear Saga or New Mutants: Demon Bear. You can find these at all good comic book stores, online stores, eBay, and digitally.