This guide originally published in 2016. It has been updated for IKEA's 2020 catalog.
IKEA, the Swedish furniture juggernaut, is known for its relationship-testing labyrinths, meatballs, and modernist flat-packed furniture. It's with this unique combination that it's become the largest furniture brand in the world and a go-to for many. But did you know IKEA is a strong alternative for comic book storage solutions?
Throughout this guide, I'll take you through the IKEA products that you can use to store your comic books and graphic novels. I've tried to find a variety of solutions based on different sizes and needs, and have included links so you can find out more about each product.
Why IKEA?
IKEA is the world's largest furniture retailer in the world, with 430 stores in 52 countries as of writing this. It's truly an international brand, which means the products I talk about below are easily accessible worldwide.
How Did I Do My Research?
I will admit that I don't own all of the storage solutions that I am talking about in this guide. So I had to do rigorous research, which was done with this three-pronged approach:
I dived into the 2020 catalog to find suitable storage solutions for comic books and graphic novels.
I'm lucky enough to live 20 minutes drive from an IKEA store so I paid a visit. I brought along some comics with me to road test most of these storage solutions.
Finally, I went through the IKEA website to see if there were any products that I might have missed.
IKEA Storage Solutions
It's time to dig into the actual storage solutions!
I should note that not every product will meet your specific needs. Although, it's worth looking at the IKEA website links that have been provided to see the full range and get a greater context to what will meet your needs.
Additionally, I should also say that none of IKEA's products are specifically tailored for comic book storage. I've tried to choose the ones that are most suitable for comics and graphic novels but there might be situations where some minor alterations might need to be done.
I suggest bringing some comic books with you to the store and testing them out first before you make any purchase.
Shelving Units
Display your comics and graphic novels proudly with IKEA's shelving unit solutions. These come in all shapes and sizes to accommodate all kinds of spaces and collections.
Kallax
The Kallax is a versatile and affordable range of square shelving units which come in a range of sizes and colours to meet any need. As they are defined by the number of squares, Kallax units can be seamlessly placed next to each other, stacked or turned on their side.
These shelving units can be used to shelve graphic novels like a conventional bookcase or combined with a storage box or magazine file (see below for options) to turn them into a drawer.
There are a variety of different sizes in the range with more or fewer compartments depending on your needs or space available.
Find out more about the Kallax shelving units and see the full range on the IKEA website.
Storage Boxes
IKEA has a diverse range of boxes that come in a variety of shapes and sizes.
Tjena
The 11-inch Tjena storage box is a great way to store comics. This sturdy paper box and comes with a lid so you can stack other items on it. Cutout handles allow for it to be carried easily and it's the right size and shape to fit in a Kallax shelving unit. If the pictured black is not your style, it also comes in other colours and patterns.
Tjena is tall enough to store comic books standing up, whether it's single issues that have been bagged and boarded or graphic novels. If you're only storing a small amount of your collection in them you might want to put something solid like a foam block in there so comics stand more secure. Otherwise, they may fall down and there is the risk of damage.
Out of the three storage boxes listed Tjena has the advantage of having a space for labelling, which makes accessing the comics you want easier.
As it is made from paper, the Tjena storage box might not be suitable for storage of the heavier graphic novels.
You can discover more about the Tjena storage boxes on the IKEA website.
Drona
The Drona storage box is a Kallax compatible box made from solid cardboard and skinned with fabric. It comes in a wide variety of colours including grey, blue, white, red, and orange – making it a versatile option for any decor.
Like the Tjena, it's tall enough to store comic books standing up. Similar tips should be followed as the ones I have imparted with the Tjena storage box.
As it has no lid the Drona cannot be stacked, so using as a box drawer with the Kallax storage unit is preferable.
Take a look at all the different Drona boxes on the IKEA website.
Samla
Samla is a hard plastic storage box that can be easily stacked. These boxes come in various sizes, but the one that seems to be the best size for comics is the 11-inch high/6-gallon variety. It's tall enough to accommodate comic book issues standing up while not leaving too much space.
Unless you have a really strong organisation strategy, finding where certain comic books are in your collection can be a real pain. Luckily, the Samla boxes are clear. This makes it really easy to see what is in each box on a glance and allows for more time reading and less time searching for what you want.
Find out more about the Samla box on the IKEA website.
Lekman
Lekman is a semi-transparent storage box with very similar dimensions to Tjena and Lekman.
The main advantage the Lekman has over the other two is that it's the most stable of the three and would easily cater for heavier graphic novels.
For those concerned that it might ruin surfaces, you will be happy to know it has felt pads underneath to prevent scratching.
Find out more about the Lekman box on the IKEA website.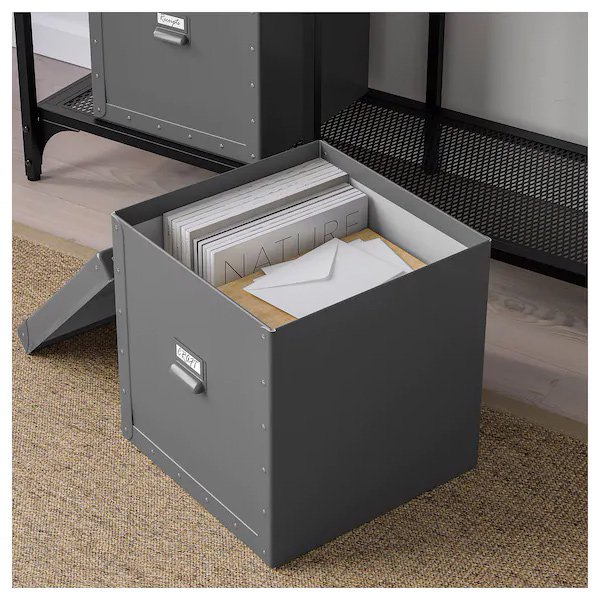 Fjalla
The Fjalla is a cardboard box with metal edges. The big point of difference for this box is that it has a handy handle as well as a space for labels too.
The 13-inch variety appears to be the best for comic book storage and can be neatly stacked with other boxes.
Find out more about the Fjalla box on the IKEA website.
Magazine Files
Whether it's to store what you're currently reading or a specific grouping, magazine files are a great way to store small batches of comic books. IKEA has a wide variety of options in different styles and materials. IKEA's magazine files fit well into a variety of bookshelves and shelving units so they can always be stored nearby.
Fjalla
Out of all the magazine files, the Fjalla is the nicest looking with metal rims, pull out handle and label space. It comes in blue, brown, dark grey, off-white and yellow.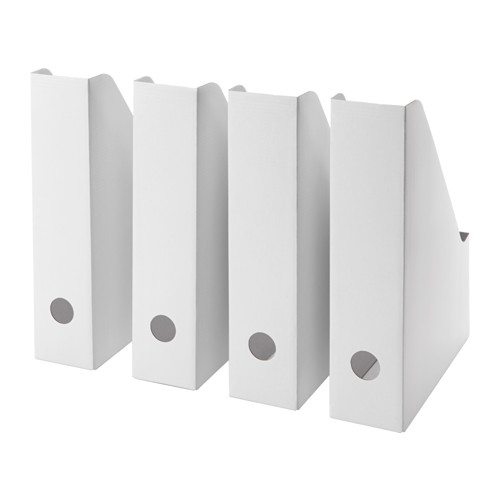 Fluns
Made from 100% recycled corrugated cardboard, Fluns come in a pack of four and are the most environmentally friendly of all the options. It only comes in white (as pictured above), but I guess that means it's the easiest to decorate.
Tjena
If you're looking for something a bit more simple then the Tjena magazine files are the way to go. They have a space for labels, a cutout handle and come in a range of colours.
You can find out more of the magazine files and the different variations on the IKEA website.
Knuff
Finally on our tour of IKEA magazine files is the Knuff. Made from untreated wood, this should fit into many interior aesthetics and can be treated with glazing or oil if want to give it some zazzle.
Bookcases
Bookshelves are a staple in almost every home. They're also fantastic for storing comics and graphic novels in a way that are easily accessible and displayed proudly. Read on to find out what solutions IKEA offers.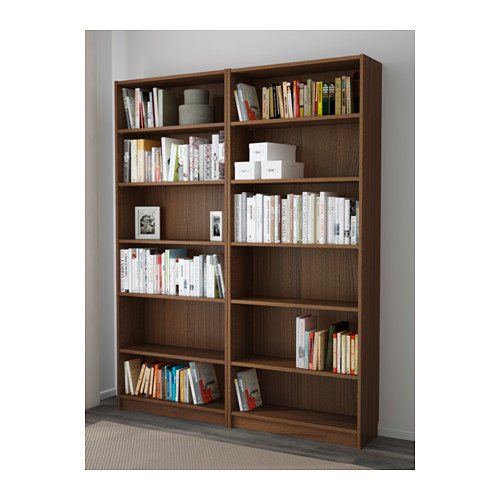 Billy
With an estimated sale every five seconds, the 40-year-old Billy is perhaps the most popular bookcase in the world. It's also one that's perfect for comics and graphic novels.
Whether you need one for the corner of the room, to fill a whole library or something in between, the Billy range has you covered. This versatile bookcase comes in a variety of heights and widths and is adjustable so even the largest of graphic novels will fit.
Find out more about the Billy bookcase and see the full range on the IKEA website.
Gersby
Gersby is the more affordable and less versatile cousin of Billy. It only comes in one size, but it's perfect for those just need a standalone bookcase to store comics and graphic novels. The shelves are adjustable, which is always helpful for storing larger graphic novels.
It's only available in white, but colour can be added when magazine files are added into the equation.
Find out more about Gersby bookcase on the IKEA website.
Cabinets
A cabinet is a fantastic way to keep your most cherished comics safe. Check out the options below to find out more.
Lixhult
The Lixhult range has some many options to choose from. You can get it in so many shapes and sizes, with a different number of compartments. But the customisation doesn't end there, you can also choose which way the door opens or if you would like the legs attached or not too.
This series also has wall-mounted options, but I cannot recommend these as I believe comics and graphic novels would be too heavy. You don't want to risk it coming off the wall and damaging your comics!
Find out more about the Lixhult range of cabinets on the IKEA website.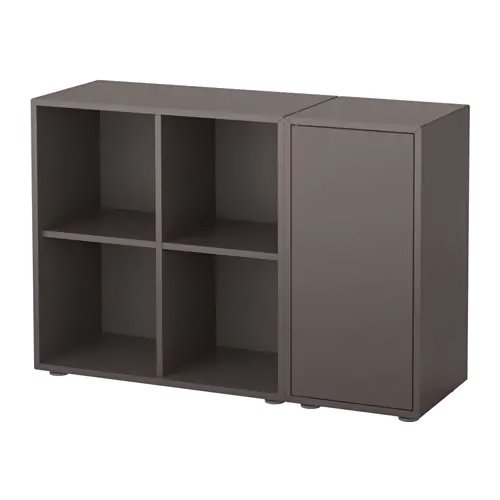 Eket
The Eket range of cabinets is kind of the weird love-child of the Kallax and the Lixult, offering the best of both products. Most versions of this include a cabinet partition which can be hidden behind a door and a shelving unit which is great for displaying your favourite comics.
This hybrid cabinet is available in a variety of sizes to accommodate your storage needs and space available.
Find out more about the Eket range of cabinets on IKEA website.
Have Your Say!
Do you use any IKEA products for your comic book storage solutions? Let me know in the comments below or via Facebook or Twitter.