For almost 80 years, The Joker has been one of Batman's most recognisable and perhaps even greatest foe of all time. With every story, he tests The Dark Knight with his brand of maniacal unpredictability, which often keeps readers guessing on how they will conclude.
With 'The Joker' about to hit the big screen, it's the perfect time to dive into some The Joker's best comic book appearances. These 12 comic book stories are a mix of interpretations on the criminal clown, which span the character's almost 80-year history.
Read on to find out which stories made the list.
The Joker/The Joker Returns
Written by Bill Finger. Art by Bob Kane.
The Joker made his debut in 1940's jam-packed Batman #1 (which also contained the first appearance of Catwoman) with pair of stories. He keeps the police and Batman on their toes when he predicts that Gotham's wealthy will die at specific times and their prized possession will be missing. The police do everything in their power to stop this, but all of Joker's prophecies come true through various clever means. It's up to Batman and Robin to figure out how he's doing it and stop him!
The Joker you see in his first appearance isn't too far removed from The Joker of today. He might not be as vicious, but he certainly is maniacal and is willing to do anything to get what he wants.
Single Issues: Batman (1940 Series) #1
Trade Paperback: Batman: The Golden Age Volume 1
Buy: Digital | eBay
The Man Who Laughs
Written by Ed Brubaker. Art by Doug Mahnke.
The Man Who Laughs is a modern reinterpretation of Joker's first appearance, which fleshes out the 1940 story with additional detail and a modern context.
This modern telling shakes up Joker's motivations to something to be more frightening. While in the original story Joker was motivated by profit, in The Man Who Laughs he's more about striking terror into the citizens of Gotham City. His actions are terrifying and you have no idea what he's going to do next.
Single Issues: Batman: The Man Who Laughs #1
Trade Paperback: Batman: The Man Who Laughs
Buy: Digital | eBay
The Cross Country Crimes
Written by Bill Finger. Art by Bob Kane.
In this story from 1942, The Joker becomes Public Enemy Number 1 when he shoots an FBI agent at a parade in Batman and Robin's honour. The Dynamic Dou chase him all around the country as he commits crime after crime.
The Joker is diabolical as he goes from state-to-state carrying out murders and robbing people. He doesn't care about the collateral damage, at one stage even repainting the lines to cause a bus crash just so he can score some jewels.
Single Issues: Batman (1940 Series) #8
Trade Paperback: Batman: The Golden Age Volume 3
Buy: Digital | eBay
The Joker's Five-Way Revenge
Written by Denny O'Neil. Art by Neal Adams.
Thanks to the Comics Code and the 1966 Batman television show, The Joker was turned into a criminal menace than a homicidal maniac. With the television far in the rear-view mirror, the legendary pairing of Denny O'Neil and Neal Adams brought the classic villain back to his roots.
In this 1973 tale, The Joker has broken out of a psychiatric facility and he's taking his retribution out on members of his old gang. As you can expect, Batman is on the hunt before the bodies can pile up.
Batman is truly tested by the Joker, with The Clown Prince of Crime always one step ahead. His crimes are dangerous, unexpected, and while not graphic, have some shock value. It's enough to keep not just Batman but also the reader on their toes.
Single Issues: Batman #251
Trade Paperbacks: The Joker: A Celebration of 75 Years, Batman: The Greatest Stories Ever Told Volume 1, or Batman: Illustrated by Neal Adams Volume 3
Buy: Digital | eBay
The Laughing Fish
Written by Steve Englehart. Art by Marshal Rogers.
We all know that the Joker has a screw loose but this story proves it when he tries to enact one of his weirdest plans yet. He dumps chemicals into the ocean which create his face to appear on all the fish that are caught. The motivation for it is to then claim royalties for every fish caught, making him very rich in the process.
It might sound like a very cheesy Silver Age idea, but that's just scratching the surface. The story explores the deadly lengths he is willing to get his own way. Again, this is another story where the Clown Prince of Crime uses his cleverness and unpredictability to test an always prepared Batman.
Single Issues: Detective Comics #475-476
Trade Paperback: Batman: Strange Apparitions or Batman: Legends of the Dark Knight – Marshall Rogers
Buy: Digital | eBay
Dreadful Birthday, Dear Joker
Written by Len Wein. Art by Walter Simonson.
It's the Joker's birthday and he's going to celebrate by getting his revenge on everyone who he thinks have done him wrong. And that involves kidnapping a lot of people close to Batman. Will Batman be able to stop the birthday boy before the deadly celebration?
Joker's plan is ridiculously over the top. Without spoiling too much, it involves a captive audience, a giant cake, and plenty of explosives. The plan also proves that the Joker may be a genius, but he certainly does not think conventionally.
Single Issues: Batman #321
Trade Paperback: Tales of the Batman: Len Wein
Buy: Digital | eBay
A Death in the Family
Written by Jim Starlin. Art by Jim Aparo.
A Death in the Family is famous for two reasons. The first is that DC put together a hotline, which gave readers the chance to vote if Robin should live or die after a confrontation with The Joker. The other is that the publisher was that Robin's death was winning result, something that DC actually went through with.
The Joker is vicious in this story, using bloody violence to get what he wants. While the majority of it is off-panel, the readers are still left shocked due as the comic is drawn in a way that leaves it up to their imagination.
It's through this tale that The Joker is firmly cemented as Batman's arch-nemesis.
Single Issues: Batman #426-429
Trade Paperback: Batman: A Death in the Family
Buy: Digital | eBay
Going Sane
Written by J.M. DeMatteis. Art by Joe Staton.
What does The Joker do when he's finally defeated Batman? Can he live a normal life or is the madness and life of crime all he knows? We find out these answers and plenty more in this 1994 story.
Going Sane includes the perspective of The Joker, something that we rarely see in any of his stories. While the Joker is much scarier when we have no idea what he's thinking, it works because we get to see the conflict when it comes to his new life.
Find out more about this story in this review.
Single Issues: Batman: Legends of the Dark Knight #65-68
Trade Paperback: N/A
Buy: Digital | eBay
Soft Targets
Written by Ed Brubaker and Greg Rucka. Art by Michael Lark.
Gotham Central was a comic book series that focused on the Gotham City Police Department and how they deal with Batman's rogues gallery. In this story, a sniper has been taking out people and the Joker might be involved. The Major Crimes unit is put under a high level of scrutiny as they attempt to solve this case before another person is taken out.
With most Joker stories, we view the Joker through the perspective of Batman and his personal feelings against the criminal clown. Soft Targets explores a different perspective, showing the toll that The Joker not only has on Gotham City but its police department too.
Single Issues: Gotham Central #12-15
Trade Paperback: Gotham Central Volume 2: Jokers and Madmen
Buy: Digital | eBay
Death of the Family
Written by Scott Snyder and James Tynion IV. Art by Greg Capullo and Jock.
In his demented logic, The Joker has decided that Batman needs to be challenged. To do that, he's cooked up a horrifying plan that ropes in those closest to The Dark Knight and puts them in grave danger. Will be Batman be able to defeat The Joker without ruining his relationship with the Bat-Family? You'll have to read to find out.
The Joker is given a horror approach as the creative team turn him into a being to rival Freddy Kruger. Not only does he look horrifying, with the criminal clown using his cut off face as a mask, but also his actions are violent too, even if you rarely see them on the page.
Single Issues: Batman (2011 series) #13-17
Trade Paperback: Batman Volume 3: Death of the Family
Buy: Digital | eBay
Endgame
Written by Scott Snyder. Art by Greg Capullo.
In what was intended to be his final, at least for Scott Snyder and Greg Capullo, The Joker has a grand plan for The Dark Knight. And grand it is, with it executed on a scale that will affect all of Gotham City. This fast-paced story keeps Batman on his toes as he encounters impossible odds, with a final showdown that may not see either of them alive by the end of it.
The Joker is at his most dangerous as he uses his vast intellect to execute his plan, with every single possibility for Batman to get the upper hand removed. While many see The Joker as simply crazy, this story proves that he has a genius intellect that can give even Batman and his vast resources a run for his money.
Single Issues: Batman (2011 series) #35-40
Trade Paperback: Batman Volume 7: Endgame
Buy: Digital | eBay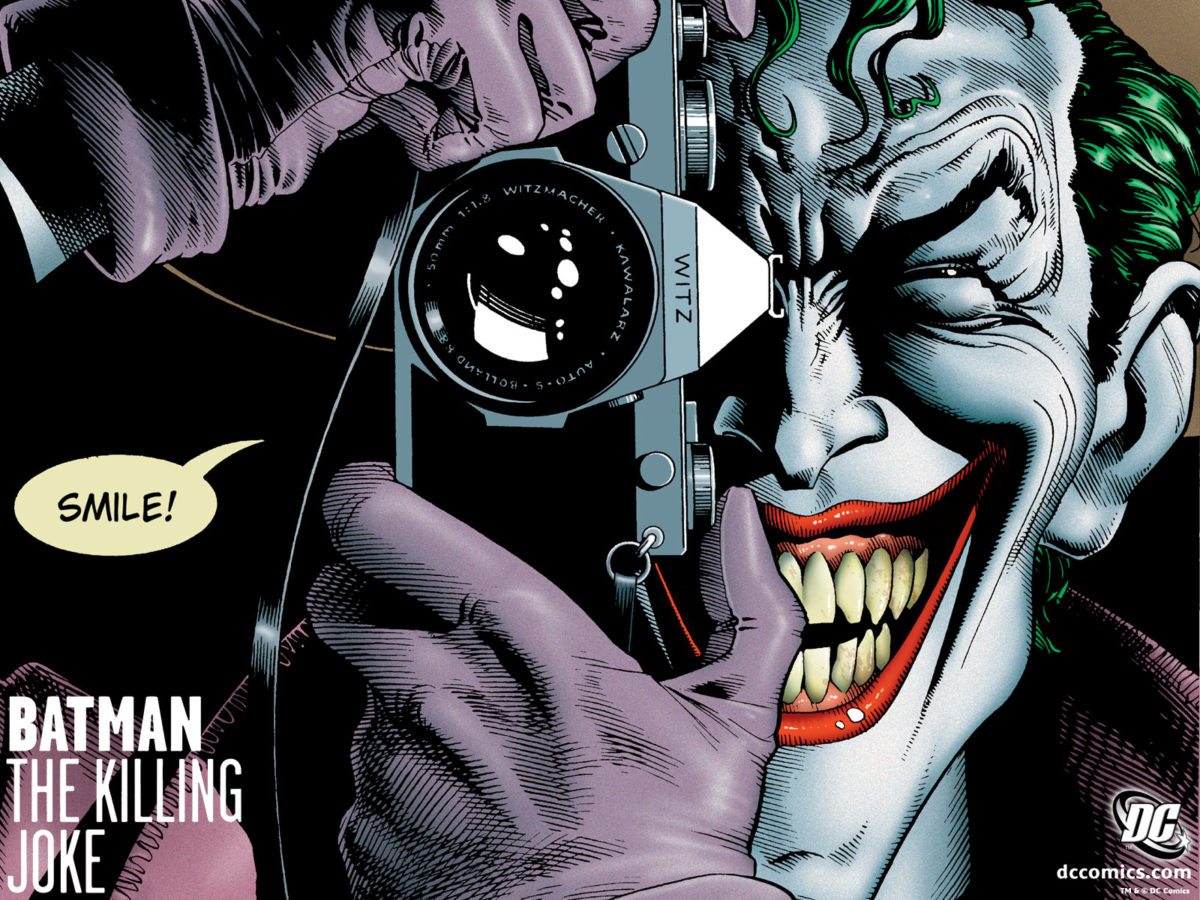 The Killing Joke
Written by Alan Moore. Art by Brian Bolland.
Through a series of horrific acts, The Joker kidnaps Commissioner Gordon and cripples Barbara Gordon in what is ultimately a test for Batman. Can The Dark Knight pass this test or will he finally stoop the Joker's level and kill him?
The story also has a series of flashbacks which explore the man Joker was before his accident. These flashbacks are interesting as it's the only time that readers see The Joker in a sympathetic light. Although, that is short-lived when reminded that he's a man of horrific acts.
At its core, The Killing Joke is a story about how Batman and The Joker are polar opposites of each other. While both are born out of misfortune, they chose to use it in very different ways.
Due to graphic content and sense of unease that it gives the readers, this critically acclaimed tale will not be to everyone's tastes. And that's okay. While it is an exceptionally well-crafted comic, with some of Bolland's best art, it's certainly not an easy comic to read.
Single Issues: Batman: The Killing Joke #1
Trade Paperback: Batman: The Killing Joke
Buy: Digital | eBay
Have Your Say!
Do you have a favourite Joker story? Let me know in the comments below or via Facebook or Twitter.