Over the decades, Godzilla has been many things. It was conceived as a metaphor for the destructive force of nuclear weapons. But as more films were produced, Godzilla slowly transitioned from being a terror on Japan to a hero for the world, fighting off other giant monsters and alien invasions.
In recent years, it's been used as an analogy for the Fukushima nuclear disaster, earthquake, and tsunami of 2011. While over in the West, Godzilla has a trilogy of films – one which will involve fighting King Kong!
Godzilla has also had a long history in comics in both Japan and in the US. In the Japanese market, many of the movies have seen manga adaptations, along with original stories. In the US, Godzilla comics have been published on and off since the late 1970s, with Marvel, Dark Horse Comics and Trendmasters having a crack.
IDW is the current home to the Godzilla comic licence. Unlike previous publishers, they've acquired the rights to many of Toho's monsters that have featured in the films. As a result, we've been able to see Godzilla take on the likes of King Ghidorah, Rodan, King Caesar, and others. Even Jet Jaguar even makes an appearance.
If you're looking for your kaiju fix, then you've come to the right place. This guide will please long-time fans and those who are not familiar with Toho's stable characters but enjoy giant monster action.
Where Can I Buy Godzilla Comics?
Godzilla comics can be found in any good comic book store, online stores, eBay, and digitally on Comixology.
What Godzilla Comics Are Available To Read?
Read on to discover all of IDW's Godzilla comics.
Godzilla: Kingdom of Monsters
Written by Eric Powell, Tracy Marsh, and Jason Ciaramella. Art by Phil Hester and Victor Santos.
Kingdom of Monsters was the first of IDW's Godzilla comics and kicked off with a bang. Thanks to a fun gimmick in which the publisher offered variant covers of Godzilla crushing their store, it was IDW's best-selling comics in 2011.
This comic tells the story of the rise of kaiju and how those caught in their path survived. Along with a tale of survival, there are plenty of monster battles, destruction, a MechaGodzilla built in Detroit, and a sinister dynamic that mirrors Mothra with Battra.
While the series had no consistent creative team throughout the 12 issues, it debuted with popular creators Eric Powell (The Goon) and Phil Hester (Green Arrow). The pair mixed the seriousness that one would expect from a disaster story with humour and satire – full of parodies of celebrities including Jersey Shore, Barrack Obama, and Lady Gaga.
Number of issues: 12
Trade paperbacks: 3 (also available in an edition that collects all 12 issues in one book)
Buy: eBay | Comixology
Godzilla: Gangsters & Goliaths
Written by John Layman. Art by Alberto Ponticelli.
Gangsters and Goliaths was the first of IDW's Godzilla miniseries, receiving overall positive reviews. The story revolves around Detective Makoto Sato, who after attempting to bring down a crime syndicate is stuck on a remote island. The problem is that island happens to be Monster Island! Now he must not only avoid the gangsters that are trying to kill him but also Godzilla and his pals too. Although, during his time on the island he makes some unusual (and giant) friends that he can utilise in bringing down the crime syndicate.
The miniseries features many of Toho's monsters including Godzilla, Mothra, Rodan, King Ghidorah, Gigan, and many more.
Number of issues: 5
Trade paperbacks: 1
Godzilla Legends
Written and art by Various.
Godzilla Legends was a collection of five one-and-done stories. While Godzilla featured in many of these, the stories focussed more on the other Toho kaiju and/or humans.
Of the five stories, my favourite was the fifth issue. It's all about an old-time adventurer who has been hired to climb to the top of Godzilla in order to collect tissue samples for researchers. The story is fun, but also a story about age and the thing we believe we can and can't do.
A close runner-up is a story titled "The Underdog", which is a story about the Anguirus, who is traditionally the kaiju that always gets beaten up. But when he is forced to do battle with Destoroyah can Angurirus, the clear underdog, win? You will be definitely be cheering for the underdog in this story.
As each issue has a different artist, the styles for each story will vary but generally work for the context of the story told. Unlike other Godzilla comics, Godzilla Legends doesn't have many splash pages. One can assume this is due to the limited amount of space to tell the story. This doesn't mean the action is worse off for not having them. It just means that the creators have had to be smarter about how they use their pages to portray big action.
Number of issues: 5
Trade paperbacks: 1
Godzilla
Written by Duane Swierczynski. Art by Simon Gane.
Simply titled Godzilla, this series the equivalent to a big action blockbuster – with big action from both humans and monsters. The story revolves around an Ex-Special Forces tough-guy, Boxer (who sounds and looks a lot like Jason Statham), as he vows to take down Godzilla. With a crew and big heavy weaponry, Boxer takes down kaiju one at a time. Slowly, his personal vendetta begins to becomes much more when it becomes clear there is plenty of money to be made out of it.
Simon Gane's art portrays the action and destruction that comes with a giant monster story perfectly, treating us to many monster battles. Additionally, his monsters are detailed with individual bumps and scales rendered to create monsters that are visually appealing while frightening at the same time.
Number of issues: 13
Trade paperbacks: 3 (Also collected all together as "Godzilla: History's Greatest Monster")
Godzilla: The Half-Century War
Written and art by James Stokoe.
As you can tell from the above image, Godzilla: The Half-Century War is one of the most detailed Godzilla comics to be released so far. James Stokoe has been able to portray the destruction that comes with the subgenre's territory, making it look like a war-zone.
The way he draws Godzilla and other monsters are phenomenal. He goes into incredible detail, drawing every bit of detail possible. Stokoe plays around with scale by implementing many splash pages and two pages spread which show off the enormity of the kaiju and the larger than life action.
The story follows a soldier and his friend as they dedicate their lives to trying to destroy Godzilla. Just like Captain Ahab in Moby Dick, this man is obsessed with taking down Godzilla and is willing to spend fifty years of his life to his cause.
Just like films did over the decades, The Half-Century War sees Godzilla's position in the world change as he starts as a terror to the world then transitioning into being possibly the only thing that can stop a much larger threat.
Number of issues: 5
Trade paperbacks: 1 (Available in softcover and hardcover)
Godzilla: Rulers of Earth
Written by Chris Mowry and Matt Frank. Art by Matt Frank and Jeff Zornow.
Rulers of Earth follows two groups – a group of researchers studying monsters and the military who attempt to keep the peace when giant monsters appear. While Rulers of Earth features all the usual suspects, it digs deep into Toho's monster library and uses some of the most obscure.
Matt Frank has been the primary artist on the series and he really knows how to draw a great monster fight. Utilising full pages as well as well placed panels he is able to create fight scenes that are chaotic as a fight between giant monsters should be.
Number of issues: 25
Trade paperbacks: 6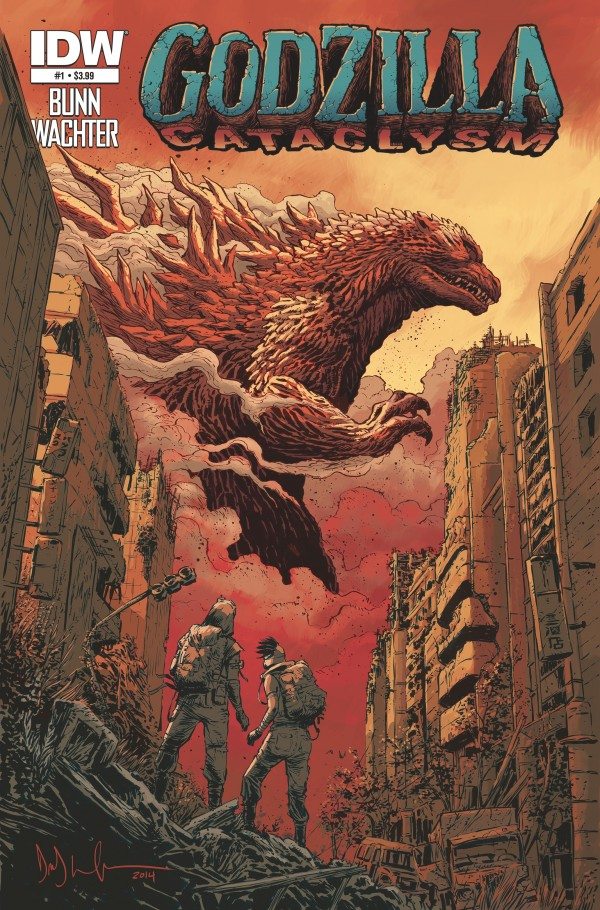 Godzilla: Cataclysm
Written by Cullen Bunn. Art by Dave Wachter.
This is a miniseries about a post-apocalyptic world that has been devastated by giant monsters. With their disappearance, the surviving humans have been able to slowly rebuild society. But with the kaiju's return, is this the end of society?
Dave Watcher's art is great, full of wreckage that brings home the severity of this world. His monster battles look great too with plenty of details and splash pages.
Number of issues: 5
Trade paperbacks: 1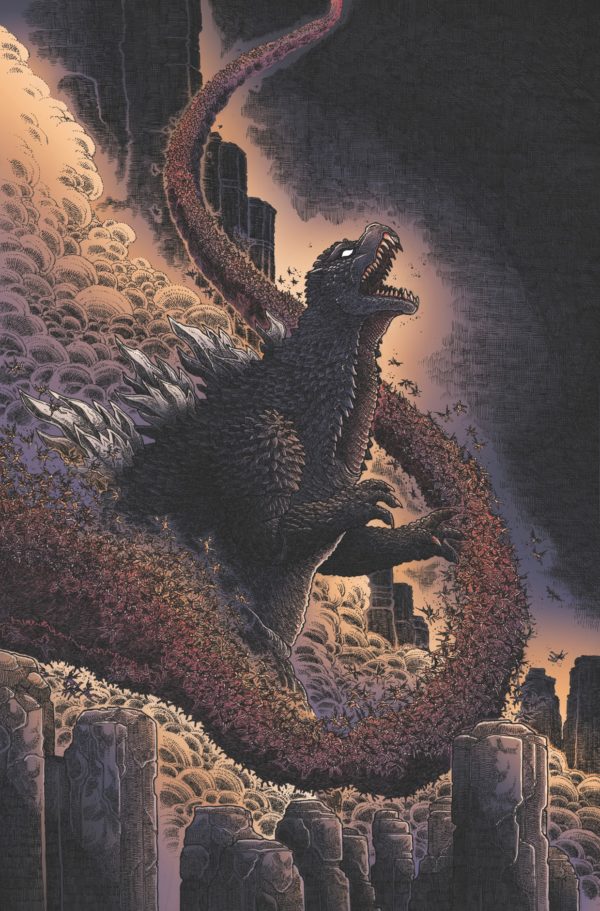 Godzilla in Hell
Written and Art by Various.
That's right, you read that title correctly! Godzilla is going to Hell. How he got there is not important, it's what happens next that you should really care about.
The comic works as an anthology, with each issue done by a different creative team. Each team picks up where the previous left off as we see Godzilla's crazy journey through the underworld.
Along for the ride are plenty of creators who have worked on previous Godzilla comics including James Stokoe, Dave Wachter, and Bob Eggleton.
Number of issues: 5
Trade paperbacks: 1
Godzilla: Oblivion
Written by Joshua Fialkov. Art by Brian Churilla.
A scientist from a monster-less dimension creates a portal into a universe in which Godzilla and other kaiju reign supreme. After a short expedition, the scientist returns back to their world, but when a baby kaiju hitches a ride back with them all hell will break loose.
Number of issues: 5
Trade paperbacks: 1
Godzilla: Rage Across Time
Written by Jeremy Robinson and Matt Frank. Art by Matt Frank.
This is a five-part miniseries that sees Godzilla terrorising in different points in time. Each issue tells a story from a different point in history and shows how he stoked ancient myth and legend.
Witness Godzilla in Feudal Japan, Ancient Greece, Rome, and a point in time when dinosaurs still roamed the land.
Number of issues: 5
Trade paperbacks: 1
Compilation Collections
Over time, IDW has begun grouping some of the miniseries mentioned above into larger collections. These include:
Godzilla: Unnatural Disasters
Collects: Godzilla Legends, Godzilla In Hell, and Godzilla: Rage Across Time
Have Your Say
Have you read any Godzilla comics? If so, let us know what you thought of them. Also, what is your favourite Godzilla film? You can let us know in the comments below or on Facebook or Twitter.