For almost 55 years The Avengers have been saving the Marvel Universe from all kinds of threats. This has lead to heaps of awesome stories over the decades, with top-tier creators doing the some of their best work.
With Avengers: Endgame soon upon us, you're probably looking for quality Avengers comic book stories to read. How to Love Comics has put together ten of the best.
These stories are a mixture of critically acclaimed and fan-favourites. You'll get a taste of stories from different periods, as well as a variety of colourful team rosters.
I hope you enjoy this list and find an Avengers story that you love!
The Coming of the Avengers!
Written by Stan Lee. Art by Jack Kirby.
If you want to read the story of how the Avengers formed then this is the story for you. Seeing the popularity of comics such as the Justice League and the Fantastic Four, Marvel decided to team up a group of their most popular heroes to take on a threat no one hero could handle on their own.
In their first outing, Loki has framed the Hulk in an elaborate plot to get revenge on his brother Thor. But in attracting his brother, he also gets the attention of Iron Man, Ant-Man, and The Wasp.
Don't expect the massive scale that you would see in the movies, but The Coming of the Avengers! is a fun read that is important in the scheme of Marvel Comics' history.
Original issues: Avengers #1
Trade Paperback: Avengers Epic Collection: Earth's Mightiest Heroes or Marvel Master Works: Avengers Volume 1
Buy on: Comixology | eBay
Ultron Unlimited
Written by Kurt Busiek. Art by George Perez.
With every defeat, Ultron has returned deadlier than before. In this 4-part story sees him at his most dangerous, with the destruction of an entire European nation just to get the Avengers attention. But with an army of himself at his disposal, the Avengers will have to risk everything to stop him.
Ultron Unlimited is not simply a story of good vs evil. It also explores the team's history with Ultron as Busiek and Perez explore Ultron's true motives and the family connections that he has with members of the team.
MCU fans will see elements of this story that inspired Avengers: Age of Ultron, especially in regards to the final act of the movie.
Original issues: Avengers (1998 series) #19-22
Trade Paperback: Avengers Assembled volume 2
Buy on: Comixology | eBay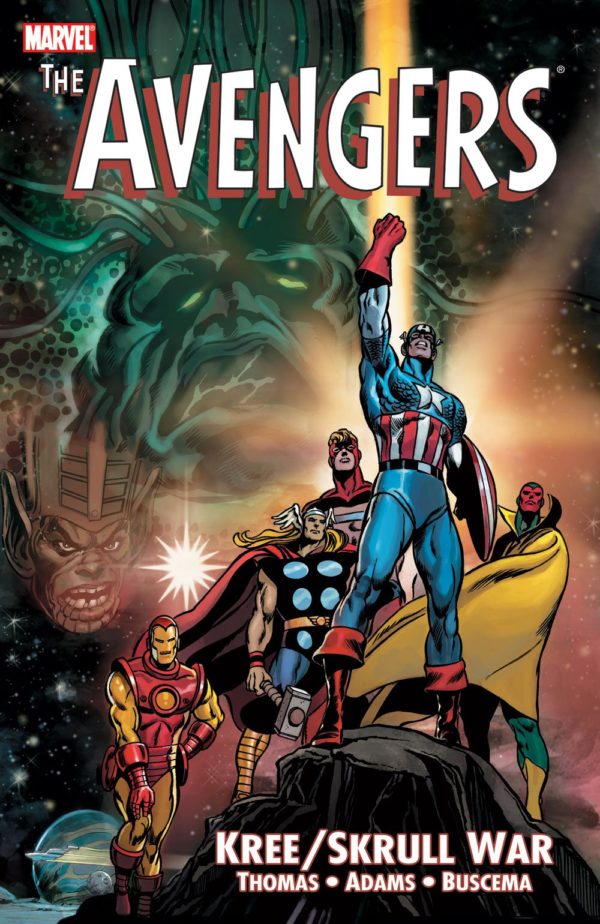 The Kree/Skrull War
Written by Roy Thomas. Art by Sal Buscema, Neal Adams, and John Buscema.
The Kree and the Skrulls, two alien races in the Marvel Universe with expansive empires, have been at war with each other for as long as anyone can remember. The war has made its way to Earth and the Avengers have been unexpectantly thrown into the middle of it.
This nine-part story is epic in scale, with a large cast of characters, big stakes, and wild ideas. We get everything from trips to the Negative Zone, Ant-Man journeying into Vision's body, battles with Ronan the Accuser, and much more.
But it's not only about the super heroics. The Kree/Skrull War tests The Avengers in ways that cannot be solved with punching. There's the exploration of fear-mongering by public officials as well as how the media plays into these fears. While their presented in a way that makes sense in the early 1970s, they're still as relevant today.
Do you want to know more about The Kree-Skrull War? Read more about it in this extensive review.
Original issues: Avengers #89-97
Trade Paperback: Avengers: Kree/Skrull War
Buy on: Comixology | eBay
Infinity
Written by Jonathan Hickman. Art by Jim Cheung, Jerome Opena and Dustin Weaver.
When Jonathan Hickman took over the two core Avengers comics in 2012 he crafted an epic run full of big science fiction ideas and massive threats. Infinity was no different. The Avengers head off-planet to help various galactic empires take on The Builders, an ancient civilisation that once kick-started evolution around the universe but has now taken to destroying everything in their path on their way to Earth. To make things worse for Earth, Thanos has taken advantage of this by invading for the purpose of taking care of some unfinished business.
With duel stories, Infinity is massive in scope. It mixes space opera with superheroics, while keeping you on the edge of your seat even when you think all is lost.
Fans of Avengers: Infinity War will want to check this story out for its influence on the movie – particularly with the introduction of The Black Order.
Original issues: Infinity #1-6
Trade Paperback: Infinity
Buy on: Comixology | eBay
Disassembled
Written by Brian Michael Bendis. Art by David Finch.
When Brian Michael Bendis started writing Avengers he began by ripping the team apart. This five-part story shocked readers with character deaths and would sow seeds for House of M – an event which had a lasting impact on the X-Men. Not only this, it would kick-start Brian Michael Bendis' eight-year long run on the team, which would see him take the franchise to new heights as Marvel's premier team.
Original issues: Avengers #500-503 and Avengers: Finale
Trade Paperback: Avengers: Disassembled or New Avengers by Brian Michael Bendis: The Complete Collection Volume 1
Buy on: Comixology | eBay
New Avengers: Breakout
Written by Brian Michael Bendis. Art by David Finch.
After ripping the team apart in Avengers: Disassembled, Bendis and Finch build the team from the ground up – featuring many new members. New to the team are some fan favourites including Spider-Man, Wolverine, Spider-Woman and Luke Cage. But what could make Captain America reluctantly reform the team after its tragic end?
How about a mass breakout of super-villains from a super-maximum-security prison? The team must track down and return more than 40 super-villains that have escaped before they wreak havoc on the world.
Original issues: New Avengers #1-6
Trade Paperbacks: New Avengers: Breakout or New Avengers by Brian Michael Bendis: The Complete Collection Volume 1
Buy on: Comixology | eBay
The Korvac Saga
Written by Jim Shooter, David Michelinie and Bill Mantlo. Art by George Perez, Sal Buscema and David Wenzel.
Michael Korvac, a villain the from the 30th century, travels back in time in order to escape being captured. When he gets to the past (our present) he comes across Galactus and is able to absorb the Power Cosmic, which essentially turns him into a god-like being. Noticing how much of a threat he would be, The Collector turns his daughter into a god-like being with the intention of using that power to stop him. Instead, the pair fall in love and disappear to Earth to live a quiet life together. Meanwhile, the future Guardians of the Galaxy, with help from the Avengers, have come back in time in order to apprehend Korvac and return him to his time. Of course, not everything goes to plan and the two teams must battle this god-like being to save the world.
While it may sound a bit convoluted with omnipotent beings and time-travel, The Korvac Saga is a wide sweeping story told on a grand scale. And if that's your jam then this is the Avengers comic for you.
Original issues: Avengers #167-169, 170-171 and 173-177
Trade Paperback: Avengers: The Korvac Saga
Buy on: Comixology | eBay
The Ultimates
Written by Mark Millar. Art by Bryan Hitch.
When the Ultimate Universe, a more new reader friendly universe, was created in the early 2000s The Ultimates was one of its early hits. It was so popular that it spawned multiple sequels and even formed a lot of the basis for the original Avengers movie.
Unlike the regular Marvel Universe, The Ultimate Universe was an exploration of what the real world would be like if there were superheroes in it. With this in mind, Millar and Hitch crafted a series which sees the team struggle with public opinion and politics. Throw in Hitch's cinematic styling and The Ultimates reads like a big Hollywood production.
Original issues: The Ultimates #1-13
Trade Paperback: The Ultimates
Buy on: Comixology | eBay
Kang Dynasty
Written by Kurt Busiek. Art by Alan Davis, Kieron Dwyer, Ivan Reis, and Manuel Garcia.
The Avengers have faced many villains over the years, but there are few that really stand out like Kang the Conqueror. While he has been able to rule over the future by using time travel to his advantage, he's never been able to defeat the Avengers and conquer our present day. This time he'll go all in to achieve his goals.
This is the story where he finally succeeds. It's up to the Avengers to rise up and take it back! Over the 16 issues, Busiek includes a lot of different subplots from the investigation a cult, taking on the self-proclaimed "Master of the Earth", to strange romances. While many of them may seem unrelated at the time, they all tie-ins satisfyingly at the end to create a rich tapestry of intriguing ideas and heart-warming character moments.
Original issues: Avengers (1998 series) #41-55 and Avengers Annual 2001
Trade Paperback: Avengers: The Kang Dynasty
Buy on: Comixology | eBay
Under Siege
Written by Roger Stern. Art by John Buscema.
Baron Zemo has banded together a massive team of fellow villains with the philosophy that if the group can work together they can defeat the Avengers. His theisis is proven right when they word together to take over the Avengers Mansion and seriously weaken the current team through strategic planning, brute force, and opportunism. It's now up to the remaining members be able to reclaim their home and take down the villainous coalition?
So what makes this such a great Avengers story? While on paper it sounds like a simple good vs evil story, it's so much more than that thanks to the addition of inter-team conflict on both sides and solid character moments for Wasp and Captain America. Throw in some gripping action and you've got the workings for a classic Avengers story.
Original issues: Avengers #273-277
Trade Paperback: Avengers Epic Collection: Under Siege
Buy on: Comixology | eBay
Have Your Say!
What is your favourite Avengers story? Let me know in the comments or via Facebook or Twitter.