Imagine living in a world surrounded by a frozen wasteland. The only thing that's keeping you and the rest of civilization alive is a dome. To add to that, you're assigned your role in society so that you can play your part in civilisation's survival. That's the basic premise behind Outpost Zero, the new young adult series written by Sean Kelley McKeever, art by Alexandre Tefenkgi, colourist Jean-Francois Beaulieu, and published by Image Comics/Skybound.
Outpost Zero centres on a group of teens who live in this dome. Their whole lives they've been torn between simply surviving and being so much more. But, on one fateful evening, they're given the opportunity when a discovery in the frozen wasteland is made that will change the course of their lives.
In these few short pages, we get a glimpse at the two contrasting worlds that Alexandre Tefenkgi and Jean-Francois Beaulieu have visualised. There's life under the dome, which combines the greenery and man-made structures. Then there's the frozen wasteland outside the dome, which is cold and barren. Both are interesting in their own way and it will be interesting to explore them in this debut issue and beyond.
The icing on the cake is that Outpost Zero #1 is a double-sized issue, containing more than 40 pages of story. That's great value when you factor in that it's priced at $4.99.
If you're a fan of character-driven young adult storytelling, especially with a science fiction bend, then you should keep a lookout for Outpost Zero when it begins in July.
Outpost Zero #1 is available from all good comic book stores and digitally on Comixology and the Image Comics website from July 11th.
Read a few preview pages of Outpost Zero #1 below.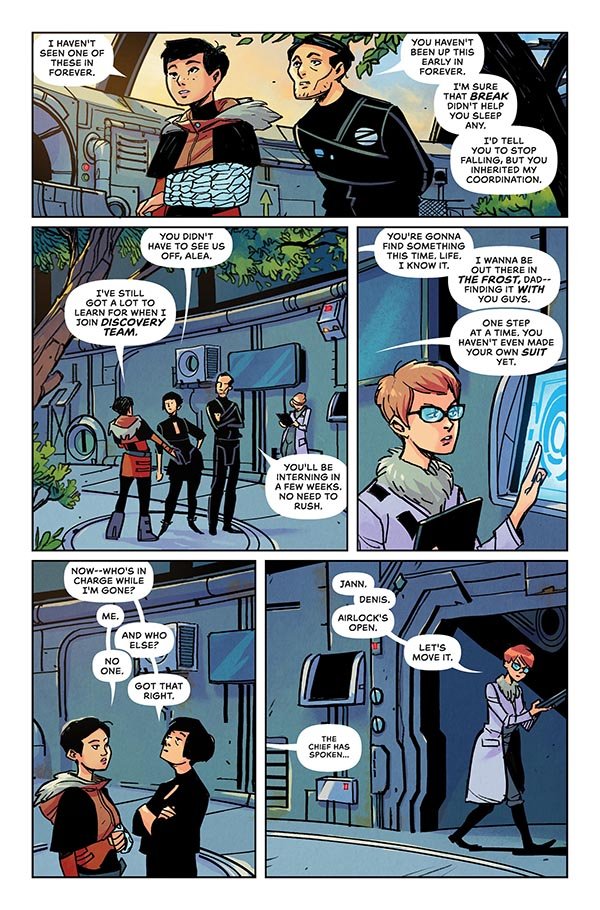 Have Your Say!
Will you be reading Outpost Zero? Let me know in the comments below or via Facebook or Twitter.