It's Superman's 80th anniversary this year and as part of it How to Love Comics will be celebrating throughout 2018. As part of the celebrations, I will be sharing some superb Superman comic book covers from all through his history. Along the way, I'll provide some choice commentary on why I think these covers are great and the occasional factoid where appropriate.
The inaugural edition, aka Part 1, will explore the Superman and Action Comics covers in his first ten years of inception and include fantastic covers from early artists such as Joe Shuster, Jack Burnley, Wayne Boring, and others.
You're in for a treat. There are so many great comic book covers to bath your eyes in! Don't forget to let me know in the comments which ones are your favourite!
Action Comics #1 by Joe Shuster
The cover for Action Comics #1 is iconic. Superman is introduced to the world with an action-filled cover which shows a spectacular display of his strength. It's the kind of cover that tells a story, but also lets the reader fill in the blanks in their mind. I've always loved the inclusion of the man in the bottom corner, it adds to the chaos of the scene. This one of the two covers from this era that have been homaged many times.
Action Comics #13 cover by Joe Shuster
What makes this cover interesting is not only the subject matter, with Superman stopping a speeding train, but it feels far more three dimensional than other covers of the time. The speeding locomotive overlaps the title which makes feel like it going to burst off the cover if it were not for Superman.
Superman #1 cover by Joe Shuster
The other cover that is often homaged, Superman #1 is another iconic Superman comic book cover. While it was common to show off Superman's abilities on the cover at this point in his history, this one was one of the earliest to show his flight by having him lift off above the city. The inclusion of the frame around the central image is an interesting inclusion. It gives the cover some refinement and it is almost treated as a formal occasion. What else is worth noting it is the first cover to use the Superman logo which has foundationally stayed the same to this day.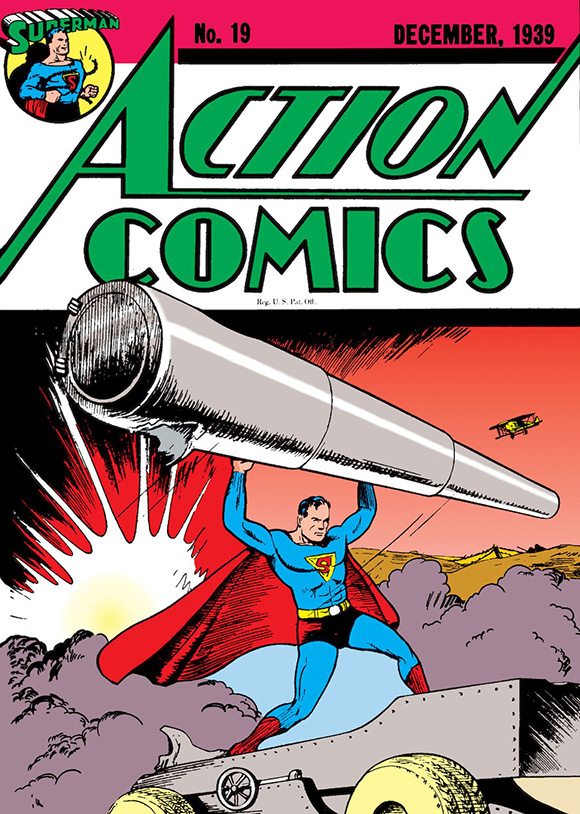 Action Comics #19 cover by Joe Shuster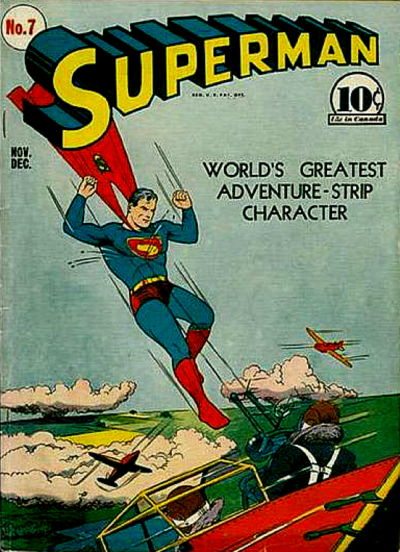 Superman #7 cover by Joe Shuster and Wayne Boring
Action Comics #35 cover by Joe Shuster
The next three I am going to talk about all at once as they all follow a similar theme. While these covers were published during a time when the United States was neutral in their involvement in World War II, Superman is well involved in the conflict. He's flighting unambiguous enemies using his superhuman powers, which is a big step up from previous adventures of stopping criminals and averting disasters.
Superman #14 cover by Fred Ray
This cover is one of the first examples of Superman standing for truth, justice and the American way on a cover.
Superman #23 cover by Jack Burnley
Superman regularly fought against the Nazis during World War II. Out of all these depictions of these wartime battles this one definitely the best.
Superman #24 cover by Jack Burnley
Another great Superman cover that reflects truth, justice and the American way. The orange glow is a nice inclusion which makes the cover pop.
Superman #33 cover by Jack Burnley and George Roussos
Up until this point, Superman's covers have been either shown feats of strength or patriotic. This is one of the earliest examples of a lighter subject tone, almost silly and revolves around a gag.
Action Comics #47 cover by Fred Ray
Being punched through a brick wall would certainly hurt! This is an interesting cover as Superman is not the focal point like he is in most covers.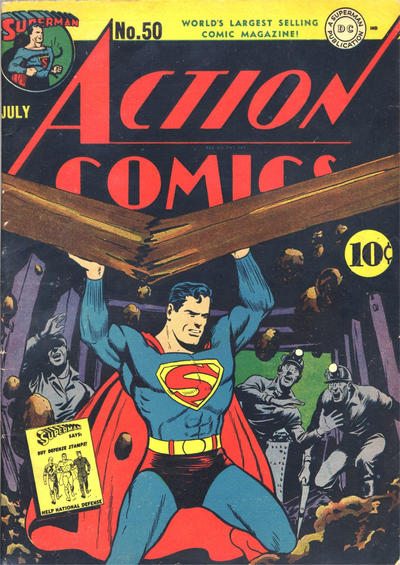 Action Comics #50 cover by Fred Ray
A powerful cover, full of high-stakes drama. What I enjoy the most about this cover is the expressions of fear and amazement on the miners' faces.
Action Comics #61 cover by Jack Burnley
What an explosive cover! The way the flames burst in every direction is not only eye-catching but also exciting.
Action Comics #65 cover by Jack Burnley
I just like the idea of Superman beating a criminal with a giant cash register. The "No Sale" pop up on the register is a nice touch too.
Action Comics #85 cover by Jack Burnley and Stan Kaye
This is such a fun cover. The word balloon is a nice touch too.
Action Comics #89 cover by Wayne Boring
The black Action Comics logo is a nice juxtaposition to the colourful warp of colour. Superman being void of his own colour is also a nice touch as it lets the tight inks to really pop out.
Action Comics #96 cover by Wayne Boring
Elements such as the diver behind Superman telling what he should do, fish watching the game, and Superman's posture all add nice touches to a fun cover. Just looking at this cover you start to form a story in your mind as to why Superman is playing chess underwater.
Action Comics #101 cover by Wayne Boring
While not realistic in depiction, this cover gives readers an insight into the destructive power of the atom bomb explosion.
Action Comics #105 cover by Wayne Boring and Stan Kaye
Another silly cover, but one that captures the spirit of the season. Superman is even Santa Clause's hero.
Action Comics #108 cover by Jack Burnley
This cover has two great things going for it. Firstly, it depicts Superman's strength used in a manner. Superman has taken the full brunt of the lava in order to protect the workers. And secondly, Jack Burnley has implemented used the lighting to create extra drama. Overall, it's one of my favourites of the era.
How to Love Comics is will be celebrating Superman throughout 2018. Check out other articles as part of this celebration and look out for more cover spotlights through the year.
What Are Your Favourite Superman Covers?
Did your favourite cover from this era make the list? If not, what is it? Let me know in the comments below or via Facebook or Twitter.