We are spoiled for choice when it comes to Batman. There are so many quality stories! Many of these get the recognition they deserve, but due to the sheer number some that slipped through the cracks. 'Dark Night, Dark City' is one and if you continue on you'll soon see why you should read it.
1990 was an interesting time for Batman comics. The previous year saw the low selling comics get a massive boost in readership as fans of the 1989 Batman movie tried to find further outlets for the character. Due to this popularity, Batman went on bi-weekly schedule during the Summer months. This means twice the work to stay on schedule and in order to do this Peter Milligan and Keiron Dwyer was brought for a three-part story running through Batman #452-454 called 'Dark Knight, Dark City.'
Playing into the satanic panic of the time, 'Dark Knight, Dark City' is a supernaturally dark Batman comic. The first few pages cement this with a late-1700s demonic ritual featuring Thomas Jefferson and some of the forefathers of Gotham City. Cutting between past and present, we soon discover that their goal is to raise a demon called Barbathos and benefit from his power.
Milligan and Dwyer treat these sequences as a horror story instead of the regular hero/detective expectations of the Dark Knight. Milligan effectively puts fear into the reader by narrating these scenes through journal entries of a man present at the ritual. It's an effective way to inject horror, as the entries build up what cannot be seen on the page in the reader's mind. Dywer does this well by draping the scene in shadows. At the same time, colourist Adrienne Roy fills whatever light there is with eerie pinks and oranges. With the horrors hidden in shadows Dwyer to focus on the fear of those present. His panels are tightly packed, allowing for the emotion to be clear, but also claustrophobic at the same time. Overall, all these elements together allow for a very creepy scene.
In the present, a particularly vicious Riddler who has kidnapped newborn children from the hospital. As is usually the case with the Riddler, Batman must follow the riddles in order to prevent harm to the children. Usually, The Riddler has a motive, but for most of the story, it's unclear what it is.
The Riddler is known for putting Batman through the loop with his riddles, but here he's doing it in a way that's closer The Joker. Everything he does seems sporadic and unconnected. The riddles are still there, but they're more of an opportunity to put innocent people in mortal danger. It's made clear that he's off-character, something that Batman and the even you as the reader will find out pretty quickly. Even one of Riddler's goons notices this, mentioning that he's "starting to make The Joker seem positively sensible."
It's an interesting take for the villain, even if it is out of character. Although, you'll have to trust me when I saw there is a reasonable (by comics standards) explanation for this. I won't spoil what it is, you'll have to read it to find out.
Milligan and Dwyer know how to amp the tension up to 11 and so when the opportunity strikes. One particular moment that stands out is one where there's a baby on the road during a car chase. You have no idea if Batman is going to be able to stop in time and it's a stressful ordeal. The tension builds with ever panel change, as comic interchanges angles. We even are even shown Batman's face, as he tries to do everything in his power to stop the car in time. The whole scene only goes for a few seconds but it will put years on you.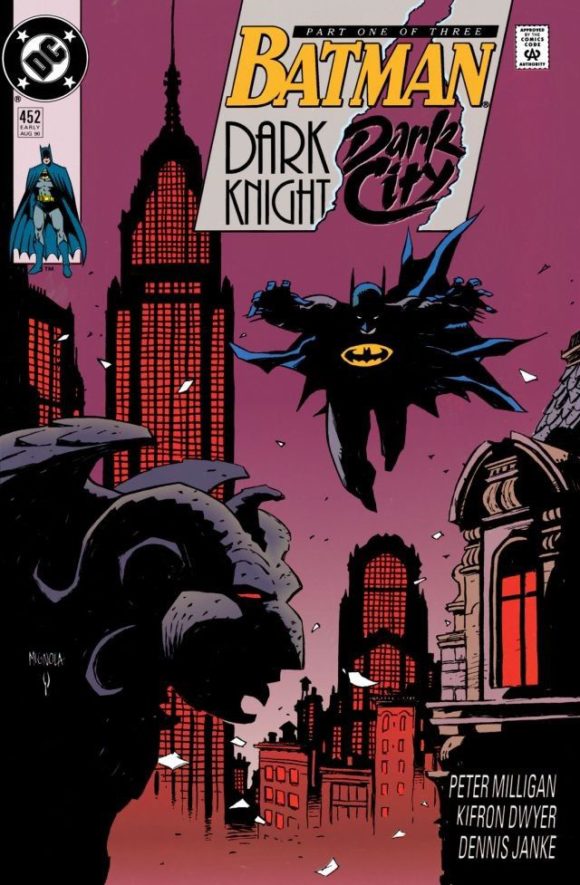 As an added bonus, Hellboy creator Mike Mignola contributes three fantastic covers. If you love his high-contrast, especially in a supernatural context, then you won't be disappointed.
For those who are who are loving Dark Night: Metal, you'll be interested to see that this comic inspires elements of the event. It introduces Barbathos to the Batman mythos and elements of the rituals mentioned in the event first found their origin here. It's clear to see that writer Scott Snyder loves this story and it inspired elements in one of his biggest stories ever.
So what makes this comic underrated?
Looking through the plethora of Batman comic lists online you'll notice that it's absent from the majority. While plenty of stories from the same era get recognition – A Death In The Family, The Cult, The Killing Joke, and Gothic just to name a few – this gem was found on only two lists. I doubt this is due to quality, but the fact that I don't think that many people have actually read it.
As 'Dark Knight, Dark City' spans over three issues it makes the story difficult to collect in a standard trade paperback collection, where five or six issues are the rule of thumb. So while many stories of the same era were collected, and benefited from being discovered beyond the initial release, 'Dark Knight, Dark City' was left in limbo for a long time.
That's not to say it has stayed out of print forever! In 2012 DC reprinted the story in a 100-page special, 22 years after the original release. While these 100-page specials are great at bringing back underrated material they are usually small runs and after a few months tend to disappear from the shelves. The problem becomes that it's out of print again. Luckily, DC Comics has finally fixed this problem by giving this classic a proper trade paperback release. This release collects this classic story as well as five issues of Milligan penned Detective Comics from 1991.
'Dark Knight, Dark City' is a story that deserves to get more recognition than it currently gets. While it's long out of print status should is not an indication of its quality, but has contributed to it's underrated status. Milligan and Dwyer have crafted an eerie Batman tale which switches between supernatural horror and high octane action. It's also up there as one of the best Riddler stories of all time. With all these elements, plus its contribution inspiring Dark Nights: Metal, that this gem breaks from underrated status.
You can find 'Dark Knight, Dark City' at all good comic book stores, digitally and eBay.
Have Your Say!
Have you read this Batman gem? Let me know in the comments below or via Facebook or Twitter.