Bringing together most of DC Comics' most prolific characters together, the Justice League has been saving the world since 1960 in comic books, animated series and a soon to be released movie.
If you're looking for some awesome Justice League comics to read you can't go past this list of classic stories. In it are some of the best tales from the earliest days of the team to more recent times, and plenty in between.
Quick note: I've decided to include stories which contain mostly a line-up of the core characters – Superman, Batman, Wonder Woman, The Flash, Green Lantern, Aquaman, Cyborg, or Martian Manhunter. Mostly so it is not too jarring for people only familiar with the movie.
Enjoy!
Quicklinks: Where Can I Buy Comics? | 6 Best Places To Buy Comics Online | 3 Awesome Justice League Starting Points For Binge Readers | 14 Wonder Woman Stories You Should Read | 13 Superman Stories You Should Read
Starro The Conqueror
Written by Gardner Fox. Art by Mike Sekowsky.
Starro, a giant starfish from outer space, has arrived on Earth with the goal of taking over the Earth through a means of mind control and various methods of chaos. It's up to the Justice League to stop him and his lieutenants before he can reach his goals. While it might sound like a wacky story, it's also a significant one as it introduced the world to the Justice League all the way back in 1960.
It's a fun story that is perfect for those looking for a story that's a little bit strange or are curious about the early adventures of the Justice League.
Starro The Conqueror is told in Brave and the Bold #28. It's collected in Justice League: Silver Age Volume 1 and available digitally.
Origin
Written by Geoff Johns. Art by Jim Lee.
The Justice League's origin story has been told in many different ways over the last 57 years and Origin is the latest take on it. It's also the one that lines-up with current comic book continuity and has heavily inspired the Justice League movie.
Darkseid and his armies of Parademons have come to Earth and are causing chaos and destruction. The various heroes of Earth – including Superman, Wonder Woman, Batman, The Flash, Cyborg, Green Lantern and Aquaman – have all been operating for varying times but have never really met, but one-by-one they all come together in order to save the world as a team. Thus the Justice League is born!
If you crave big action then Jim Lee's art will not disappoint. Lee brings big action to Justice League, with big splashy pages and spreads that are full of detail and have plenty of the bad-ass moments.
If you want a comic which has inspired the movie, which also covers the origins of Justice League and throws in plenty of action, then Origin is the comic you should read.
Origin is told in Justice League (2011 series) #1-6. It's collected in Justice League Volume 1: Origin and is available digitally.
Crisis On Earth-Three
Written by Gardner Fox. Art by Mike Sekowsky.
In the early days of Justice League comics, it was almost an annual ritual for our heroes to join forces with their Earth-2 counterparts to save the day. In this tale, we get something a little different when we're introduced to Earth-3.
Instead of our favourite characters being heroes, the world's most powerful beings are quite the opposite – they're villains! That's right, we get to see the evil versions of Batman, Superman, Wonder Woman and more.
It's a fun story, which gives readers a chance to see what their favourite characters would be like if they were bad guys instead. It's also got a great twist in the middle, just when you think our heroes have won.
Crisis On Earth-Three is told through Justice League of America (1960 series) #29-30. It's collected in Justice League: Silver Age Volume 3 and available digitally.
A League Divided
Written by Gerry Conway. Art by Jim Aparo, Terry Austin, Brian Bolland, Brett Breeding, Pat Broderick, Frank Giacoia, Dick Giordano, Carmine Infantino, Gil Kane, Joe Kubert and George Perez.
In 1981 DC Comics celebrated the 200th issue of Justice League of America in a big way with a story which included, 11 artists, 15 Justice League members, and more than 70 pages. The result is a really fun story that harkens back to the Justice League's first mission but also brings newer members into the fold.
The issue opens up with a recap of the Justice League's very first mission, which was originally told in Justice League of America #9. The recap goes through the original origin story, which involves seven meteorites housing aliens crashing on Earth, with the intention of taking over the planet. Luckily Superman, Batman, Wonder Woman, The Flash, Martian Manhunter, Green Lantern, and Aquaman are able to save the day and form the Justice League at the same time. After their victory, the team then hides the meteorites all around the world so that they cannot fall into the wrong hands.
Flash forward to the present and the original members are desperate to find them again and are not acting like themselves. They've been brainwashed! It's up to newer League members like Hawkman, Zatana and Green Arrow to figure out what's going on before it's too late.
The joy of this story is the inclusion of 11 artists, who all bring their own artistic flair to the story with many of them being matched on characters that they're famous for, eg Joe Kubert taking care of some of the Hawkman related pages. With so many big names from the 60s through to the early 80s on art duties this comic is a joy to read.
A League Divided is told in Justice League of America #200. It's available digitally.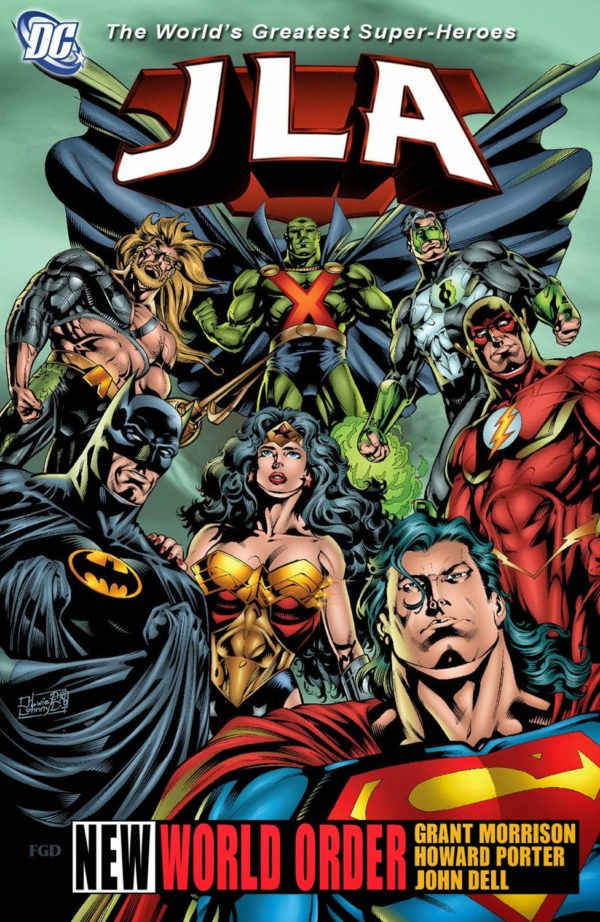 New World Order
Written by Grant Morrison. Art by Howard Porter.
There was a period, between 1987 and 1996, in which the Justice League looked very different from what most know it to be. It was made up of mostly obscure characters, with the occasional big-name rotating in or out. Not to say that it was bad, because this period is pretty good, it's just it doesn't have that classic feel of having the big A-listers all in one team. Well, in 1996 Grant Morrison and Howard Porter changed all that with a relaunched series which brought the big names back all in one place.
This opening story sees beings from another planet visit Earth and promises that they can solve all of the problems that the Justice League cannot. At first, it seems that they can do just that, but when the Justice League is mysteriously attacked it's possibly that they might have more sinister motives and may not be exactly who they seem.
Sometimes in team books, especially ones full of A-listers, that certain characters steal the limelight. That's not the case with New World Order, with each character given their time to shine through either some cool action scene or character development. The result is a story with big stakes but also makes you care about the characters.
New World Order is told in JLA #1-4. It's also collected in JLA Deluxe Edition Volume 1 and available digitally.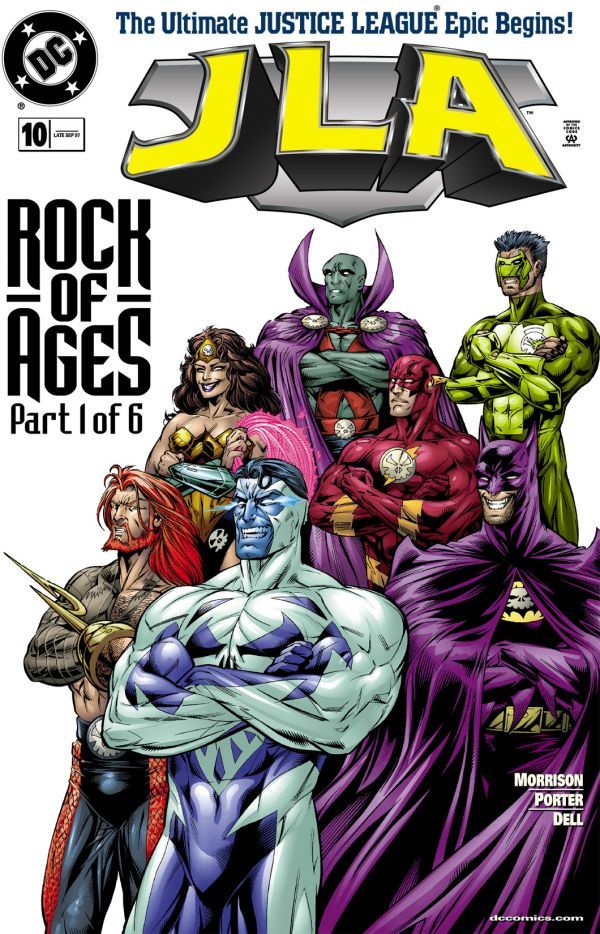 Rock Of Ages
Written by Grant Morrison. Art by Howard Porter.
Rock of Ages is a prime example of what comics can be when the creators think big and are not afraid to get a little wild in their storytelling.
It all kicks off when the Justice League faces hardlight holograms of themselves. We later find out these are being controlled by the Injustice Gang, which is a group of villains lead by Lex Luthor. While that might not seem that wild, things quickly escalate with the inclusion of intergalactic hopping, time travelling tens of thousands of years into the future and even an Earth dominated by Darkseid.
While that might seem like a lot to pack into six issues, Morrison and Porter stick the landing and as a result, create a pretty awesome Justice League story in the process.
Rock Of Ages is told in JLA #10-15. It's also collected in JLA Deluxe Edition Volume 2 and available digitally.
Crisis On Infinite Earths
Written by Marv Wolfman. Art by George Perez.
As you read this list you'll notice that I have described many of these stories as being big or massive in scale. While that's not a lie, they certainly do not top the size and scale of the threat that's in Crisis on Infinite Earths. The Anti-Monitor, an all-powerful being from the anti-matter universe, has been destroying thousands of parallel universes and now only a handful of them remain. It's up to the heroes of Earth-1, Earth-2, Earth-4, Earth-5 to join forces to save their worlds from being destroyed completely.
Wolfman and Perez continually escalate the threat throughout the twelve issues and leave readers guessing as to what will happen next, with a few shocks along the way.
Not only is Crisis On Infinite Earths famous for being a story on a massive scale, but it's conclusion also acted as a continuity clean-up. This allowed for various ideas to be shaped into one cohesive universe, with brand-new continuity and clean-up all the confusion which various parallel worlds can bring.
Crisis On Infinite Earths is a 12 issue maxiseries. It is collected in trade paperback and is available digitally.
Darkseid War
Written by Geoff Johns. Art by Jason Fabok, Francis Manapul, Kevin Maguire, Phil Jimenez, Dan Jurgens, Jerry Ordway, Scott Kolins and Jim Lee.
The evil Darkseid has returned to Earth and has brought his war against the Anti-Monitor with him. With a conflict of such magnitude, the Earth has become collateral damage and the Justice League have been thrown into the middle of it. Johns and a string of fantastic artists escalate the conflict with each chapter, offering massive stakes for the Justice League and the Multiverse itself. They also offer big action to match this scale, making it a very exciting read.
Without spoiling too much, the Justice League goes through an interesting transformation, which temporarily opens the door to some interesting ideas. While they're only temporary, they do lead to some mysteries which you'll be dying to know the answers for.
You can find out more about this story in the Darkseid War Reading Order.
Darkseid War is told over Justice League (2011 series) #40-50, Darkseid War Special and tie-ins. It's also collected in Justice League volumes 7 and 8 as well as digitally.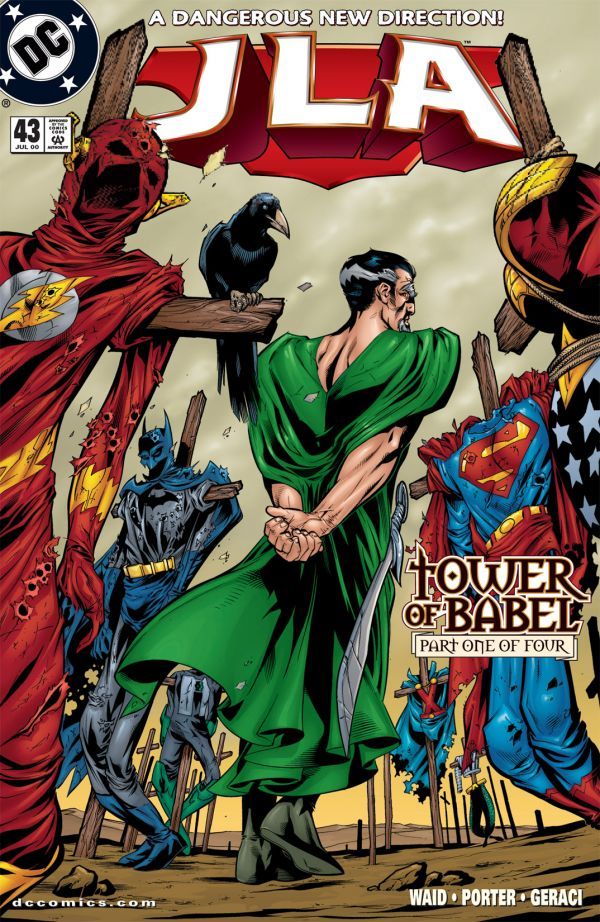 Tower of Babel
Written by Mark Waid. Art by Howard Porter and Steve Scott.
Tower of Babel is a story about trust between peers and what happens when that trust is compromised.
The eco-terrorist Ra's Al Ghul has come up with a plan to thin Earth's population in order to preserve its resources. This is done by stealing language from the world, which then causes all kinds of chaos everywhere. As an additional measure, he has exploited the weaknesses of each of the Justice League members so that they cannot stop him the chaos. The interesting part about all this is that Batman begins to see something very familiar to him in these exploits.
Tower of Babel is told in JLA #43-46. It's collected in JLA Deluxe Edition Volume 4 and available digitally.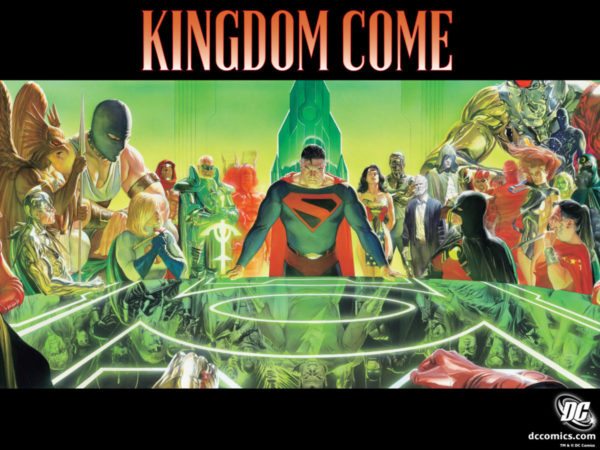 Kingdom Come
Written by Mark Waid. Art by Alex Ross.
Kingdom Come explores a world where Superman has stepped down from super-heroics, setting off a domino effect where most of the Justice League follow suit. In the vacuum, the new breed of heroes would rise up to be more violent and destructive. It's not until tragedy strikes ten years later when the Justice League come out of retirement to stop the bloodshed.
The series is mostly told from the perspective of a priest who, thanks to The Spectre, can see the actions of the heroes in a similar manner to that of Charles Dicken's Christmas Carol. It's an interesting angle to look at the story, which allows for the conflicting ideals to be commented on and explored.
The comic is beautifully painted by Alex Ross, who fills the page with glorious and expressive figures. His use of colour and lighting make his style have a sense of realism to it, while still having a sense of nostalgia for comics of yesteryear.
Kingdom Come is a 4 issue miniseries. It's collected in trade paperback and is available digitally.
Have Your Say!
What are your favourite Justice League stories or even what are your favourite team members? Let me know in the comments below or via Facebook or Twitter.