Since his introduction in 1962, Thor has become one of Marvel's most popular characters and his popularity has only climbed in recent years due to Chris Hemsworth's portrayal of the Norse god.
Thanks to epic runs involving rich Norse mythology, superheroes and science fiction, Thor has had some absolute cracking stories. And it's with this list that I highlight 10 of them featuring stories old and new, with plenty of classics and fan favourites.
I verily hope you enjoy it!
Quicklinks: Where Can I Buy Comics? | 6 Best Places To Buy Comics Online | Thor on How to Love Comics | Your Comic Book Guide To Thor: Ragnarok | 6 Loki Stories You Should Read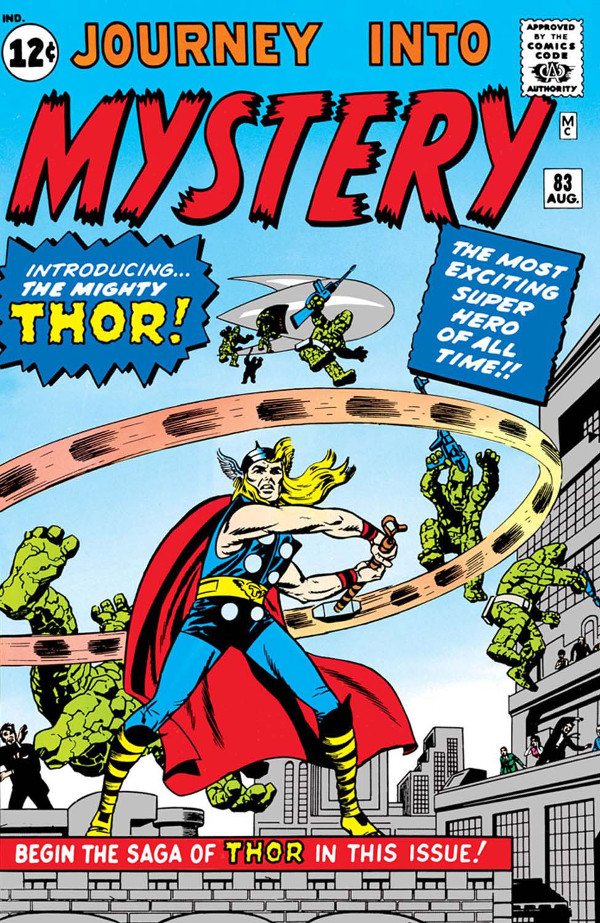 The Stone Men From Saturn
Written by Stan Lee and Larry Lieber. Art by Jack Kirby.
This is the story that introduced the world to Marvel's mighty Thor! It's a short story, 13-pages in total, but Stan Lee, Larry Lieber and Jack Kirby packed a lot in. We get an introduction to Donald Blake, whose discovery of Thor's hammer transforms him into the hero of legend, a practical explanation of his powers and even enough time to for the hero to stop an alien invasion.
If you're wanting a good explanation of Thor's powers and the Donald Blake dynamic, or simply curious in reading the first Thor tale, then this story is for you.
Single Issues: Journey Into Mystery #83
Trade Paperback: Thor Epic Collection: The God of Thunder or Marvel Masterworks: The Mighty Thor Volume 1
Comixology | eBay
To Wake The Mangog
Written by Stan Lee. Art by Jack Kirby.
The Mangog, has awoken and its on its way to Asgard in order to create Ragnarok, the Norse mythology equivalent to the end of the world. But an alien made with the power of a "billion billion" beings will not be beaten that easily!
The result is a series of epic battles which shows Thor taking his powers to the limit in a spectacular fashion. At the same time Loki has some great moments in this story too, with his plot to use the situation to his advantage.
Kirby's art is explosive, with splashy pages and emphasis on the epic action. His use of line bursts off the page and adds to the drama in a spectacular manner. If you're new to Jack Kirby this story is a great introduction to his signature style.
As an added bonus, To Wake The Mangog even an odd encounter with hippies (this was written in the late 60s), which has Stan Lee use every bit of hippy slang he knows.
Single Issues: Thor #154-157
Trade Paperback: Thor Epic Collection: To Wake The Mangog or Marvel Masterworks: The Mighty Thor Volume 7
Comixology | eBay
And Now Galactus
Written by Stan Lee. Art by Jack Kirby
While Thor stories are more concerned with mythology and fantasy there is the occasional story which goes fully-fledged science fiction. And Now Galactus is one of those instances, and spectacularly so.
Thor is persuaded by aliens to help save their planet from Galactus, the giant world eating being. Teaming up with The Recorder, he sets a coarse to encounter the world eater. But as they soon discover he is locked in battle with who matches his immense power – Ego the Living Planet!
This comic is a cosmic drama told on a grand scale with Jack Kirby using his explosive high-energy style to excellent use. We have epic battles, cool space ships and exotic architecture filling up the page to make a popping read. Kirby even experiments with collages, which are glorious to look at. All these visual elements make And Now Galactus a must read for any Jack Kirby fan or anyone who wants to know what made him so great.
Single Issues: Thor #160-162
Trade Paperback: Thor Epic Collection: To Wake The Mangog or Marvel Masterworks: The Mighty Thor Volume 7
Comixology | eBay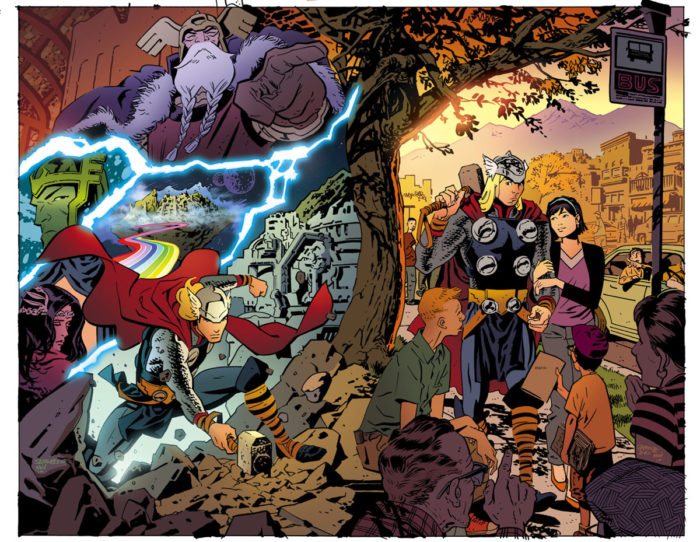 Thor: The Mighty Avenger
Written by Roger Langridge. Art by Chris Samnee.
Thor: The Mighty Avengers is a short-lived, but much-loved, series that tells the story of Thor trapped on Earth until he can learn some humility. While it was created in 2010, it evokes the 1960's comics of Stan Lee and Jack Kirby, although through a modern lens. The result is a string of fun stories, full of action, laughs, romance and special guests.
If you're a fan of the movies, especially the romantic elements, this set of stories will be up your alley. Often romance in superheroes comics is a bit like and on-off switch, which is added when convenient and as a result can feel tacked on or disingenuous. That's not the case with Thor: The Mighty Avenger, where it flourishes organically. This achieved through Langridge's clever writing, where he makes Jane a well-rounded character and the way Samnee draws their body language, making it more obvious as the series progresses.
The Thor represented in this series is one that's brash and headstrong. He's all about swinging his hammer first and asking questions later, which often leads to conflicts against villains and a wide roster of Marvel heroes. The result is often fun action, which is backed up by Samnee's explosive and expressive art, but we also see him grow as a character as the result of his experiences.
Single Issues: Thor: The Mighty Avenger #1-8
Trade Paperback: Thor: The Mighty Avenger
Comixology | eBay
The Ballad Of Beta Ray Bill
Written and art by Walter Simonson.
Walter Simonson's run on Thor will go down as one of, if not the, greatest runs on Thor of all-time and in his first story he kicked off his tenure with a bang. This classic introduces us to Beta Ray Bill, a fan favourite character who has a very worthy ability. (Once you read this you'll know what I mean by this pun!)
Through Simonson's script and explosive art, The Ballad of Beta Ray is full of big action as Thor aides Bill in stopping an alien force from wiping out his people.
But for all the action, this story also has some great character moments from Thor, Beta Ray Bill and even Sif. These moments give the story an emotional depth, which gives the action more meaning and will have you wanting them to succeed all that more.
Single Issues: Thor #337-340
Trade Paperback: Thor by Walter Simonson Volume 1
Comixology | eBay
Thor Croaks
Written and art by Walter Simonson.
Out of all the Thor stories listed, Thor Croaks takes the cake as the strangest. It's also a fun read, with a very memorable premise.
Odin has disappeared and Asgard needs to elect a new leader, with the two major candidates being Thor and Loki. Although, in Loki's attempt to take Thor out of the running, he has turned the God of Thunder into a frog. That's right, a frog.
Stranded on as a frog on Earth, Thor must find a way to get back to Asgard in time but also help some new froggy friends in Central Park.
Don't write this story off because of the premise as it's heaps of fun – especially when combined with Walter Simonson's high energy art. You might not think that a story about a frog could be full of energy, but just you wait until the final act. The "Frog of Thunder" will prove you wrong.
Single Issues: Thor #364-366
Trade Paperback: Thor by Walter Simonson Volume 4
Comixology | eBay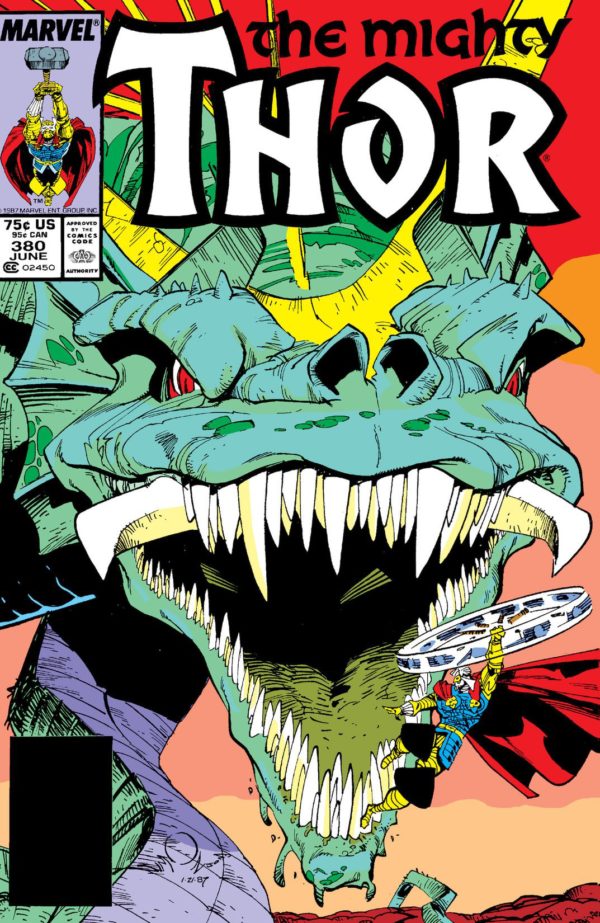 The Midgard Serpent
Written and art by Walter Simonson.
In what would be his final issue drawing Thor, Walter Simonson goes all out with an epic battle between Thor and giant serpent Jormungand. (When I say giant, I am not exaggerating. It's literally spanning around the Earth.) The entire issue is the battle between, with the stakes being a matter of life and death.
In order to portray the hugeness of this battle, Simonson makes every page a splash page. This experimentation gives the battle and Jormungand a massive sense of scale that dividing the pages wouldn't be able to portray. As a result, it also means that Simonson can give more detail in his art and letterer John Workman has more space for sound effects that reflect the battles scale.
Overall, The World Serpent is a visual feast which lives up to the scale that Simonson intended with the story.
Single Issues: Thor #380
Trade Paperback: Thor by Walter Simonson Volume 5
Comixology | eBay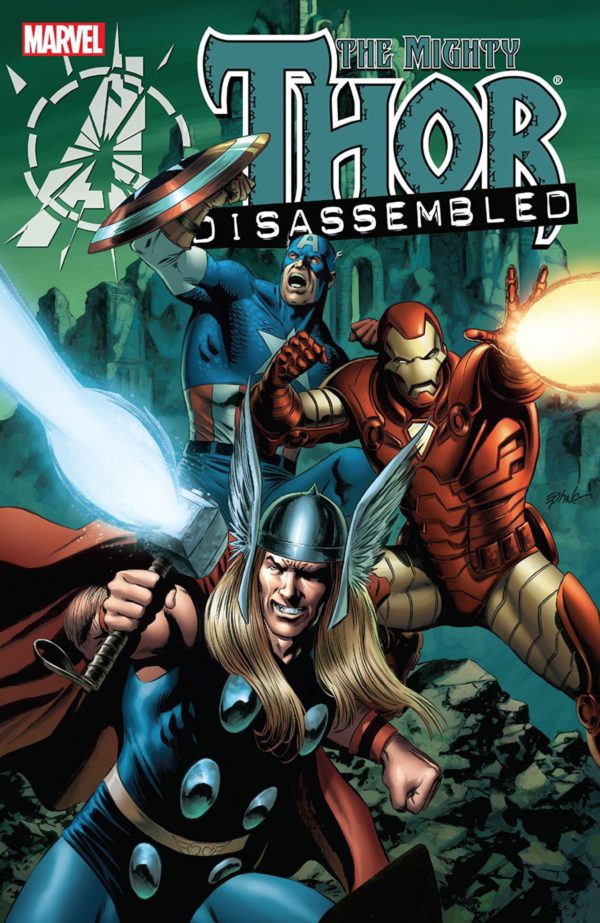 Thor Disassembled: The Last Ragnarok
Written by Michael Avon Oeming. Art by Andrea DiVito.
For decades before this story, we saw Thor repeatedly successfully avoid Ragnarok. But in Thor Disassembled we finally see what happens when it finally happens. The result is the destruction of Asgard and the death of all the Asgardians, including Thor. (It was a statquo that Marvel was able to keep for three years until the inevitable return.)
While that might sound like a major spoiler, this story is not so much about the ending as it is about the journey, both in a story sense and Thor's character development.
Single Issues: Thor (1998 series) #80-85
Trade Paperback: Thor Disassembled: The Last Ragnarok
Comixology | eBay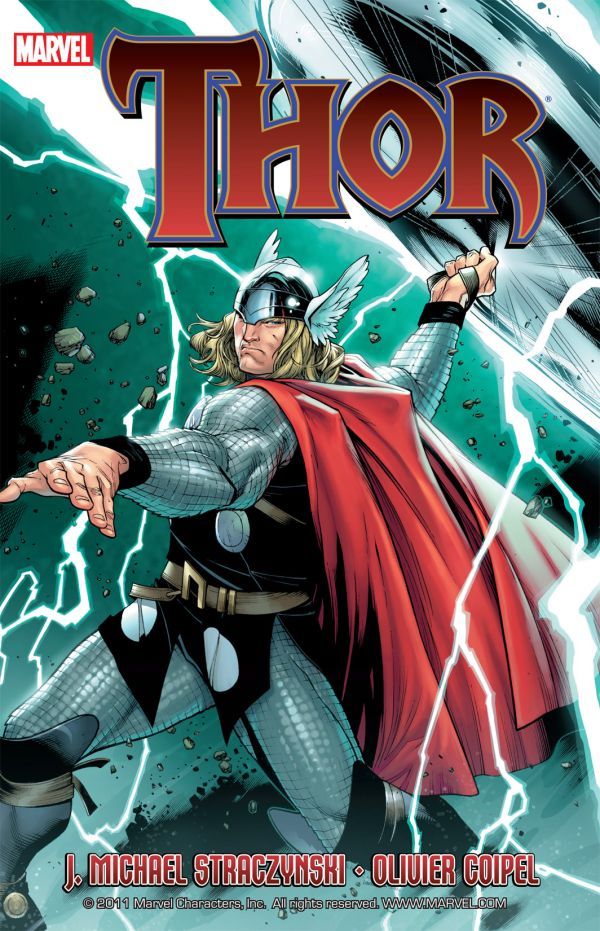 The First Arc Of J. Michael Straczynski's Run
Written by J. Michael Straczynski. Art by Olivier Coipel.
As discussed in the previous Thor Disassembled: The Last Ragnarok listing, Marvel allowed Thor and everything Asgardian dead for three years. But just like most deaths in comics, it was inevitable that Thor would return. J. Michael Straczynski and Olivier Coipel had the honour of doing so and brought with them a widescreen comic sensibility.
This first arc explores Thor's return and his establishment of a new Asgard, floating above a small town in Oklahoma. Thor then seeks out other Asgardians who are unaware that they are trapped in the bodies of ordinary people. Along the way, this arc will explore the Marvel Universe post-Civil War and real-world issues such as the recovery of New Orleans after Hurricane Katrina.
Single Issues: Thor (2007 series) #1-6
Trade Paperback: Thor by J. Michael Straczynski Volume 1
Comixology | eBay
The God Butcher/The Godbomb
Written by Jason Aaron. Art by Esad Ribic.
Strap yourself in for a story of epic proportions, spanning over thousands of years and featuring three Thors.
In a crusade that has spanned over a thousand years, the God Butcher is killing gods in his own personal crusade. Thor has encountered him throughout the ages but has never been able to stop him completely. In Thor's failure, The God Butcher has been able to ramp up his efforts to the point where he could wipe out all of the gods.
God Butcher/Godbomb has a unique structure in which it's split up between three different times in Thor's history – a younger Thor of the past, the present day Thor and King Thor from thousands of years into the future. While they might be in different eras these stories combine to move the narrative forward through different perspectives before converging towards the end.
For a story of epic proportions, you need an equally epic artist and Marvel found one in Esad Ribic. Not only is his style beautiful, with fantastic environments of the fantasy and science fiction variety, but his characters are also expressive. You'll see what I mean when he portrays fear, Thor's eyes say it all.
Find out more about Jason Aaron's Thor run.
Single Issues: Thor: God Of Thunder #1-11
Trade Paperback: Thor: God Of Thunder Volume 1: God Butcher/Thor: God Of Thunder Volume 2: Godbomb or Thor: The Saga of Gorr The God Butcher
Comixology | eBay
Have Your Say!
Do you have a favourite Thor story? Let me know in the comments below or via Facebook or Twitter.