Each month I like to showcase some of the new comics that you should be reading. I try and make it varied, mixing up creative ideas, genres and different storytelling to create a list that will have something that will appeal to everyone.
This month's list features an eclectic mix of apes in space, assassins, lined paper a one-man anthology and the best thing to come out of the Star Wars Prequel Trilogy.
Which of these comics will you be reading? Don't forget to tell me in the comments!
Planet Of The Apes/Green Lantern
Written by Robbie Thompson and Justin Jordan. Art by Barnaby Bagenda. Published by DC Comics and Boom Studios.
Back in the 1950's and 60's there was a time-honoured tradition at DC Comics to throw an ape into a comic book story, or even just on the cover, to boost sales. It was a gimmick, but it worked for many years. In 2017 the combined might of Boom Studios and DC Comics have taken the idea and spun it on its head by combining Planet of the Apes with Green Lantern. It's a bonkers idea, but sometimes it's the craziest idea that work.
So what's it all about? Ape Cornelius finds a mysterious and ancient ring which unleashes a power throughout the universe. It's up to Hal Jordan and a group of other Green Lanterns to investigate it's source before the evil Sinestro can get a hold of it.
Planet of the Apes/Green Lantern #1 is available from February 1st.
Darkness Visible
Written Mike Carey and Arvind Ethan David. Art by Brendan Cahill and Livio Ramondellia. Published by IDW Publishing.
Set in a world in which demons have co-existed with humans for 80 years, Darkness Visible follows the a cop who has to police both. It's a hard job, but someone has to do it, but job is made much harder when a demon sets up shop inside him. It also means that he'll be forced to do things that he doesn't want to – even if that means taking lives.
If you are looking for a supernatural story which combines a procedural element then this series should be right up your alley.
Darkness Visible #1 is available from February 15th.
Elektra
Written by Matt Owens. Art by Alec Morgan. Published by Marvel Comics.
Elektra is attempting to escape from her life as assassin by relocating to Las Vegas. But a new crime boss, Arcade, has entered the fold and brought her back into her old life once again.
If you've wanted to read an Elektra story, but had no idea where to start then this is a good jumping on point.
Elektra #1 is available from February 22nd.
The Wild Storm
Written by Warren Ellis. Art by Jon Davis-Hunt. Published by DC Comics.
Through comics like Stormwatch and The Authority Warren Ellis was producing some of the best superhero comics of the late 90's for Wildstorm. In many ways a game changer, his work turned the genre and medium on it's head – housing big ideas, a massive scale and cinematic presentation. The result was a critical and fan favourite series.
While the Wildstorm set of characters haven't had the same lust as back then they are back with Warren Ellis behind the helm, reinventing them for today. If you've never experienced these character then this series is the perfect jumping on point which should offer big ideas in a marriage of science fiction and superheroes.
The Wild Storm #1 is available from February 15th.
Star Wars: Darth Maul
Written by Cullen Bunn. Art by Luke Ross. Published by Marvel Comics.
It's no secret that most Star Wars fans did not enjoy the Star Wars prequels, but one thing they will tell you they did enjoy was Darth Maul. Why wouldn't you? He's a bad-ass with double-sided lightsaber and an awesome design. Well, now the best thing to come out of the prequels is now making his way to comics with a brand new miniseries. This five-part story will follow Darth Maul's early training with Darth Sidious as he prepares for his first encounter with Jedi.
Cullen Bunn is the perfect choice to write this story as he excels at writing villains, with fan favourite runs on Magneto and Sinestro.
Star Wars: Darth Maul #1 is available from February 1st.
Sun Bakery
Written and art by Corey Lewis. Published by Image Comics.
Originally published by Alternative Comics last year, this one-man anthology returns as an ongoing series at Image Comics. Clearly inspired by 90's Weekly Shonen Jump, this comic oozes with cool ideas including, but not limited to: supernatural skateboards, space adventures to photograph the most beautiful locations in the universe and a city in which everyone uses swords because guns have become obsolete.
If you're a fan of manga/anime, especially from the 90's or simply like cool ideas you'll really dig this comic.
Sun Bakery #1 is available from February 22nd.
Old Guard
Written by Greg Rucka. Art by Leandro Fernandez. Published by Image Comics.
Old Guard is the brand new creator owned series for Greg Rucka and Leandro Fernandez which stars a group of ancient soldiers cursed with immortality. Using their deadly skills they act as mercenaries for those who can afford them. Although, in this day and age it is difficult to keep a secret hidden – especially immortality.
Old Guard #1 is available from February 22nd.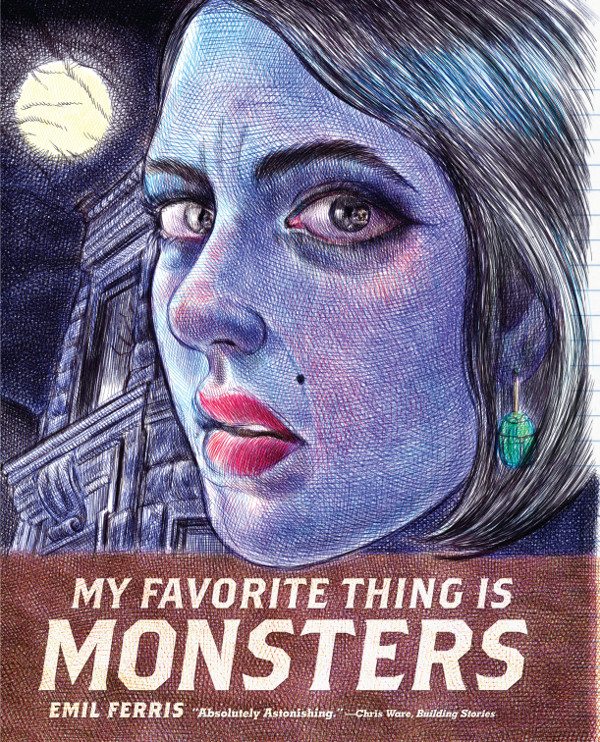 My Favourite Thing Is Monsters
Written and art by Emil Ferris. Published by Fantagraphics Books.
While I usually dedicate this column to single issues I came across this graphic novel and it looked too good to pass up. My Favourite This Is Monsters is the debut graphic novel by Emil Ferris who has put together a hyper-detailed and unique piece of work. Told through the perspective of a 10 year old girl, this release is the characters diary, full of incredibly detailed art on lined paper with ball-point pen. Ferris draws inspiration for monster comics and other works from her childhood to produce a story which is part murder mystery, part psychological thriller and part family drama.
If you're looking for a longer read this month and want something totally unique I would give My Favourite Thing Is Monsters a try.
My Favourite Thing Is Monsters Volume 1 is available from February 15th.
What Comics Will You Be Reading This February?
Which of these February comic book releases grab your interest? Let me know in the comments below or via the How to Love Comics Facebook or Twitter.