Image Comics are the industry leader when it comes to creator-owned comics. They're not afraid to try new things and push boundaries when it comes to their comics, putting out fantastic content as a result. 2017 marks the 25th year of the publisher and throughout the year they will be celebrating this milestone in a variety of ways. One of these, which shows off their nature to innovate, is releasing a trio of 25 cent releases in February.
25 cents! That can't be right!
You've read correctly, in February Image Comics and Skybound imprint will be releasing the three Robert Kirkman penned comics for only 25 cents. The comics involved in these will include the following:
The Walking Dead #163
Invincible #133
Outcast By Kirkman & Azaceta #25
At 25 cents an issue this the perfect an opportunity to sample these comic book series if you've never read them before. Each of these will be the start of a brand new story, which means you can dive right in. If you dig what you read you can pick up the next issue or if you want a good ol' binge read there are a heap of collections to catch up on. And if you don't the most you've spent is 75 cents!
To put this in perspective, the last time comics were 25 cents was all the way back in 1974. Now that's how you know it's a great price! While it will only be for these February releases, it's great to see that Image Comics are willing to create an inexpensive option for readers.
With a circulation of The Walking Dead #163 exceeding 750,000 copies you'll definitely be able to grab a 25 cent if you head to your local comic book store. You can also pick each of these up digitally through Comixology and the Image Comics website throughout February.
Want to know a bit more about these 25c gems? Check out the covers and solicitation information below: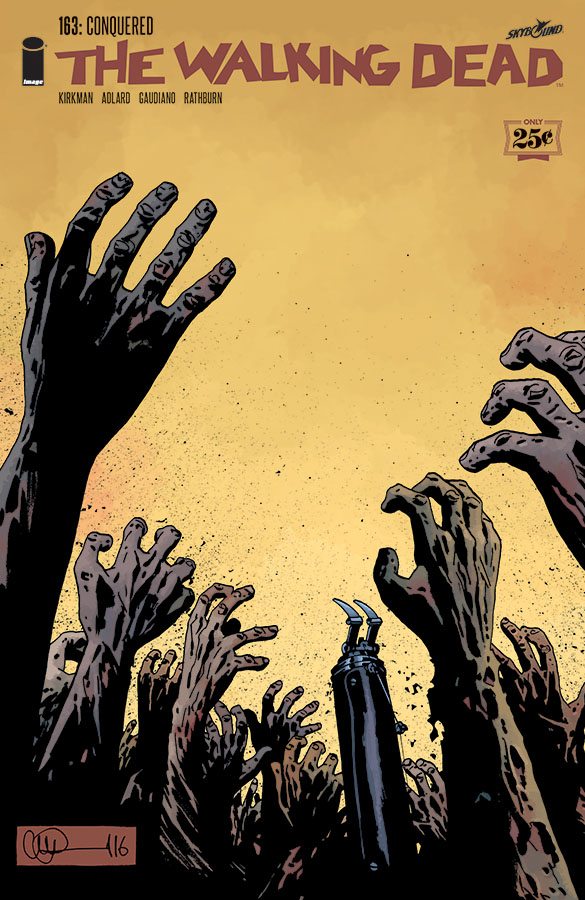 The Walking Dead #163
Story: Robert Kirkman
Art: Charlie Adlard, Stefano Gaudiano & Cliff Rathburn
Cover: Charlie Adlard & Dave Stewart
Available: February 1
Pages: 32
Colour: Black and White
Rating: M
Price: 25¢
NEW STORY ARC: "CONQUERED"
In the aftermath of The Whisperer War: ALL IS LOST.
Invincible #133
Story: Robert Kirkman
Art / Cover: Ryan Ottley & Nathan Fairbairn
Available: February 15
Pages: 32
Colour: Full Colour
Rating: T+
Price: 25¢
NEW STORY ARC: "THE END OF ALL THINGS," Part One
RYAN OTTLEY returns as "THE END OF ALL THINGS" begins. This 12-part mega-story will touch every corner of the INVINCIBLE universe, and when it's over…IT'S OVER. Every single story for the past 13 years has been leading up to this!
Outcast By Kirkman & Azaceta #25
Story: Robert Kirkman
Art / Cover: Paul Azaceta & Elizabeth Breitweiser
Available: February 22
Pages: 32
Colour: Full Colour
Rating: M
Price: 25¢
A major turning point in the series! New characters are introduced! Big things are in store for Kyle Barnes as he's faced with something he never could have prepared for—hope! Everything changes as we celebrate our 25th issue!
Will You Be Reading These Special Issues?
Will you be picking up these 25c gems? Let me know in the comments below or via Facebook or Twitter.