For the past few weeks, I've been asking the How to Love Comics Community to vote for their favourite comics and graphic novels of 2016. Many of you listened and the votes came rolling in.
The comics you see below are the 10 best comics of 2016 according to the readers of this very site. 2016 was a strong year in comics with a fantastic mix of comics making the list.
In some instances I have included quotes from those who have voted, letting everyone know why they enjoyed that comic so much.
I would like to thank everyone who voted and for taking time out of your day to share your favourite comics with me and everyone else.
For those who like to compare, here are 2014's and 2015's lists.
Enjoy!
10. Kill or Be Killed
Written by Ed Brubaker. Art by Sean Phillips. Published by Image Comics.
It's always exciting when there's a new project by the superstar team of Ed Brubaker and Sean Phillips. The two just know how to gel together to craft fantastic comics. In Kill or Be Killed we get their take on vigilantes. In it, a young man has been given a second chance at life by a mysterious demon. But the catch is that he's forced to kill one criminal a month in order to stay alive. With an interesting take like that, paired with the dark dingy world that Sean Phillip's has rendered it's no wonder that Kill or Be Killed has made it into the top 10.
9. The Fix
Written by Nick Spencer. Art by Steve Lieber. Published by Image Comics.
From the team that bought you Superior Foes of Spider-Man comes The Fix, a crime series full of likeable, but dysfunctional, people. Featuring crooked cops, scheming mobsters, and corrupt politicians, these are the people who run Los Angeles and the way that they are characterised is why people love this series so much. It's not afraid to be goofy, which allows these criminals to be likeable. Oh, and there's a drug-detecting beagle named Pretzels too.
8. Harley Quinn
Written by Jimmy Palmiotti and Amanda Conner. Art by Chad Hardin. Published by DC Comics.
2016 was Harley Quinn's year. Not only did she hit the big screen in the Suicide Squad movie but she also had a big year in comics with a relaunched series as part of the DC Comics Rebirth. With plenty of laughs and zany situations, Harley Quinn has been a fun read throughout 2016.
This is what one voter had to say about Harley Quinn:
Great comic series! Jimmy Palmiotti, Amanda Conner, & Chad Hardin are exceptional!

Jeremy
7. Superman
Written by Patrick Gleason and Peter Tomasi. Art by Patrick Gleason, Doug Manhke and Jaime Mendoza. Published by DC Comics.
For the past few years Superman has gone through half a dozen status quo changes. Each one made to shock, but moved Superman further away from his core. That's until Peter Tomasi and Patrick Gleason were able to take reigns of the character. The result is a more recognisable Superman, that's hopeful and lighter. This tonal change has also carried on into his relationship with his son Johnathan, which is a great aspect of this comic. Overall, it's been some of the most enjoyable Superman comics in the past few years.
6. Titans
Written by Dan Abnett. Art by Brett Booth. Published by DC Comics.
When DC Comics did their massive soft-reboot, known as the New 52, back in 2011 there was something missing that the fans wanted more than anything else. The first was Wally West, a character who had been The Flash for close to 25 years. The other was a sense of legacy. With Titans, one of the series spinning out of the DC Comics Rebirth relaunch, both of these have returned. But more than just ticking the boxes of fan demands Dan Abnett and Brett Booth have crafted a comic full of deep relationships, making this comic greater than your typical superhero comic.
This is what one voter had to say about Titans:
Titans shows the love shared between the Teen Titans and the pain Wally West feels from not being remembered by his closest friends. This issue is very heart-warming showing Wally West reconnecting with his cherished friends and reestablishing deep relationships. The art is capable of expressing the emotions of the issue, which is at times vibrant, deeply remorseful, joyous, and so much more. The Titans experience a variety of emotions, surprise at the sight of potential enemy, anger at the enemy's attack, surprise to realize they have a friend whom they have forgotten, remorse for forgetting their beloved friend, joy at embracing their forgotten friend, and suspicion as to why their memories have been altered. Titans: Rebirth is the #1 comic of 2016.

Bobby
5. Seven To Eternity
Written by Rick Remender. Art by Jerome Opena. Published by Image Comics.
Best known for his science fiction and superhero comics, Rick Remender and frequent collaborator Jerome Opena introduced us the fantasy world of Zhal in 2016. In Seven to Eternity they've crafted a grimly magical world ruled by an evil deity. Adam Osidis, a disgraced knight, must join a group of others and fight against this God in order to free Zhal. If you like big ideas and energetic art then Seven To Eternity should be on your radar.
This is what one voter had to say about Seven To Eternity:
So far there have only been 2 issues of the story but it is an Image comic which, where I love, hasn't seemed to get much talk for what it is. This is a book everybody should be reading! The artwork is gorgeous and the writing is perfect. This book is a mix of science fiction, adventure, magic and fantasy. If you haven't read it yet I highly recommended it! It's amazing!

Olly
4. DC Universe: Rebirth
Written by Geoff Johns. Art by Ethan Van Sciver, Ivan Reis, Gary Frank and Phil Jimenez. Published by DC Comics.
Six months ago DC Comics was in a bit of a pickle. They had creatively put themselves in a rut, which had sales dropping and reader confidence at an all-time low. It was time for creative rebirth, and DC Universe: Rebirth was the story to kick everything off. Over 80 pages the team revitalised the publisher by bringing back much loved (and missed) characters, a more positive tone and a sense of hope. The result was a massive sales success, going into six(!) printings and a lift of the entire line overall.
This is what one voter had to say about DC Universe: Rebirth:
It made me excited about comic books again and I since have started collecting more! The New 52 had left a bad taste in my mouth and it certaintly pushed me off most titles (I did read Snyder and Capullo outstanding run; and still am finishing on the last tpbs). It was an excellent starting point for me and I can see it carried a lot of that legacy that was missing before.

Inês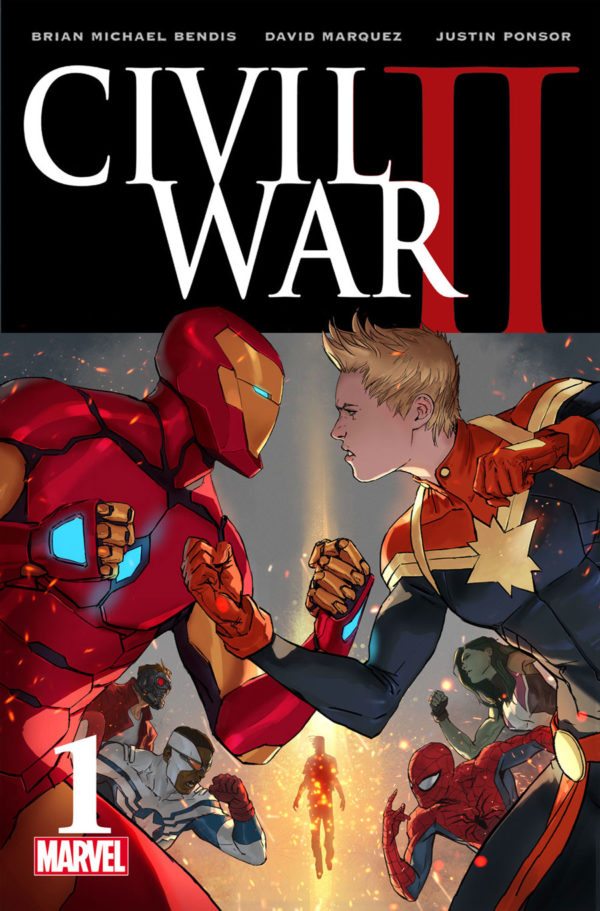 3. Civil War II
Written by Brian Michael Bendis. Art by David Marquez. Published by Marvel Comics.
Acting as a spiritual sequel to Civil War, Civil War II is Marvel's big comic book event for 2016. Instead of fighting the bad guys, Marvel's superhero community is at loggerheads with themselves over ideologies. What if you could predict the future and stop disasters from happening before they began? Should this ability be used or is it too dangerous and unreliable? With these questions, Brian Michael Bendis and David Marquez, whose art in this is some of his best work to date, have crafted a comic which has many readers wanting to know more – even with the many delays.
2. Paper Girls
Written by Brian K Vaughan. Art by Cliff Chiang. Published by Image Comics.
Coming in the number 2 position for a consecutive year is Brian K Vaughan and Cliff Chiang's Paper Girls. In 2016 we were treated to the second arc. With it came a new setting and shift in gear but plenty of the same weirdness and mystery. As always, Cliff Chiang's art is fantastic rendering the weirdness of the situation with ease while giving the characters depth and emotion.
1. The Vision
Written by Tom King. Art by Gabriel Hernandez Walta and Michael Walsh. Published by Marvel Comics.
The Vision is a suburban tragedy starring Avenger The Vision and the family have created for himself to try and live an ordinary life. The problem is that it's anything but ordinary, when over the course of 12 issues everything begins to fall apart. What we get is betrayal and fear wrapped up into a web of family bonds to tell a story which keeps you guessing and regularly shocks. Gabriel Hernandez Walta art is expressive and emotional, which is a tough task when most of the characters are robots. Coupled with Jordie Bellaire's muted colours the visuals match the tragedy which is unfolding.
When it came to votes, The Vision won by a landslide. And rightfully so, it was my top comic for 2016 and many others too:
Tom King's Vision is a heart-wrenching, beautiful story that keeps you magnetically drawn to each page. The artwork by Walta and colors by Bellaire (the hardest working artist in comics) are just breathtaking. Cannot recommend highly enough.

John

Emotionally wrenching, unique form of story telling. Every one of the 12 issues is stunning.

Rick
Have Your Say on the Best Comics of 2015
What comics did you love in 2016? Did any of them make this list? You can let me know in the comments below or via our Facebook or Twitter.