Recently I've seen these short webcomics appearing in my feed. They're mundane but in the strangest way. While that might sound that exciting, it's with the delivery and interpretation of the mundane which make them pure gold. These webcomics I speak of are by cartoonist Alex Norris and I've enjoyed them so much that I had to dig a little deeper and share them with you all.
And so for the next 650 or so words, that's exactly what I've done as we enter the strange imagination of Alex Norris in this showcase of some of his webcomics work.
Enjoy!
Webcomic Name
Little Britain was one of those TV comedies in which the punchline was always the same. For every recurring sketch, you knew what punchline was going to be and you knew that it was coming as soon as the sketch started. Just like Little Britain, after you've read a few strips of Webcomic Name you'll too know what the punchline will be. But, it's the delivery of that punchline – a simple "oh no" – that makes Webcomic Name internet gold.
Unlike Little Britain, which dealt with modern British life in the most demented of manners, Webcomic Name taps into the more mundane and occasionally spins it into a bizarre web. It speaks more of problems that readers can relate to, from the cat blocking the computer while you are trying to surf the internet to humidity running your hair. Norris spins these minor troubles into often strange situations with hilarious results.
Visually, Norris has opted for a minimalist approach. Characters are blob-like, backgrounds are plain and colour limited. It's with this combination that makes the "oh no" punchline all the more amusing for pointing out the mundanity of the character's problem.
While the "oh no" is the running gag, Norris on occasion shakes things up by throwing in new punchlines to keep readers on their toes. It keeps things fresh and gives the comics room to move without travelling too far from its origin.
Webcomic Name is updated daily on Tumblr, Facebook and Twitter.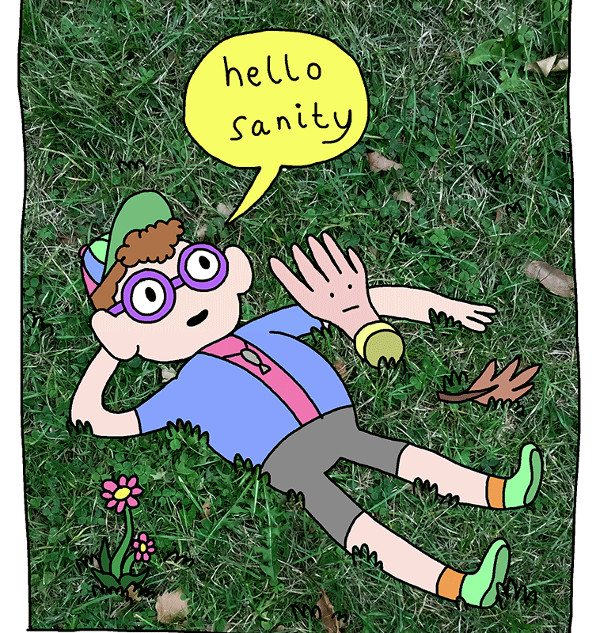 Hello World!
Many webcomics have a habit of being introverted, sometimes even celebrate it. They tell you how wonderful your bed or couch is and how it's fun to stay indoors. It makes a lot of sense as many creative people tend to be introverted too. But not Alex Norris! He, and a fake hand known as Johand, are getting out into the world to discover all of its wonders.
Each self-contained episode covers a different aspect of outside through the eyes of the cartoonist, through observations, comments and humour. In a way it's philosophical, looking at the world in a way that many others may not. It's calm and refreshing.
Out of all the comics featured in this article this one if the most visually interesting through it combination of illustration and photography. The two pair effectively as the photos help Norris give life to the outside world, with beguiling texture, apprehension and depth.
Hello World! updates every Saturday and Sunday on the LINE Webtoon website and app.
Dorris McComics
Before there was Webcomic Name or Hello World! there was Dorris McComics, a collection of short strips detailing bizarre situations. Actually, I'm not sure if bizarre is quite the right description. Some are surreal, others thought-provoking and sometimes it's just plain weird.
That's what makes them great. Norris imagination is on full display here and it's clear that the more you read the more you see how vast this imagination is.
As the strips span back years you get to see a wide range of styles on display. There's the minimalist style which is similar in fashion to Webcomic Name, but used to in a less stringent manner as Norris doesn't have to conform to a three-panel grid. He also dabbles in strips that feature much more detail. These strips allow for different scenarios which his signature minimalism can't cater for any other a breath of new possibilities.
Dorris McComics is currently on a break, but there are heaps of comics to read if you scroll through the archives.
This article is the very first part of Comics Chain, a feature in which creators recommend other creators who should be featured on How to Love Comics. Alex nominated Ruby Elliot aka rubyetc.
Follow Alex Norris on Patreon
Want even more Alex Norris awesomeness? Then why not become one Alex's patreon's. You'll get to see comics early and even get bonus comics too. You can become one by heading over here.
Have Your Say!
Which of Alex Norris' comics is your favourite? Let me know in the comments below or via Facebook or Twitter.