The X-Men are at war with the Inhumans in a crossover event known as Inhumans Vs X-Men. Once the conflict is over both parties comics will be getting a resurrection or – as Marvel are describing it as – a ResurrXion. What does this bastardisation of the English language mean? Brand new X-Men and Inhumans comics with the line expanding and changing to fit the new status-quo.
To keep track of everything I have put together a guide for ResurrXion, which details everything that you need to know about these new titles. The aim is to answer any questions you might have and help you dive into these awesome characters.
Just like the DC Comics Rebirth guide, the ResurrXion guide will be updated regularly when more information is available. So if you're desperate for more information I suggest bookmarking this page and checking in on it every few weeks.
But before we dive into what comics involved here's a few answers to questions you might have:
When Do These Comics Come Out?
Based on the teasers, all of these new comics will be released from late March 2017 onwards and staggered over a few months.
When release dates for each title are officially announced I'll include them in the guide.
Will I Need To Read Anything Beforehand?
The X-Men has a reputation of being one of the hard comics to get into for new readers, but based on the track record of Marvel's recent launches of their other comics they'll try and make it as new reader friendly as possible.
The one comic you might want to read beforehand is Inhumans Vs X-Men (starting in December 2016) as these books will spin out of the outcome of that story.
Do I Need To Read Inhumans Vs X-Men?
I am going to say that it is totally up to you. If you're not interested in reading it then you should still be able to understand what is going on. Marvel are pretty good at making sure they let readers know anything important before you start reading through the use of a recap page. Read that and you should be fine.
I've Never Read A X-Men or Inhuman Comic Before, Will I Understand Them?
Similar to the previous question, Marvel will get you up to speed at what you need to know about the characters and most first issues are designed to introduce new and lapsed readers to characters. Failing that, just do some quick Wikipedia reading – that's how I started reading X-Men comics.
X-Men: Gold #1 has a 6-page recap of X-Men history in the back. If you know absolutely nothing about the X-Men it could be worth reading first.
X-Men Comics
X-Men: Prime
Written by Various. Art by Ken Lashley.
If you're looking for a starting point for the X-Men comics which are part of ResurrXion then X-Men: Prime is your prefect starting point. This will act as a primer for many of the titles listed below. It will pick up the pieces of Inhumans Vs X-Men and transition readers to this new era of X-Men comics. If you're not reading Inhumans Vs X-Men, or overly familiar with Marvel's Merry Mutants, then this comic should introduce you to the characters and the current statusquo.
X-Men: Prime should be available on March 29th.
X-Men: Gold
Written by Marc Guggenheim. Art by Ardian Syaf.
This is one of the two flagship X-Men comics which features mostly classic characters. Lead by Kitty Pryde, the team will feature Storm, Colossus, Nightcrawler, Old Man Logan, and Rachel Grey.
While the X-Men comics have been doom and gloom for the past few years this series should have a more positive outlook. As result the comic should have a bit more of a superhero vibe to it with Guggenheim saying in an announcement on IGN:
"Not all of the stories that we're doing are based on mutants or the problems of mutants or the conflict with the Inhumans. It's very much a team superhero book."
The series will have some familiar characters return and feature some brand new faces too. We'll also see the return of the Brotherhood of Evil Mutants with a line-up we have never seen before.
X-Men: Gold will ship twice a month, alternating weeks with X-Men: Blue, and begins on April 5th.
X-Men: Blue
Written by Cullen Bunn. Art by Jorge Molina.
X-Men: Blue is the other flagship X-Men comic which features the teenage time-displaced team of original X-Men – Jean Grey (who will act as team leader), Cyclops, Beast, Angel and Iceman. This group of X-Men were brought from the past into the present and are currently stuck here. If that sounds confusing here's the Wikipedia summary of what happened.
Joining them will be Magneto, who will play the Charles Xavier role of mentor. Due to his past and the way that he operates, the team may find it difficult to trust him. Cullen Bunn has a fantastic track record with the character so it will be exciting to see where he takes him in this capacity.
X-Men: Blue will ship twice a month, alternating weeks with X-Men: Gold, and begins on April 12th.
Iceman
Written by Sina Grace. Art by Alessandro Vitti.
While he has starred in a pair of miniseries in 1984 and the early 2000s, this marks the first time Iceman has had his own ongoing series. Iceman is one of the original X-Men and, as his name suggests, has the ability to create and manipulate ice. He's also one of Marvel's highest profile gay characters when his sexuality was revealed back in 2015.
This new series will explore his recent outing and how that shapes his personal and superhero life. He'll be explored further than the wise-cracking mutant he's known for being and we should get a much more well-rounded character than we have in the past.
Iceman begins in Spring 2017.
Cable
Written by James Robinson. Art by Carlos Pacheco.
Cable is no stranger to a solo series and has his own one yet again. This particular series will focus on his time-travelling aspect as his tries to chase down a villain who is attempting to alter time for their own personal gain.
He's had a convoluted history so instead of me trying to explain it I will just link you to this helpful article. For those playing at home, he will be appearing in the second Deadpool movie.
Cable begins in May.
Jean Grey
Written by Dennis Hopeless. Art by Victor Ibanez.
Just like Iceman, this will be Jean Grey's first ever ongoing series. This will be the teenage time-displaced version of the charater, which can also be seen in X-Men: Blue. This series will explore her character in a way that the team books cannot, giving her more space. Specifically, we will see her attempt to break the mould of life and rebirth the character is known for.
The series will also have her try to understand her connection to the Phoenix Force, which has returned in a big way.
Jean Grey begins in May.
Generation X
Written by Christina Strain. Art by Amilcar Pinna.
The original Generation X title from the 90s featured a wide cast of teen characters and was told through the teen perspective. This new series will take the concept and make it more reflective of 2017 with a new school, based in Central Park. This school's purpose is the train and educate the next generation of heroes and mutant diplomats – although it's soon clear that not every mutant's powers are cut out for those roles.
The series will mix some of the original cast members of Generation X such as Jubilee, Husk and Chamber as well as some of the more recent teen mutants such as Quinton Quire, Eye-Boy, Benjamin Deeds, Nature Girl and Bling. There will also be a brand new character named Nathaniel Carver.
Generation X begins in May.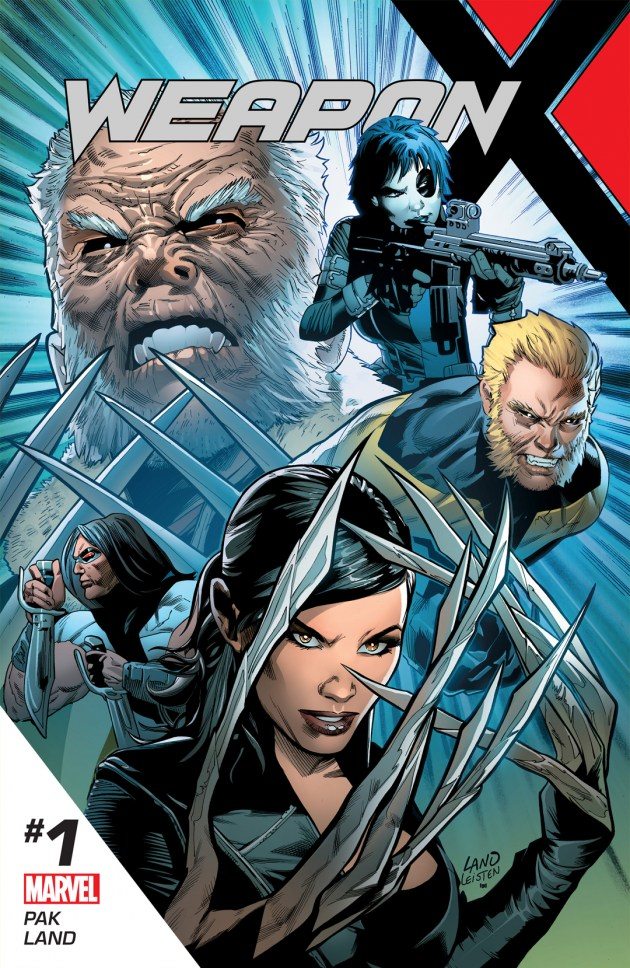 Weapon X
Written by Greg Pak. Art by Greg Land.
This is the darkest of all the new titles and will feature a team of characters such as Old Man Logan, Sabretooth, Lady Deathstrike, Warpath, and Domino.
The Weapon X program, the secretive government program which created experimented on Wolverine and others, is back and looks to be up to some really things. Instead of experimenting on humans they have more sinister goals – total extermination. To counteract the return a group of some of the most deadly mutants have been put together.
Long-term X-fans will see many similarities in this team with previous X-Force line-ups and this new series should have a similar tone.
Weapon X begins on April 12th.
Astonishing X-Men
Written by Charles Soule. Art by TBA.
Another team book! This time featuring Old Man Logan, Dark Angel, Gambit, Psylocke, Bishop, Rogue, Mystique and Fantomex. In the announcement on Marvel.com the first issues has promised to have massive ramifications for the X-Men and will touch every corner of X-Men mythology. Also expect a classic villain to return in a big way.
Astonishing X-Men begins in July.
Inhuman Comics
Inhumans: Prime
Written by Al Ewing. Art by Ryan Sook.
Just like X-Men: Prime, Inhumans: Prime will be a good starting point for the Inhumans comics. Expect this book to set up stories and situations which will branch off into the Inhumans series of comics.
Inhumans: Prime is available March 29th.
Royals
Written by Al Ewing. Art by Jonboy Meyers.
Royals is a new Inhumans series which focuses on the Inhuman Royal family. The comic will feature classic Inhuman characters such as Medusa, Black Bolt, Crystal, and Gorgon as well as a few newer characters. There will also be the addition of Marvel Boy – who hasn't been seen since the fantastic Young Avengers by Keiron Gillen and Jamie McKelvie.
The Royals have headed into outer space to find the secrets to Terrigenesis – the process which turns people into Inhumans. The journey will push them into the unknown and into all kinds of dangers.
Royals starts on April 5th.
Black Bolt
Written by Saladin Ahmed. Art by Christian Ward.
The silent, but deadly, King of the Inhumans has received his very own solo series. In it he has seperated from the rest of the Inhuman Royal Family and is trapped in a mysterious galactic prison with some of the most dangerous criminals in the galaxy. I wonder how he'll get his way out of this one!
Not sure who he is, head over to his Wikipedia page and find out.
Black Bolt begins in May.
Secret Warriors
Written by Matthew Rosenberg. Art by Javier Garron.
A few years back Marvel has a series called Secret Warriors. It featured a team of super-powered S.H.I.E.L.D. agents who secretly fought Hydra. It gathered a cult following, but was cancelled after 28 issues. Secret Warriors has returned, but in a slightly different form and stars a group of Inhuman characters.
The team will be lead by Quake and will also feature Ms Marvel, Moon Girl, Karnak and Inferno. In the solicitation for the first issue the series has been described as "one part coming-of-age story, one part spy-thriller, all action and all heart."
It's also worth noting that the first story, at least, will tie-in with Marvel's big Summer event – Secret Empire.
Secret Warriors begins in May.
Have Your Say!
Which of these new X-Men comics has grabbed your interest? Will you be reading X-Men for the first time? Let me know in the comments below or via Facebook or Twitter.