"As Gregor Samsa awoke one morning from uneasy dreams he found himself transformed in his bed into a gigantic insect." – Franz Kafka, The Metamorphosis
That opening quote is from one of the seminal works of literature, The Metamorphosis, about a young man who transforms into a large insect. The story is about living your life, and what happens when you let the world control you until you become something other than human. Tokyo Ghoul, a manga by Sui Ishida and published by Viz Media, is a retelling of that classic story through a unique lens. Instead of our main character turning into a bug, he becomes a flesh eating monster with powers beyond human comprehension. He is thrust into a world filled with beings who are both human and not human, and must bridge the gap between man and monster.
Things seem to be going well for Ken Kaneki when he goes on a date with the woman of his dreams. The mysterious Rize Kamishiro is smart and loves the same books as Kaneki, but she hides a dark secret inside of her. While walking home at night, Rize attacks Kaneki and almost eats him, but he is saved by a falling beam. The accident kills Rize and leaves Kaneki critically wounded. That night, Kaneki learned the truth about ghouls.
In this fictional version of Tokyo, humankind is at war with mysterious beings that look human, but have an uncontrollable craving for human flesh. These beings, known as ghouls, also possess impressive physical strength and can summon fleshy tendrils from their bodies called Kagune to kill their victims. While in the hospital, Kaneki is saved using some of Rize's undamaged organs, but he becomes a half-ghoul in the process. Now he can no longer eat food, describing in intimate detail how disgusting it tastes, and hungers for human flesh. Through the kindness of some local ghouls, Kaneki is taken into their group to help forge a new bridge between the ghouls who want peace and the humans out to hunt them.
While reading this manga, you definitely see shades of vampire and various other monster fiction throughout. What Tokyo Ghoul does with these tropes and themes is what sets it apart from being just another vampire story. An example of this shifting of old themes is the Ghoul Investigator Kureo Mado, who is seen by the ghouls as a bloodthirsty and sadistic killer. He has a bizarre, almost monstrous appearance and kills ghouls just to harvest their Kagune for his own use. What makes Mado more interesting than his initial appearance suggests is the stark contrast in how normal humans view him to the ghouls. To the other Ghoul Investigators, Mado is a hero and someone who should be emulated in their own work since he did so much for the fight against the ghoul threat.
Through characters like Mado, Tokyo Ghoul shows the reader that there are many shades of morality to the story. Yes, the ghouls are shown to be very sympathetic, and we as readers grow attached to them. But that doesn't change the fact that they're monsters. A fact that the author likes to bring up just when they become comfortable in their daily lives. They must eat flesh to survive, and that is never going to change. In The Metamorphosis, Gregor died because he fell into despair due to his situation and refused to eat. But his death is presented as a freeing moment for his family, and you have to wonder if the same can't be said for the ghouls in this manga.
I can best describe this series as dark, though not in the adolescent way of using swears. This is a strictly a dark series, and the characters are regularly confronted with horrific scenes of violence and despair. I will say that things get pretty intense by the sixth volume, so if you have trouble with themes of intense physical and psychological violence this series is not for you. For the rest of you however, this is a great manga for some good blood and guts gore. Death and dismemberment run rampant in this story, and it's all presented in a very pleasing fashion.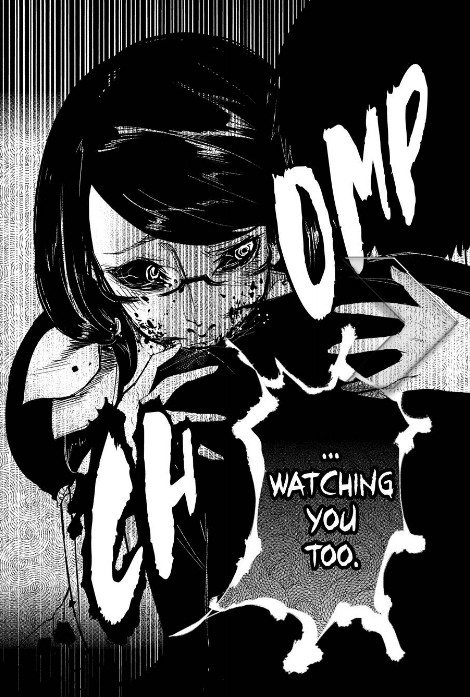 If the violence doesn't scare you off, Ishida's art work may just do that. For me, the artwork took some getting used to, since he implements a very unique style. The way I can best describe it is a hazy blur. Characters are sometimes intentionally drawn off model to intensify the mood of despair or confusion, and no scene appears static. Everything just feels very off, but that's exactly how you should feel. This is an alternate world where everyone is on edge because they could be eaten at any moment. Nowhere is completely safe, and the bizarre shifting artwork reflects how the characters feel inside. It may have taken a while, but I now deeply respect Ishida for his bold choices when designing this series.
To be completely honest, I actually didn't like Tokyo Ghoul when I first read it. It felt like another manga that wanted to be violent and edgy, but I started to come around when I saw how popular it was getting. After the first volume I was hooked and quickly picked up every volume since then on release day. Looking back on it while writing this review, it's a story that does stick with you and I'm easily remembering some of the more impactful scenes with vivid detail. It's definitely a must read, especially around Halloween.
If you want a taste of what to expect with Tokyo Ghoul, go read Tokyo Ghoul [Jack] for free at viz.com. This is a short side series written by Ishida, and though the art is very quick and dirty, it has all the same beats and themes of the main manga. It's very short and definitely worth a look at the low price of free.
You can pick up Tokyo Ghoul digitally at viz.com or on Comixology. You can also purchase the physical volumes at your local comic book store.
You can read other How to Love Manga columns here.