The webcomics category on this website has been looking a little bare lately. That's my bad. I simply haven't been talking about them. That's not to say that there isn't fantastic webcomics floating around in cyberspace – there absolutely is. So when I discovered Lady of the Shard, a science fiction/fantasy love story by gigi d.g, I just had to talk about it. Not just because it's different, but as it's a strong contender for webcomic of 2016.
Unlike gigi d.g's other comic Cucumber Quest, which is a fun tale about rabbits, Lady of the Shard is a darker story which explores loneliness, love and acceptance through a divine same-sex filter. It tells the story of an Acolyte who falls in love with the Goddess – The Radiant One – that she worships. At first the goddess is just a presence of light, but when she accidentally awakens her from her slumber her feelings become more than religious devotion. While the pair slowly begin to form a bond, a divine threat also awakens and threatens not only this relationship but things on a much larger scale.
There's the familiar element of good vs evil but at it's core Lady of the Shard is a love story. One that is well paced with plenty of obstacles in the way to make it interesting. My only issue with the relationship is that more time could've been spent developing the reasoning behind The Radiant One's feelings for the Acolyte. While the Acolyte's feelings are explore in great detail The Radiant One's are not explore deeply enough.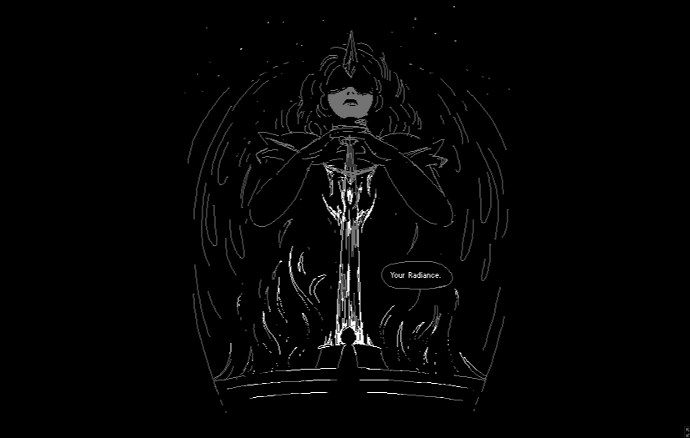 Visually Lady of the Shard is very interesting to look at. gigi d.g has opted for pixelated visuals that are reminiscent, in some ways, of a NES game. The Acolyte and other worshippers are purposely drawn in cartoony style with cruder lines while The Radiant One and other characters of divinity are rendered in incredible detailed. These divine characters have been given more complex facial features, detailed clothing and radiant lighting flying off them. All of this works well to juxtapose these divine characters with the their worshippers, making them worthy of calling themselves gods.
That's not to say that because the Acolyte, and others, are drawn in far less detail that they are have no personality. That's quite the opposite. gig d.g uses the limited linework on characters such as The Acolyte and gives them animated facial expressions and body language. In a way they look like pixelated Muppets, bursting with character.
The colour pallete is intentionally limited and functions well within the pixel aesthetic. It's used to represent different characters and like the use of detail is another form of juxtaposition. For example, the Acolyte is rendered in a grey while the The Radiant One is rendered in mostly white, which bounces off the pitch black background.
While many love stories tend to not travel far from their comfort zone Lady of the Shard does, both thematically and emotionally. Thematically, the story covers topics such as loneliness and self-esteem and how they can motivate as well as be overcome. Emotionally, there are parts of story which some readers might feel uncomfortable with. This comes in the form of body horror and the inclusion of an emotionally manipulative character. Although, it is worth noting these are in small doses and done to create drama.
If you like comics that are willing to experiment and try different things then Lady of the Shard is definitely worth the read. With it's pixelated visuals, which vary in detail and limited colour range, Lady of the Shard might look sparce on first look but when you read deeper into it you'll see that it is cleverly and carefully crafted. It's with this intention which builds the characters and themes up into a compelling narrative. Overall, it's a fascinating read, which can be devoured in the space of a lunch break. It's with all this that I'm confident in saying that this is one of the best webcomics of 2016.
You can read Lady of the Shard here. (I highly recommend reading it in full screen)
Have Your Say On Lady of the Shard!
Have you read Lady of the Shard? Did you enjoy it as much as I did? Let me know in the comments below of via Facebook or Twitter.