One of the most common questions I get on this site is "where is a good place to start reading Marvel?" With the publisher deep into the Civil War II event at the moment it's a pretty valid question to ask. To help answer this question I've collated 12 comics that are great places to start reading Marvel in August 2016.
With a mixture of the beginning of new story arcs, annuals and one-off stories you'll see that it's easy to dive into the Marvel Universe. There's even 4 different places to start reading X-Men!
I've broken it up into two sections:
New series, which includes a brand new Deadpool ongoing series. The other is existing series, comics that have been running for a while but are starting new stories which you can jump on with. This includes an anniversary issue for Silver Surfer as well as a great place to start for Star Wars.
Along with that I've added the solicitation text, creator credits, covers and other things to help you take the dive into Marvel comics.
All of these will be available at any good comic book store, Comixology or the Marvel Comics App.
If you're looking for even more starting points for Marvel, you should check out the June and July lists – there are another 18 more places to read Marvel!
Welcome to the Marvel Universe!
New Series
Marvel Tsum Tsum #1 (of 4)
Written by Jacob Chabot. Art by David Baldeon.
Solicitation Text:
In case you've been living under a rock, Tsum Tsums are HUGE! Well, not LITERALLY (they're actually pretty tiny) but these seemingly cute and cuddly creatures are sweeping the globe! So what happens when these pint-sized piles of fur find their way into the Marvel Universe? After a crate of them falls to Earth en route to THE COLLECTOR, one small group of Brooklyn teenagers will find out! Featuring all of your favorite Marvel heroes and villains, this is sure to be TSUM-thing you won't want to miss!
Pages: 32
Rating: All Ages
Price: $3.99
Existing Series
Amazing Spider-Man #16
Written by Dan Slott. Art by Giuseppe Camuncoli.
Solicitation Text:
BEFORE "DEAD NO MORE"!
• There's an accident at Parker Industries!
• What will Peter Parker do to save his employees, both as CEO AND Spider-Man?!
Pages: 32
Rating: T
Price: $3.99
Black Panther #5
Written by Ta-Nehisi Coates. Art by Chris Sprouse.
Solicitation Text:
"A SWORD FOR LIONS" STARTS NOW!
• Ta-Nehisi Coates is joined by guest artist and modern master Chris Sprouse for the second arc chronicling the final days of the kingdom of Wakanda!
• As Zenzi and The People poison the citizens of Wakanda against the Black Panther, a cabal of nation-breakers is assembled…
• With his allies dwindling, T'Challa must rely on his elite secret police, the Hatut Zeraze, and fellow Avenger Eden Fesi, a.k.a. Manifold!
• Meanwhile, Shuri's spirit journeys through The Djalia…but what awaits her there?
Pages: 32
Rating: T
Price: $3.99
Daredevil #10
Written by Charles Soule. Art by Ron Garney.
Solicitation Text:
"THE DARK ART" STARTS NOW!
• Losing a big case has landed A.D.A. MATT MURDOCK in hot water with the city, leaving him less time to clean up the streets as DAREDEVIL. But as his protégé BLINDSPOT tries to pick up the slack, the young hero might be in over his head when he stumbles upon a horrific crime scene — one that will terrify even THE MAN WITHOUT FEAR.
• Series artist RON GARNEY returns!
Pages: 32
Rating: T+
Price: $3.99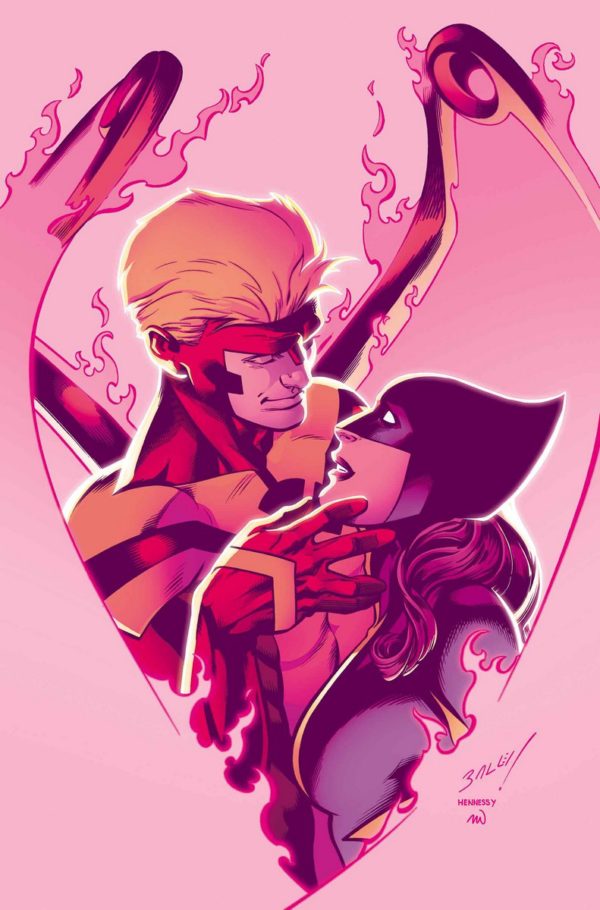 All-New X-Men #12
Written by Dennis Hopeless. Art by Mark Bagley.
Solicitation Text:
NEW STORY ARC STARTS NOW!
• One is a time-displaced cosmically powered angel from the '60s.
• The other is a homicidal clone struggling to fulfill her dead father's legacy.
• But who says Angel and Wolverine can't make their relationship work?
• Also: Another burgeoning romance may place one of the All-New X-Men at odds with the rest of their team…
Pages: 32
Rating: T+
Price: $3.99
Extraordinary X-Men #13
Written by Jeff Lemire. Art by Victor Ibañez.
Solicitation Text:
"KINGDOMS FALL"STARTS NOW!
• An ancient evil stirs in the periphery of Limbo, consuming mystical realms…
• …and little does Magik suspect that the X-Men's newest charge is drawing it straight to X-Haven!
• Meanwhile, Colossus is rampaging across Earth…as a Horseman of Apocalypse. Can Nightcrawler and Iceman stop their longtime friend and teammate and wrest him from Apocalypse's grasp?
Pages: 32
Rating: T+
Price: $3.99
Uncanny X-Men #11
Written by Cullen Bunn. Art by Greg Land.
Solicitation Text:
NEW STORY ARC STARTS NOW!
• Someone is weaponizing mutants and turning them loose on the enemies of mutantkind…
• …which happens to coincide with the X-Men's discovery that MAGNETO has not been altogether forthcoming about the means he's been employing to protect the mutant race.
• Eager to know exactly what Magneto's been up to, the X-Men investigate…starting with the all-new, all-different HELLFIRE CLUB!
Pages: 32
Rating: T+
Price: $3.99
The Unbeatable Squirrel Girl #11
Written by Ryan North. Art by Erica Henderson.
Solicitation Text:
• This special one-off issue promises two amazing things: SUPER HEROICS and COMPUTER SCIENCE.
• Yes! By the end of this issue, you will know both how Squirrel Girl can take down COUNT NEFARIA and also a few really fundamental concepts in computer science!
• Have we found a way to express CS concepts through the medium of super hero fights? YOU'LL HAVE TO ORDER THE ISSUE TO FIND OUT!
• But yeah, we totally did.
• Featuring all the greatest Squirrel Girl tropes you love! Including fights, jokes and COLD, HARD LOGIC.
Pages: 32
Rating: T
Price: $3.99
A Year Of Marvels: The Unstoppable #1
Written by Paul Allor & Chuck Wendig. Art by Diego Olortegui & Juanan Ramirez.
Solicitation Text:
• Sam Alexander's finding it hard to cope with the fact that his dad is M.I.A. in the far reaches of space. Luckily, this Father's Day, Nova's got the chance to help former New Warrior Midnight's Fire put his family back together. But when Iron Man shows up to inform his young teammate he's backing the wrong horse, will Nova cool his jets?
• Celebrating the Fourth of July is complicated enough for a patriotic symbol turned soviet assassin, but then Hydra agents had to go and rob the Winter Soldier's
secret storage locker. Who sent them? What do they want? Bucky doesn't care — he just wants his #$%& back.
Pages: 32
Rating: T
Price: $3.99
All-New, All-Different Avengers Annual #1
Written by G. Willow Wilson, Mark Waid, Faith Erin Hicks & More. Art by Mahmud Asrar, Veronica Fish, Faith Erin Hicks & More.
Solicitation Text:
• You've dreamed of it, you've asked for it, you've longed for it – and now, you're going to GET it! No Avenger is safe from – the fan fiction of Kamala Khan! Featuring a bevy of special guest creators!
Pages: 40
Rating: T+
Price: $4.99
Daredevil Annual #1
Written by Charles Soule & Roger Mckenzie. Art by Vanesa R. Del Rey.
Solicitation Text:
• Do you hear that? It sounds like an Echo…
Pages: 40
Rating: T+
Price: $4.99
All-New Wolverine Annual #1
Written by Tom Taylor. Art by Marcio Takara.
Solicitation Text:
An All-New Story featuring YOUR FAVORITE SURVIVING CLAW-POPPING CHARACTERS!
• ALL-NEW WOLVERINE + SPIDER-GWEN = ALL-NEW WOLVERGWEN AND SPIDERINE!
• GABBY THE WORLD'S MOST DANGEROUS LITTLE SISTER!
• PLUS: JONATHAN THE WOLVERINE!
Pages: 40
Rating: T+
Price: $4.99
What Are You Going To Reading?
Which of these new Marvel comics will you be checking out this month? Let me know in the comments below or via our Facebook or Twitter.