Throughout December I asked, maybe even pestered, the How to Love Comics Community to vote for the comics and graphic novels that they loved in 2015. Many of you listened and as a result, there were more than 120 different comics voted for in this year's poll.
Below you will find the 10 best comics of 2015 according to the readers of this very site. 2015 was a solid year in comics with a mixture of new and long-running comics making the list for an interesting mix. In some instances I have included quotes from those who have voted, letting everyone know why they enjoyed that comic so much.
I would like to thank everyone who voted and for taking time out of your day to share your favourite comics with me and everyone else.
Enjoy!
Honourable Mentions
With more than 120 different comics voted for in the Best Comics of 2015 Poll there were many wonderful comics that narrowly missed out on making it into the top 10. These included the following:
The Wicked + The Divine – Written by Kieron Gillen. Art by Jamie McKelvie. Published by Image Comics.
The Fade Out – Written by Ed Brubaker. Art by Sean Phillips. Published by Image Comics.
Spider-Gwen – Written by Jason Latour. Art by Robbi Rodriguez. Published by Marvel Comics.
Gotham Academy – Written by Becky Cloonan and Brendan Fletcher. Art by Karl Kerschl. Published by DC Comics.
East of West – Written by Jonathan Hickman. Art by Nick Dragotta. Published by Image Comics.
I Hate Fairyland – Written and art by Skottie Young. Published by Image Comics.
Harrow County – Written by Cullen Bunn. Art by Tyler Crook. Published by Dark Horse Comics.
Ms Marvel – Written by G Willow Wilson. Art by Adrian Alphona and Takeshi Miyazawa. Published by Marvel Comics.
Lazarus – Written by Greg Rucka. Art by Michael Lark. Published by Image Comics.
Thor – Written by Jason Aaron. Art by Russell Dauterman. Published by Marvel Comics.
10. The Beauty
Written by Jeremy Haun and Jason A. Hurley. Art by Jeremy Haun. Published by Image Comics.
The Beauty is a procedural drama set in a world in which an STD can give you perfect looks and beautiful features. The only catch is that with those who get infected burn up in a horrible death a few months later. With that premise set in place Jeremy Haun and Jason A Hurley have created a unique series full of drama, twists and is great to look at. Many people must agree too as it has come in at #10.
9. Batman
Written by Scott Snyder. Art by Greg Capullo and Jock. Published by DC Comics.
Making it into the 9th position again this year is Batman. It was any interesting year for the title with the conclusion of the high-stakes Joker story Endgame, which then transitioned into a very different Batman while Bruce Wayne took some time off due to memory loss. James Gordon, in a robotic batsuit, took up the mantle of Batman and has been so for the past 6 months. While it won't be permanent, it has been an interesting take on the character with different motivations which can take the story into new territory. With every issue Snyder and Capullo left readers desperate for more.
8. Descender
Written by Jeff Lemire. Art by Dustin Nguyen. Published by Image Comics.
Descender is the beautiful science fiction comic set in a world where robots have been outlawed. Why? Because they essentially came from out of nowhere and many of them started destroying populous worlds. The series follows a young robot, Tim-21, who is on the run as many wish to destroy him for the actions of other robots. But, it also appears that he is the only hope in understanding where these robots came from too. The series is beautifully rendered by Dustin Nguyen with delicate watercolours which are full of expression and show off the wider science fiction world.
7. The Unbeatable Squirrel Girl
Written by Ryan North. Art by Erica Henderson. Published by Marvel Comics.
There's nothing on the stands like The Unbeatable Squirrel Girl. While firmly situated in the Marvel Universe with regular guest appearances from a large roster of characters, this comic doesn't conform to what everything else is going in other comics. It's not afraid to make fun of it either. Ryan North and Erica Henderson are not afraid to try new things, whether it be for a gag or simply to shake up the formula. The Unbeatable Squirrel Girl is the funniest comic month-in-month-out and as a result, was my personal favourite comic of 2015. It was many other's favourites too and has come in the 7th position.
This is what one of the voters had to say about The Unbeatable Squirrel Girl:
"The Unbeatable Squirrel Girl was the best comic of 2015 because it was consistently hilarious and entertaining. Every issue was packed with fun from page one to the letter's issue. Every time."

Mikey
6. Southern Bastards
Written by Jason Aaron. Art by Jason Latour. Published by Image Comics.
Southern Bastards is an exploration of some sections in the deep south of the United States of America. The title doesn't focus on just once character with issues bouncing around to different people in the fictional town. This allows for a wider perspective of this corner of the world and opens up Jason Aaron and Jason Latour to explore small-town living and the horrible things that can go on in them. It's gritty and violent, but also fantastic in its execution. It's no wonder it has already been optioned as an FX television series.
This is what one of the voters had to say about Southern Bastards:
"Although not everyone from the South is like the characters in Southern Bastards, It does reveal a glimpse into the violence that does exist in seemingly quiet football-crazed Alabama towns. Being a former high school football player from Alabama, I find the stories very enjoyable, & Latour's line work very appealing."

Josh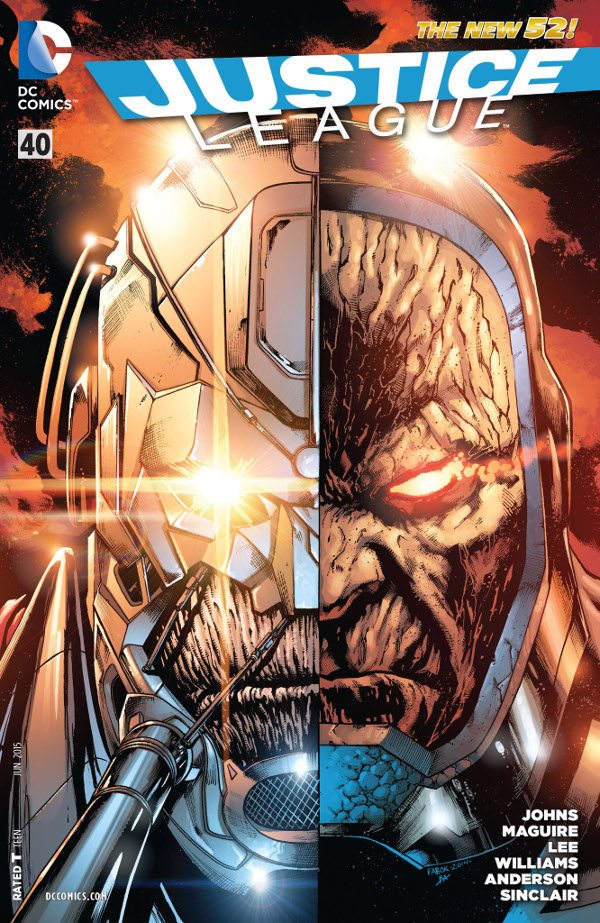 5. Justice League
Written by Geoff Johns. Art by Jason Fabok and Francis Manapul and a string of guests. Published by DC Comics.
2015 has been a huge year for Justice League. At the start of it, we saw the conclusion of the Amazo Virus storyline which forced the Justice League to trust new member Lex Luthor, creating some new dynamics in the team and plenty of mystery as to Luthor's intentions. Jump to end of the year and the series is deep into epic Darkeid War storyline which so far has been bigger than Ben Hurr. Featuring the Anti-Monitor, the evil Darkseid and the New Gods, Geoff Johns has taken the series up a notch to universe shaking proportions.
4. Star Wars
Written by Jason Aaron. Art by John Cassaday, Stuart Immonen, Simone Bianchi and Lenil Yu. Published by Marvel Comics.
2015 has been the year of Star Wars. Not only on the big screen but also in comics with Star Wars consistently being the top of the charts every month. Set directly after the events of the destruction of the Death Star, this comic deals with the repercussions in a way that feels organic and just as important as the events that were depicted on the screen. Jason Aaron (second appearance in the top 10!) and a string of top artists have put together a comic which feels like the reader has been transported to a galaxy far, far away.
This is what one of the voters had to say about Star Wars:
"I have loved Star Wars all my life, and the new movie has me so excited. Was concerned that the new series were not going to do the trilogy justice, but that was put to rest with issue 1. Art felt like scenes straight from the movie, and the stories have been nothing but brilliant. I do miss John Cassaday, but am not disappointed by any means."

Jonathan
3. Saga
Written by Brian K. Vaughan. Art by Fiona Staples. Published by Image Comics.
After more than 30 issues of consistently fantastic comics, it's hard to say anything new about Saga, but 2015 was another fantastic year for the much loved comic series. Separation was a big theme, whether it between family members or groups heading out on their own adventures, this year and this helped cement the emotional bonds between characters – but also the readers connections with the characters. Fiona Staple's beautiful art was the glue that held these all together with her emotive expressions and world-building.
This is what one of the voters had to say about Saga:
"Saga is the comic that leaves me bubbling with emotion week after week. Compelling characters, unique and dramatic storytelling, beautiful art. I was late to the party on Saga because I thought it didn't sound like my cup of tea but I'm so glad I decided to take a chance on it. Every week that I get Saga in my box I'm never disappointed. I keep expecting it to decline at some point but it just keeps getting better. It's why I love comics!"

Kaeleigh
2. Paper Girls
Written by Brian K. Vaughan. Art by Cliff Chiang. Published by Image Comics.
Brian K. Vaughan makes the list a second time with his new comic Paper Girls. Set in the late 1980s the story focuses on a group of young girls working their paper route when all hell breaks loose. Is it the end of the world? An alien invasion? We're not quite sure yet but with every issue, we're clamouring for more information on this fantastic series. Cliff Chiang's art is great depicting the period and creating characters which are oozing of personality, which allows the reader to connect with them on a deeper level. Only 3 issues have been released so far but those issues has made a big impression on readers. As a result, Paper Girls comes in the number #2 position.
This is what one of the voters had to say about Paper Girls:
"Felt like I was reading a Spielberg movie."

Carl
1. Secret Wars
Written by Jonathan Hickman. Art by Esad Ribic. Published by Marvel Comics.
While alternate universes were a popular trend from the Big 2, Secret Wars was the most ambitious in execution. Marvel simultaneously ripped apart their multiverse and replaced the majority of their comics output with brand new miniseries. The result was Marvel's equivalent to Game of Thrones cast by characters from Marvel's rich history and alternative universes. All the politics, action and wide world-building made for a satisfying read and the way it has been set up the much-delayed conclusion looks like it will be massive.
This is what one of the voters had to say about Secret Wars:
"I love Secret Wars for the sheer audacity Marvel had to have to destroy the worlds they made over the years, while simultaneously they took the heart of their comics and they mixed it all up into this story line."

River
Have Your Say on the Best Comics of 2015
What comics did you love in 2015? Did any of them make this list? You can let us know in the comments below or via our Facebook or Twitter.