For the past two weeks I've been asking people to vote for the comic books they loved as part of the Best Comics of 2015 Poll. I've been receiving plenty of fantastic votes, but I realised that I haven't told anyone what my favourite comics of the year were. So without further delay, these are the comics that I loved in 2015.
Notable Mentions
With a list limited to 5 choices there's were plenty of comics that missed out. Theses are just some that narrowly missed out on my top 5.
The Vision*
Saga
Secret Wars
Darth Vader
The Wicked + The Divine
Paper Girls*
Daredevil (by Mark Waid and Chris Samnee)
* These could've made the list but being so new meant that for me I couldn't justify them making the top 5. But they are really good so check them out anyway!
5. Archie
Written by Mark Waid. Art by Fiona Staples and Annie Wu. Published by Archie Comics.
Over the past few years the Archie gang had become rather progressive, exploring and introducing new ideas, like introducing an openly gay character, with very little fuss made. The problem was they were always one foot in the past, locked into the classic Archie formula. That was until earlier in the year when Archie and the Riverdale gang were rebooted by the legendary Mark Waid and Fiona Staples to be more inline with 2015. This reboot gave a the gang a modern look and tone while still honouring the the core of the characters to become one of the best teen dramas in comic book history. That's saying something from a guy who usually rolls his eyes at teen dramas, no matter what medium they're in.
While Fiona Staples was only responsible for the first three issues she brought her beautiful and emotive style to the comic and with it new looks to all of the characters which represent not only who the characters are but also the present day. Artist on the 4th issue, Annie Wu also brought her energy to the series create a great read in the absence of Fiona Staples.
Overall, Archie is a joy to read. It looks fantastic and the characters, some of which are 75 years old, feel fresh and contemporary. Archie is a must read if your looking for teen drama at its finest.
4. Kaijumax
Written ad Art by Zander Cannon. Published by Oni Press.
Half giant monster story and half prison drama, Kaijumax is the thundering new series by cartoonist Zander Cannon. Set on a prison island for giant monsters, the series looks at both the prisoners and those who enforce them through a web of parallel stories. Along the way Cannon explores prison politics, the trauma of big mistakes, substance abuse and organised crime through these monsters.
Cannon's art, while colourful and bright reflects the the pain and frustration of these characters with full expressiveness. His monster designs are also wild, with elaborate ideas and subtle homages to classic giant monster movies. It's a joy to look at, especially with all the hidden jokes and references.
Kaijumax is currently on a break but will return even stronger in 2016. I highly recommend you catch up so you can dive into next arc.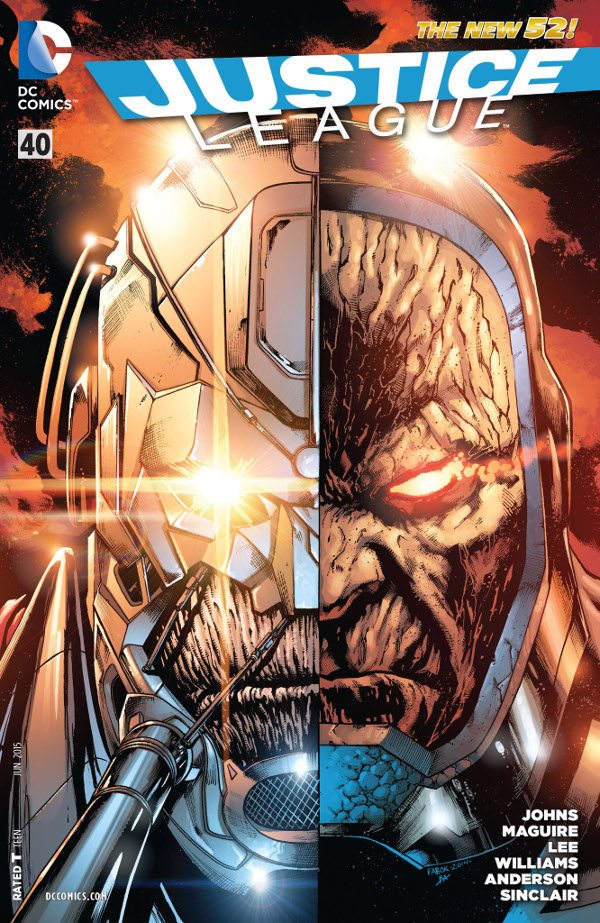 3. Justice League
Written by Geoff Johns. Art by Jason Fabok and Francis Manapul and a string of guests. Published by DC Comics.
2015 has been a huge year for Justice League. At the start of it we saw the conclusion of the Amazo Virus storyline which firced the Justice League to trust new member Lex Luthor, creating some new dynamics in the team and plenty of mystery as to Luthor's intentions. Jump to end of the year and the series is deep into epic Darkeid War storyline which so far has been bigger than Ben Hurr. Featuring the Anti-Monitor, the evil Darkseid and the New Gods, Geoff Johns has taken the series up a notch to universe shaking proportions.
While Jason Fabok and Francis Manapul have very contrasting styles they have both been killing it in the art department. They've been able to take John's scripts and portray the action on a huge scale with exciting layouts and powerful imagery.
The result is a comic which not only looks fantastic but is on a mega scale, which has me excited every month.
2. The Fade Out
Written by Ed Brubaker. Art by Sean Phillips. Published by Image Comics.
The noir champions of comics, Ed Brubaker and Sean Phillips, made their mark on 2015 with their dark and mysterious series The Fade Out. Exploring the seedy underbelly of post WWII Hollywood, the series follows screen writer Charlie who has fallen into trouble when he wakes up to discovers an up-and-coming actress dead next to him. Charlie, along with his writing partner Gil, must piece together the events of that night to find out what happened. It's dark and mysterious, oozing with self-destructive actions and terrible people.
Sean Phillips's art is perfect this story, showing the grittiness underneath all the glitz and glam of the movie industry. It's drenched in noir, whether it be through the cloudiness of cigarette smoke, the spilling of alcohol or the splatter of blood. The way he uses all of these elements to show the dirty dark reality of Hollywood at the time and creates and atmosphere which terrible people and the self-destructive feel right at home.
If you haven't gotten onto this series you I highly recommend that you give it a go, especially if you're a fan of crime, noir or simply a dark and sophisticated story.
1. The Unbeatable Squirrel Girl
Written by Ryan North. Art by Erica Henderson. Published by Marvel Comics.
My absolute favourite comic of the year has got to be The Unbeatable Squirrel Girl. It's just so fun! Not only that, but there's nothing like it on the stands at the moment. Ryan North and Erica Henderson are not afraid to try new things, whether it be for a gag or simply to shake up the formula. While firmly situated in the Marvel Universe with regular guest appearances from a large roster of characters, The Unbeatable Squirrel Girl doesn't bend over to conform to what everything else is going in other comics. It's not afraid to make fun of it either! Everytime I read it always brings a smile on my face and plenty of laughs, whether this is from the clever dialogue, the crazy situations or simply the writers notes at the bottom of each page.
Squirrel Girl herself is a fantastic character who's bright, clever and lots of fun. She's can win any situation with her unique set of skills, hence being "unbeatable", and has done so with the likes of Galactus and an evil Nordic Squirrel Demon. She's proof that anything can be done if you look on the bright side and use all the tools at your disposal.
Erica Henderson crams heaps of energy and personality with every panel, which makes for a fun read. No matter what crazy idea Ryan North throws at her she smashes it with ease. Body armour made completely out of squirrels. She's done it. How about dinosaurs invading New York City. She's done that too! It takes a great artist to pull of wild ideas like these and Erica Henderson has accomplished it with flying colours.
If you're not reading The Unbeatable Squirrel Girl you definitely should be. Two trade paperback collections are now available so go get them as soon as you can!
What Were Your Top 5 Comics Of 2015?
What comics did you love this year? You can vote for them in the Best Comics of 2015 Poll and I will count them down in late December early January.