The creative team of Kieron Gillen and Jamie McKelvie have always been a wonderful combo, collaborating on interesting series such as Phonogram. Although, it wasn't until last year when the team really hit the spotlight when they collaborated on Young Avengers at Marvel. Young Avengers was a critical hit, garnering them plenty of new fans along the way. It was smart, innovative in panel construction and represented a wide range of characters. So it is with much anticipation that I inform you of their new series The Wicked + The Divine from Image Comics, which explores Gods walking the earth as teenage popstars.
That's right, Gods as teenage popstars. The Wicked + The Divine is set in a world in which every 90 years twelve gods incarnate as humans. During their time on Earth they are worshipped and then two years later they're dead. This time around, In the 21st Century, they appear as popstars of the David Bowie/Madonna/Lady Gaga variety.
In an interview with The Hollywood Reporter, Gillen noted that "This isn't just a book about gods as pop stars. This is a book about pop stars as gods. We're interested in both sets of archetypes." One can expect that the series will explore how people perceive religion, but also the disposable nature of pop music.
To put this interesting premise onto the page is Jamie McKelvie, whose art is expressive and oozes personality. Based on the preview alone, each character has their own unique personality which can be seen through their body language, facial expressions and appearance. It will be interesting to see what the other characters look like.
For an extra bang for your buck (or $3.50) The Wicked + The Divine #1 is an oversized issue, something that has become more common with the high profile Image launches.
The Wicked + The Divine #1 is available in all good comic book stores and digitally from June 18th.
Take a look at the 6 page preview below that originally appeared on The Hollywood Reporter. Additionally, take a look at Cover B and the variant cover by Scott Pilgrim creator Bryan Lee O'Malley.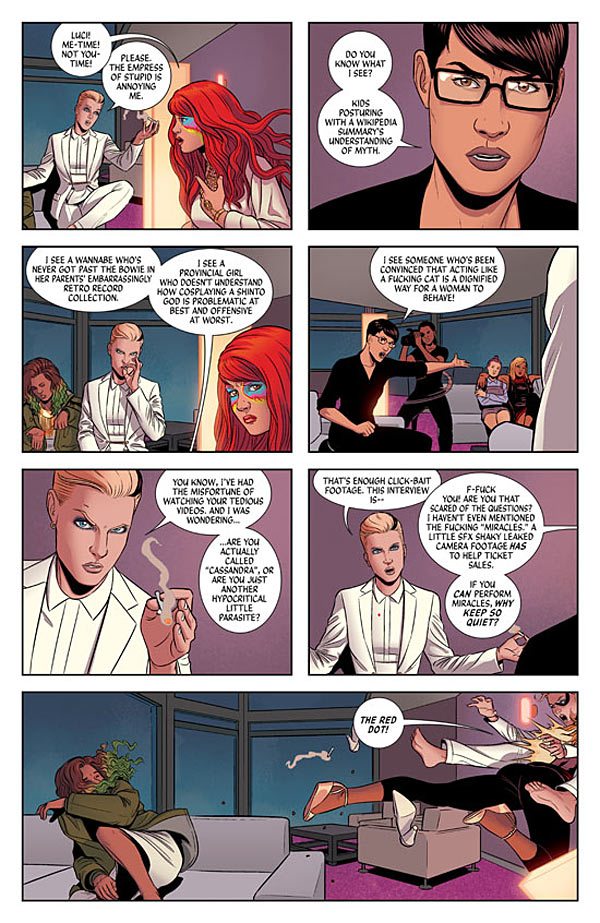 Will You Be Reading The Wicked + The Divine #1?
Will you be reading this series? Let us know in the comments below or via our Facebook or Twitter.