As you might of heard, Spider-Man has not been himself lately. Chronicled in Superior Spider-Man, Doctor Octopus had taken over Spidey's body and attempted to be Spider-Man in his own way. This divided Spider-Man fans. Many loved the idea, taking Spider-Man in new and interesting directions. Others hated the idea, to the point that writer Dan Slott received death threats.
As many assumed, this change was not permanent and Peter Parker is once again in control of his body. With this new-found control comes a new series – Amazing Spider-Man. Written by Dan Slott and art by Humberto Ramos, Amazing Spider-Man kickstarts a brand new, and exciting, era for everyone favourite wall-crawler.
After returning from the dead, Peter Parker has a second lease on life and he is not afraid to waste it. The only problem is, Peter has no idea what went on when Doctor Octopus took over his body. Expect to see the repercussions of his actions.
Peter Parker is not the only one set to return in Amazing Spider-Man #1, with a "recharged and reenergized" Electro also appearing. It will be interesting to see if the character receives a total revamp – closer to that of one that appears in Amazing Spider-Man 2 – or if he will be completely different.
If you are looking to read Spider-Man then this issue is a great jumping on point. Don't stress If you haven't read Superior Spider-Man, as the issue will explain anything you need to know. Dan Slott is a decent writer – having written around 100 issues of the character – so he will not leave the reader in the dark. Additionally, Humberto Ramos is a well established artist, who has dozens of Spider-Man credits to his name. Together, the pair make a great team.
As an added bonus, Amazing Spider-Man also features Inhuman #1, which came out earlier in the month, for free. Inhuman is potentially one of Marvel's next big franchises and is a nice added bonus.
Amazing Spider-Man #1 is available in all good comic book stores and digitally from April 30th. You should be able to find this issue easily as it had pre-orders in the vicinity of 500,000 copies.
Take a look at the variant covers by Alex Ross, Pop Mhan, Marco Martin, Ed McGuinness, Jerome Opena and Skottie Young as well as preview pages from this mammoth issue.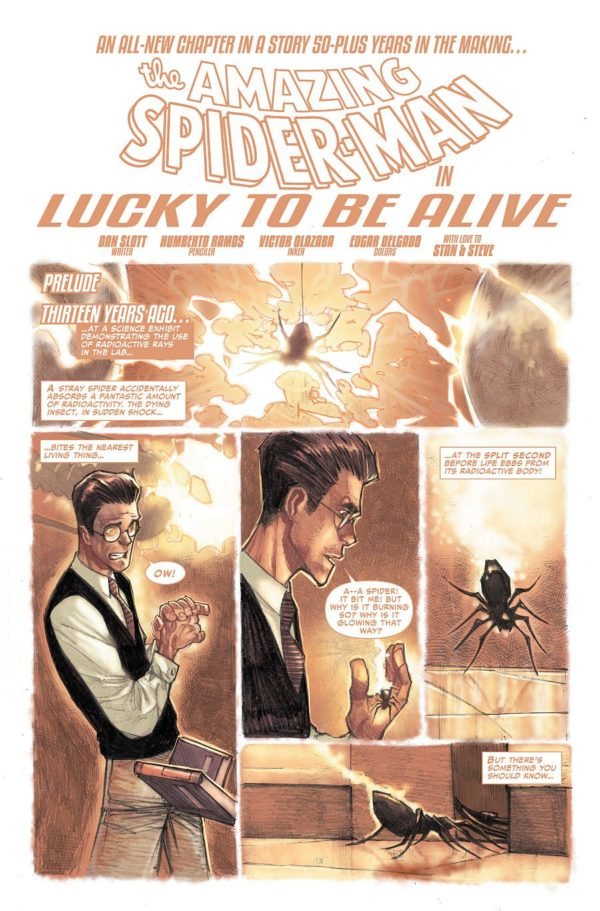 Will You Be Reading Amazing Spider-Man #1?
Will you be reading Amazing Spider-Man #1? Also, are you happy Peter Parker is back – or did you prefer Doc Ock? Let us know in the comments below or via Facebook or Twitter.