From the successful solo movies to the box office juggernaut that was The Avengers, Captain America has never been more popular. If you have seen the movies and you're dying for more Captain America action, I have rounded up the 10 Captain America stories you should read.
There's a lot of variety in this list, with stories representing a wide spectrum of his publication history. Most of these stories are critically acclaimed or fan favourites, some of which you could consider as classics. Overall, there should something for everyone.
Enjoy!
Golden Age Captain America
Written by Joe Simon. Art by Jack Kirby.
These are the Captain America comics from the 1940s, by the original creators Joe Simon and Jack Kirby. They chronicle the adventures of Captain America in World War II and read very much like propoganda, as it was intended in its time.
Comics from the 1940s can be rather clunky and dated, but they are interesting to read if you read them in the right context. I suggest reading a few of the stories from this list before reading this as It will allow you to see how the character has evolved along with comics in general. If you read it in this context you will get a lot more out of the Golden Age Capatina America stories.
The Golden Age Captain America stories are collected through Marvel's Masterworks collections in a variety of hard and soft covers.
Winter Soldier
Written by Ed Brubaker. Art by Steve Epting, Michael Lark and John Paul Leon.
After years of Captain America that was heavily patriotic and a reaction to September '11, Marvel relaunched Captain America with writer Ed Brubaker in charge. The result was a bestselling and award winnering series, full of action and espionage.
The first story out of the gate was the Out of Time arc, which begins with the mysterious death of the Red Skull. His death creates a series of consequences including a missing cosmic cube prototype, and his followers creating a series of terrorist attacks in retaliation.
We are also introduced to the Winter Soldier, who acts as the antagonist throughout the whole series. He is a formidable foe for Captain America and someone who is connected to his past. I wont spoil who it is as The Winter Soldier is a big part of the second movie.
The series was very popular at the time and set Ed Brubaker on a classic run on the character.
The whole Winter Soldier arc runs through Captain America (vol. 5) #1-9 and #11-14 and is collected in one large trade paperback collection and is available on Comixology.
Civil War
Written by Mark Millar. Art by Steve McNiven.
While Civil War is not specifically a Captain America story, he plays a major role with the consequences of it ripple through his ongoing title. The concept is simple: The Government passed an act that required all super-powered beings to register with the government revealing their identity. On one side there was Iron Man, who was for the act, and on the opposing side there was Captain America. This clash of ideologies causes a civil war between the hero community, with almost everyone involved.
Civil War was a huge success partially due to the marketing campaign and the themes it was able to tap into. Marvel marketed the series with slogan "Whose side side are you on?", which generated plenty of debate and exposure to the event. The series was also able to tap into themes government distrust and secrecy of information.
Civil War #1-7 is collected in trade paperback and hardcover. Additionally there are several tie-ins that expand the series further if you want to get more out of the event. It is also available digitally.
The Death of Captain America
Written by Ed Brubaker. Art by Steve Epting, Mike Perkins, Butch Guice, Roberto De La Torre and Luke Ross.
The Death of Captain America is a year and a half long arc that spun out of Civil War and the previous arcs such as previously mentioned Winter Soldier. The story deals with the supposed death of Steve Rogers and who takes up his mantle as Captain america. There isn't a whole lot that I can say about the story without spoiling it, but I do recommend you read The Winter Soldier and Civil War fist for maximum enjoyment.
The Death of Captain America ran through Captain America (vol.5) #25-42 and is collected in three trade paperbacks or one giant one that collects the whole arc. It is also available on Comixology.
Operation Rebirth
Written by Mark Waid. Art by Ron Garney.
When this story was published in 1995 it was thought that Captain America was dead due to a degeneration of the Super Soldier serum. Although, this was not that case as he is saved by his greatest enemy – The Red Skull. In the return for saving his life Captain America must team-up with The Red Skull in order to take down a threat that is in both parties best interest. What threat is this? Adolf Hitler with a Cosmic Cube! Also, will working with his greatest enemy have unforeseen consequence for his role as the U.S.A.'s premier protector?
What makes these stories great is that Mark Waid has a great grasp on all the characters. He doesn't reinvent the wheel with Captain America, just writes him well and writes a great story.
Operation Rebirth collects Captain America (vol. 2) #444-448 and #450-454. This is collected in one trade paperback and is also available on Comixology.
Man Out Of Time
Written by Mark Waid. Art by Jorge Molina.
This 2011 miniseries tells of the early days of Captain America in the modern age as he tries to come to terms with the culture shock from being frozen in ice for half a century and the death of Bucky. Letting his emotions get the better of him, Captain America attempts to acquire a time machine so he can stop Bucky from dying in the 1940s. The problem with this is that it would change the course of time as we know it in catastrophic manner and it is up to the Avengers to persuade him not go through with it.
Captain America's culture shock was something that had not been explored in any detail. Mark Waid was able to take the idea and use it to explore the character.
Man Out of Time was five issue miniseries which is collected in trade paperback form along with Avengers #4. Man Out of Time is also available digitally.
Jack Kirby's Run in the 1970s
Written and drawn by Jack Kirby.
After a stint at DC Comics in the early 70s, Jack Kirby returned to Marvel to write, draw and edit Captain America. The result is a Captain America run that has total artist freedom, which allowed Kirby some big, fun and crazy ideas. It is over the top but in the best way possible. Comics Alliance has a great article on the this run and highlights some of the crazier elements of it.
If you are a fan of Jack Kirby you will love his art. It is expressive and full of weird and wonderful designs. The action bursts off the page and overall is a very fun read.
Jack Kirby's run started with Captain America #193 and ended in #214, with a few annuals thrown in between. These have been collected all together in the Captain America by Jack Kirby Omnibus as well as in black and white in Essential Captain America volumes 5 and 6.
War And Remembrance
Written by Roger Stern. Art by John Byrne.
While Roger Stern and John Byrne's run on Captain America was only short, it left an impact on the series. It elevated villains like Batroc the Leaper, Mister Hyde, and Baron Blood to A-grade status by making them a genuine threat. This allowed for some interesting stories and shows that no character is bad, they just need the right writer behind them.
One of the other memorable things from this nine issue run is that Captain America contemplated running for President. While he never does run for office, it is an idea that I believe works well within the context of the character.
War And Remembrance ran through #247-255 and is collected in trade paperback.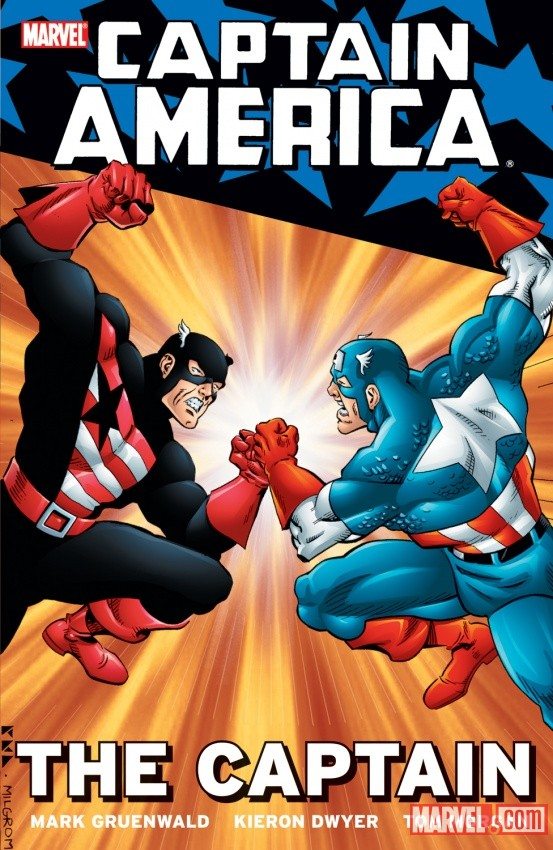 The Captain
Written by Mark Gruenwald. Art by Kieron Dwyer and Tom Morgan.
The Captain, also known as Captain America No More, is an 18 part saga which begins with Captain America being forced to retire due to his refusal to become a government sponsored agent. Afterwards, he decides to act outside the law under the name of The Captain, while his replacement takes a hard-edge approach to protecting the county.
The Captain was an arc full of equal parts action and social commentary, which makes it one of the stand out Captain America stories. At the time it semi controversial, due to his criticism of the government, something he rarely did.
The Captain ran through Captain America #332-350 and is collected in one trade paperback collection.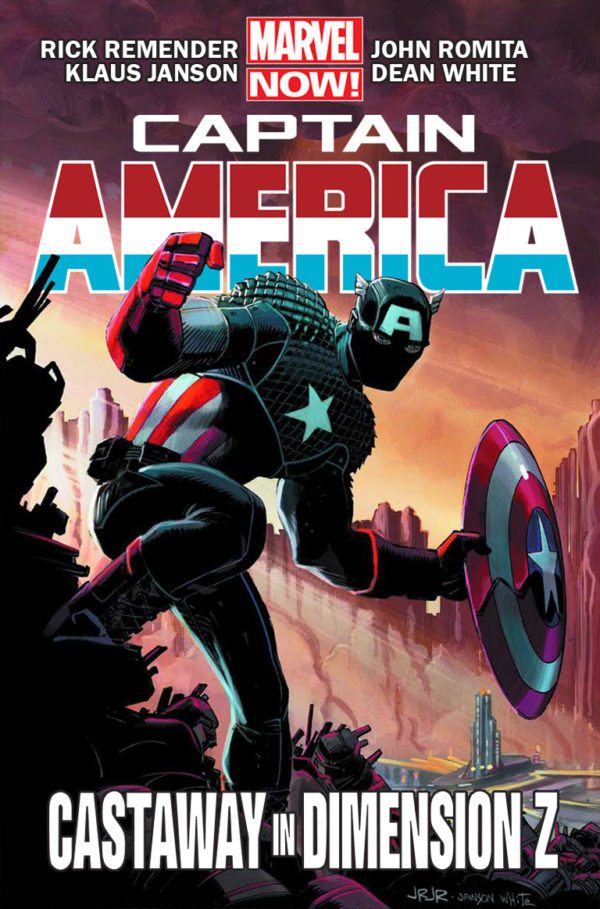 Castaway in Dimension Z
Written by Rick Remender. Art by John Romita Jr.
Of all the stories featured on this list, Castaway in Dimension Z is the most recent. This arc launched the current Captain America series and was overall well received. What is it about? Captain America has been flung into the far-off world of Dimension Z. Stranded in this strange world, Captain America must protect the life of a young boy – the son of Armin Zola – from the harsh world that is Dimension Z.
Castaway in Dimension Z is full of science fiction, pulp-fantasy and adventure, while still having great character moments. Rick Remender is well suited to a story like this, with his speciality being high concept science fiction.
Castaway in Dimension Z ran through Captain America (vol. 7) #1-10. It is collected in two hardcover/trade paperback editions, as well as on Comixology.
What Are Your Favourite Captain America Stories?
I'd be interested in reading about them. Let me know in the comments below or via our Facebook or Twitter.