Variant covers are a large part of comic book collecting with each cover giving readers something new to collect. Depending on who you talk to these covers can be seen as a positive or a negative to the comic book industry, with many arguments on both sides of the fence. This guide will give a general overview of variant comic book covers – from the varieties, where you can find them and the eligibility for ordering.
At their essence, variant covers are comics that have a different cover to that of the regular shipping cover while still have the same contents. They offer up a level of choice for your purchase with the reader being able to choose which cover he/she likes the best when buying comics. The also create collectability as including variant covers makes a collection more complete than just having all the regular covers.
There are many people who have a negative opinion of variant covers who say that their existence is pandering to the OCD aspect of some comic collectors. Their argument is that it is just another way for the publishers to get readers to purchase the same comic multiple times. The other thing that gives variant covers a bad name is a method in which they are ordered with retailers sometimes having to jump through hoops in order to be eligible for them.
Vibrant Varieties of Variant Covers
Variant covers come in all varieties from different artists to a variety of gimmicks. The most common form of variant cover is the use of a different piece of artwork, generally done by different artists. Most of the time these variant covers are used to try different ideas that might not suit the regular cover. This might be through parody or even using an art-style that is not commonly associated with the publisher or title. Fan favourite artists are often used on variant covers as they have a devoted fan-base and generate collectability. Marvel often create a series of variants that follow a particular theme or milestone with art history, Marvel's 50th anniversary or even LEGO being ones they have used in the past.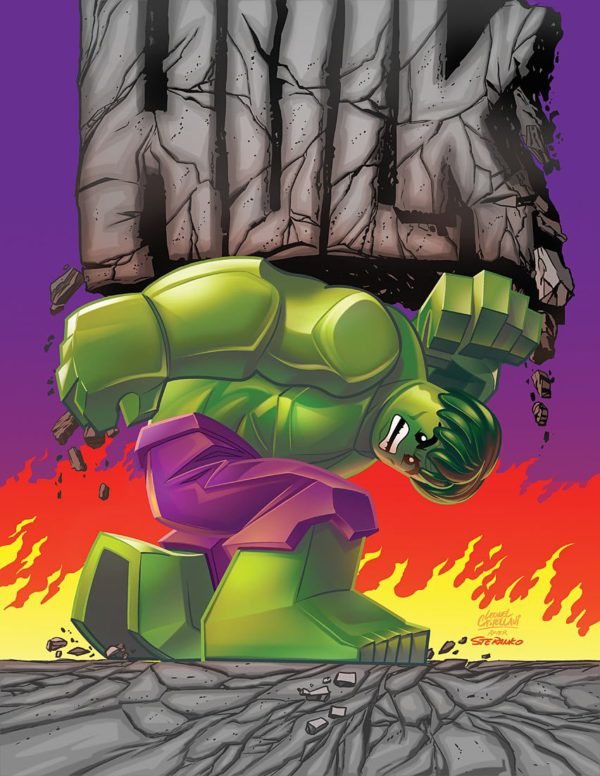 Another popular variant is the sketch cover, in which the process of pencil art or ink work are shown. Most of the time these covers are based off the regular cover and are used for incentives for retailers. Although what makes these covers interesting is that you get to see the artist's process and the pencil or ink stage. For many, showcasing these stages of the creative process is a behind the scene look at the artist at work.
Sometimes an issue is under-ordered and due to demand is forced to go in additional printing and with these new printings come a new cover. Publishers do this as a way of differentiating printing editions but in doing so have created another way of collecting. Generally, these additional printing covers are variations of the first printing. A great example of this was the second printings of DC Comics' New 52 first issues which had the backgrounds recoloured red. While Fatale #1 had 5 printings and for each different printing repurposed existing artwork in different ways.
Then we start getting into fancier forms of variant covers which to many have been seen as a gimmick. These variant covers come in a variety of forms including glow-in-the-dark, foil cover, embossed/debossed and die-cut and often sold at a higher price than the regular cover. A great example of this is the Walking Dead #100 Chromium cover which had a foil trading card property and sold for $9.99. Gimmick variant covers were very popular during the 1990's but were also see to be excessive as they were released too regularly. Due to this, many people have negative opinions on these particular variant covers. I personally don't mind them as long as they are used only for special occasions.
Finally, there is one kind of variant cover that has been slowly increasing in popularity – the blank cover. Called so as it has no artwork on the cover but instead, the thicker card stock encourages for artwork to be created on the cover. These covers are less about collecting and more about creation as many people use these covers as a way of obtaining original artwork from their favourite artists.
How Do Stores Qualify for Variant Covers?
There are many ways that stores can qualify for variant covers which are set by the publisher. The most common way, which the majority of publisher do, is used variant covers as incentives to order more copies of an issue. This could be for every 10, 25, 50 or even 200 copies a retailer orders they are eligible for a particular variant cover.
One variety that IDW has been popularising lately is the subscription variant, which are only available to those who have a particular series in their standing order/pull list. The variant cover acts as a reward for those who buy the series every month but is also helpful for retailers as by having that title in a standing order/pull list helps with their ordering process.
Every now and then publishers will offer particular stores the opportunity for an exclusive variant. This is one that can only be acquired exclusively through that retailer. Most of the time these variant covers are offered to larger stores who order large amounts of comics on a monthly basis.
Although, there has been a new trend that appeared out of nowhere late last year know as the Ghost or Phantom Variants. These are variants that are only available with a select group of retailers but the thing about these are you won't know they exist until a few days before release. You can find out more information about these variants here.
Hunting for Variant Covers
So now you know all about the kinds of variant covers there are you might be asking "Where can I find these?" The best place to start is by asking your local retailers and ask them what variants they have in stock and what variants they are most likely to be getting in. You will more likely be more successful with the larger stores because they generally order in more stock. If you are not near a large store you could try their website. Some good places to start would be Things From Another World, Midtown Comics and Forbidden Planet.
Speaking of online, another place to look for variant covers would be eBay. Keep in mind that prices might fluctuate depending on demand and that first one you see might not always be the cheapest.
Finally, conventions are always a great place to track down variant covers. Not only are many retailers present but artists and publisher may be as well. Depending on the event there might also be variants covers that can only be bought at the convention.
The Cost
The price of variant covers will depend on where you purchase them from, the rarity of the cover as well as demand. The best thing to do is get in contact with your local retailer and see what is the best price they can do.
Have Your Say
Have you found this helpful? Have you got any great tips that should be shared? Let me know in the comments below or on Facebook or Twitter.