Each month I like to showcase some of the new comics that you should be reading. I try and make it varied, mixing up creative ideas, genres and different storytelling to create a list that will have something that will appeal to everyone.
This month there are snotty models, feuding friends, a Chinese Superman, a three-way duel and much more.
Which of these comics will you be reading? Don't forget to tell me in the comments!
If you need even more reading recommendations then there's also last month's list or the new Marvel Jumping On Points column.
New Super-Man
Written by Gene Luen Yang. Art by Viktor Bogdanovic. Published by DC Comics.
Meet Kong Kenan, the New Super-Man of China! In an impulsive act of heroism Kong has become China's newest hero in a time when China is building their very own Justice League.
This new hero will be written by Gene Luen Yang, whose writing credentials include Superman and Chinese Born American. Yang will be able to give a unique perspective on this new character who has been created from the ground up.
You can find more information on New Super-Man, as well as all the other comics as part of the DC Comics Rebirth, here.
New Super-Man #1 is available from July 13th.
Kong of Skull Island
Written by James Asmus. Art by Carlos Magno. Published by BOOM Studios.
This 6-part miniseries is a prequel to the classic 1933 movie which sees what King Kong's life was like before he was taken to New York City to climb the Empire Ste Building. But just because King Kong is in his natural habitat doesn't mean there won't be conflict. He will have to compete with another giant ape, while the local natives also have their differences.
If you're a fan of the original movie, or simply want some Kong action before Kong: Skull Island hits cinemas then this is the comic for you.
Kong of Skull Island #1 is available from from July 13th.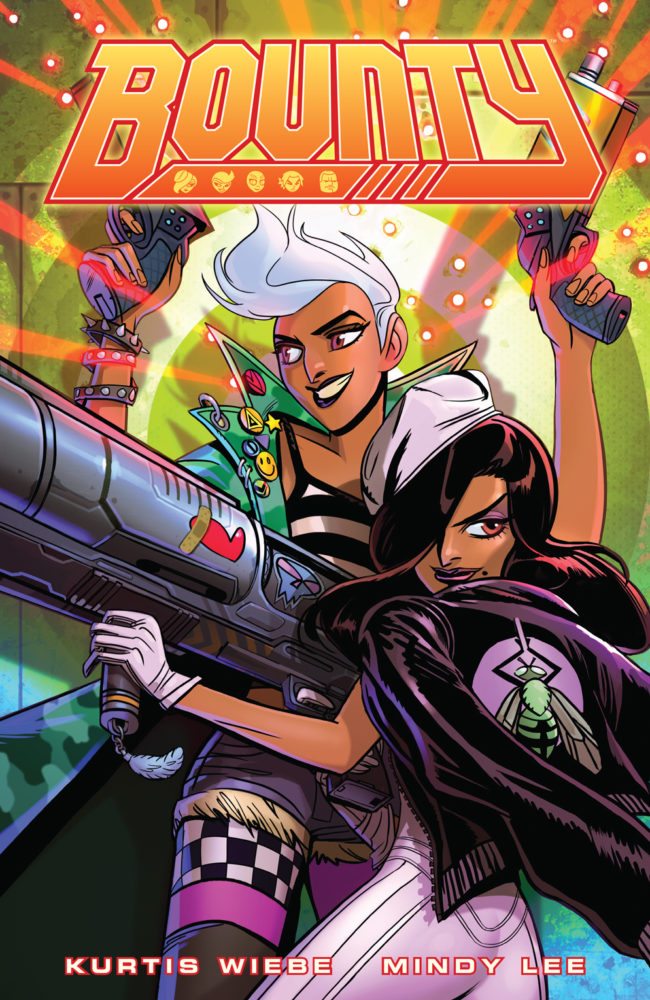 Bounty
Written by Kurtis Weibe. Art by Mindy Lee. Published by Dark Horse Comics.
Kick Ass! Shoot First! Get Paid!
That's the mantra for the new science-fiction bounty hunter series by Rat Queens wordsmith Kurtis Weibe and up-and-coming artist Mindy Lee. The series centres around sisters who were once some of the most wanted criminals in the universe, but with the authorities hot on their tails they've had a change of occupation. Now they're bounty hunters, chasing down intergalactic criminals just like themselves.
Bounty #1 is available from from July 6th.
Justice League
Written by Bryan Hitch. Art by Tony Daniel. Published by DC Comics.
All hell is about to break loose on Earth when an ancient power returns to claim back the entire universe. What's this guy's deal, why does he want the universe? And will the Justice League be able to defeat something so monumental? You'll have to read to find out!
The team will feature a mixture of new and familiar characters including Batman, Superman, Wonder Woman, Cyborg, The Flash, Aquaman and two Green Lanterns. Justice League: Rebirth #1 will reestablish this team for readers, while Justice League #1 will kick off the epic story described above.
Justice League #1: Rebirth #1 is available from July 6th, which continues in Justice League #1 on July 20th.
Adventure Time Comics
Written and art by Katie Cook, Tony Millionaire and Art Baltazar.
The Adventure Time comics are always heaps of fun cover-to-cover, but the one thing that I love the most about them are the short stories in the back from different creators. What if there were a series that was all short stories? Well, you're in luck as Adventure Time Comics is just that!
In the debut issue of this ongoing series we're treated to a trio of short stories featuring an array of citizens of Ooo by the likes of Katie Cook (My Little Pony: Friendship is Magic), Tony Millionaire (Sock Monkey), and Art Baltazar (Aw Yeah! Comics).
Adventure Time Comics #1 is available from from July 20th.
Snotgirl
Written by Bryan Lee O'Malley. Art by Leslie Hung. Published by Image Comics.
Bryan Lee O'Malley, the guy responsible for Scott Pilgrim, has triumphantly returned with the new comic series Snotgirl. Don't let the title gross you out! Snotgirl looks like it could be the next big thing for Image Comics, as we follow the life of fashion blogger Lottie Person. She lives a glamorous lifestyle, with perfect outfits and gorgeous hair, but as you will soon learn that lifestyle might not be all it's cracked up to being.
So why call the comic Snotgirl? Well, under all that perfect hair and outfits is a allergy ridden mess. And at the end of the day, aren't we all a bit of a mess?
Snotgirl #1 is available from July 20th.
Predator Vs Judge Dredd Vs Aliens
Written by John Layman. Art by Chris Mooneyham. Published by Dark Horse Comics.
We've seen Predator and Aliens duke it out in comics, video games and even on the big screen for year, but what if there was a third contestant. Judge Dredd will be thrown had-first into the ongoing battle when he investigates a rogue genetic scientist who has created his own Xenomorphs.
Don't worry if you've never read any Predator, Aliens or Judge Dredd comics before. All you need to know is that none of them will stop until their opponent has been defeated.
Predator Vs Judge Dredd Vs Aliens #1 is available from from July 27th.
Throwaways
Written by Caitlin Kittredge. Art by Steven Sanders. Published by Image Comics.
Throughout the 1950s, 60s and even some of the 70s the CIA had a secret project known as Project MKUltra, in which they developed torture methods and drugs to force confessions through mind control. While in real life the project was a failure, in Thowaways – the new comic by Caitlin Kittredge and Steven Sanders – the CIA were successful. Throwaways follows two modern-day test subjects of the MKUltra who are emboiled in the conspiracy and are looking to escape it all.
If you dig movies like Scanners or the Borne movies then this comic should be on your radar.
Throwaways #1 is available from July 6th.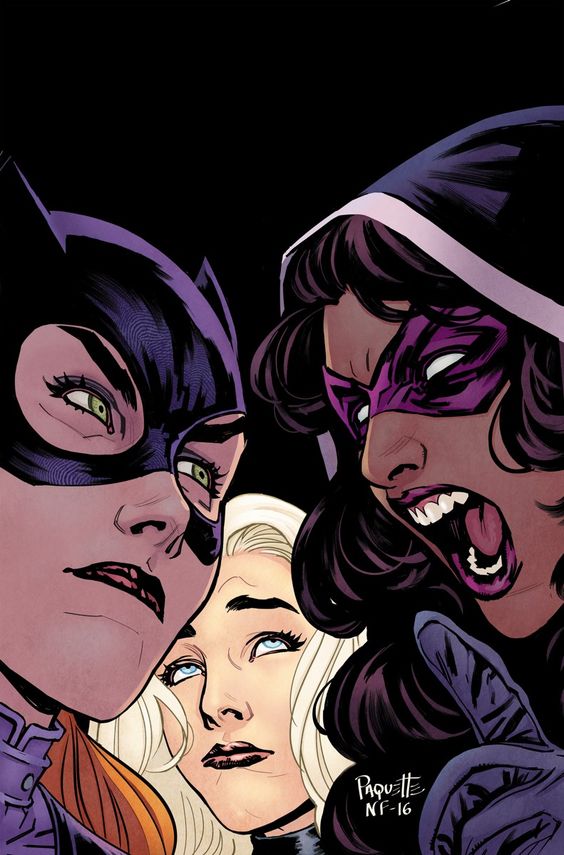 Batgirl and the Birds of Prey: Rebirth
Written by Shawna Benson and Julie Benson. Art by Claire Roe. Published by DC Comics.
The Birds of Prey are back! Batgirl, Black Canary and Huntress have teamed up to track down someone impersonating Orcale. But instead of using Oracle skills and know-how for good, they've been using it to sell secret information to dangerous criminals. Can the team find out who it is? You'll have to read to find out.
Don't worry if you're not familiar with these kick-butt characters as everything you need to know will be explained in this issue.
Batgirl and the Birds of Prey: Rebirth #1 is available from July 20th.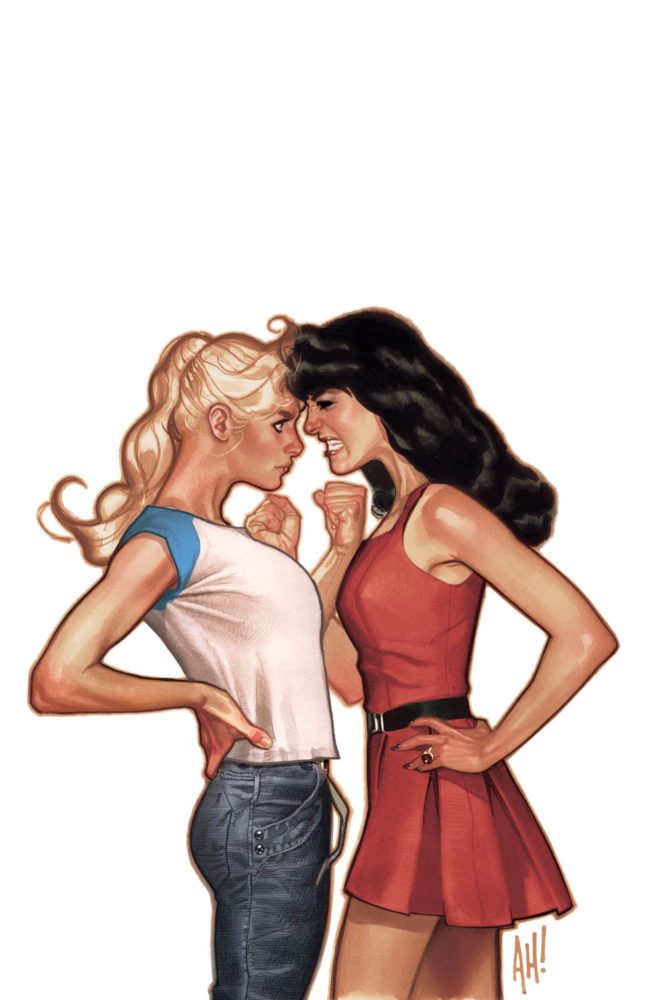 Betty and Veronica
Written and art by Adam Hughes. Published by Archie Comics.
Archie Comics have been kicking goals with their New Riverdale line of comics – featuring stories which take the iconic characters and reinvent them for today while still staying true to their core. So far we've had Archie and Jughead, both of which have been a must read every month, and in July we finally get to see Betty and Veronica. Written and illustrated by fan favourite Adam Hughes, Betty and Veronica will definitely be a wonderful comic to look at.
But what's it about? Pop's Choclit Shop has been taken over by a company akin to Starbucks and when Betty and Veronica discover this it will divide their friendship. Will these two ever be friends again or will this be the feud to end all feuds?
Betty and Veronica #1 is available from July 20th.
What Comics Will You Be Reading This July?
Which of these June comics will you be reading this month? Let me know in the comments below or via the How to Love Comics Facebook or Twitter.
Trevor Van As
Trevor Van As is the founder of How to Love Comics and has loved comics all his life. When he's not reading or talking about comics he can be found eating frozen yogurt and dancing like no one is watching.