From comics to television to film, Batman's origin has been told many times in his 75-plus year history. Each telling and retelling has had its own twist to it even telling something from a different angle or adding a new wrinkle to it. But which is the definitive origin? For me, and many others, it's got to be Batman: Year One. Written by the legendary Frank Miller, art by the masterful David Mazzucchelli and colours by Richmond Lewis, this story from 1986 tells the Batman origin, and the things around it, in a way which is true to the original telling but is expanded upon to be a very satisfying read.
Before Batman: Year One Batman's origin was told a few times in done-in-one stories throughout the years, but with Year One goes further by telling it over four issues. As a result, Year One has greater room to move telling the origin from all angles. In film terms it's like Batman Begins instead of the origin told in the 1989 Batman movie.
Miller is able to tell more than the broad strokes of the origin to shed some light on Batman's early days. We see a Batman who is skilled but still inexperienced. He makes mistakes and isn't able to read the plays as well as the Batman we all know. This is best shown through a fight Batman has with some robbers on a fire escape. His inexperience gets him into trouble when he comes at the situation at wrong angle, risking the life of one of the robbers and receiving a beating at the same time. But throughout the story we see Batman develop into the one we're more familiar with, along with his ingenuity and heroics.
But Batman isn't the only focus with Jim Gordon playing a sizeable role throughout. Currently a lieutenant that recently transferred from Chicago to Gotham, Year One shows the role Gordon played in cleaning up the city's corrupt police force. It shows a man who stands by the law and do what ever it takes to clean up the city, even when he becomes a target of these corrupt police – which includes his partner and the police commissioner. That's not to say he is not perfect. His morals are tested and some of his methods are questionable, especially when it comes to dealing with his crooked partner.
Throughout Year One we also see some glimpses of Selina Kyle (aka Catwoman) in here early days. She's smart and independent, taking shit from nobody. She isn't a huge focus in the story but we do see intermittent glimpses of her as she slowly transforms into the cat-burglar, Catwoman, as inspired in her own way by the work of Batman.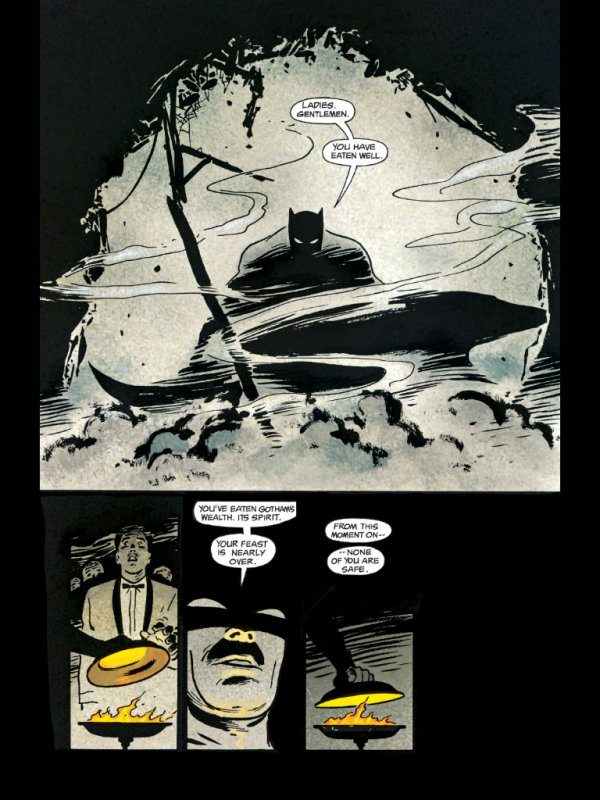 I can't talk about this Batman classic without mentioning David Mazzucchelli's fantastic art. It's a bit looser than most artists of the 1980's, which is relies on his lines than filling in big blocks of black. These lines help the art flow and make for some dynamic art. The way that Batman's cape flows acts is a perfect example of this. Mazzucchelli is very aware of how it should behave as an extension of Batman. It flows behind when he runs, but at many times is wrapped around him as a form of protection. The loose lines also allow for some expressive characters, as they can used both thickly or more subtle to portray certain characters. Even Batman face is expressive, even thought most of it is covered with a mask. The way Batman's mouth is drawn in conjunction with the shape of his white eyes allows the reader to know what he is feeling.
Mazzucchelli's art is helped by the masterful colours of Richmond Lewis. Her muted tones are perfect for the gritty narrative with heavy uses of browns, greys and blues throughout. The use of reads give this great neon glow which help amplify the danger of the situations to the show some of the more undesirable elements of Gotham City.
Batman: Year One is a story that has stood the test of time to stay rigid throughout the multiple continuity changes which DC Comics have done over the past 30 years. It has been referenced, especially with Scott Snyder's Black Mirror story, and has also been inspiration for creating continuity for stories in other mediums – especially Christopher Nolan's Batman Begins. While he did the origin in his own way it's very much structured similar to Batman: Year One.
Overall, Batman Year One is the definitive Batman origin as it has not only been untouched for the past 30 years but also inspired other stories – in both comics and other mediums. By taking what had come before Frank Miller and David Mazzucchelli have been able to explore more of the facets of Batman and his early days as well as those around at the time, such as Jim Gordon and Catwoman. These inclusions have helped define their characterisations and form the basis of other stories going forward ever since. In a day of regular relaunches, reboots and retcons it's an impressive feat for a story like Year One has not been tampered with.
Batman: Year One is collected in a trade paperback and hardcover and can be found at all good comic book stores. It is also available digitally from Comixology, DC Comics app, Kindle, Google Play and iTunes store.
If you're interested in more Batman comics by Frank Miller you can read about The Dark Knight Returns and The Dark Knight Strikes Again. You can also find other articles about Batman here.
Trevor Van As
Trevor Van As is the founder of How to Love Comics and has loved comics all his life. When he's not reading or talking about comics he can be found eating frozen yogurt and dancing like no one is watching.