Each month I like to showcase a batch of new comics that you should be reading. I try and make it varied, mixing up creative ideas, genres and different storytelling to create a list that will have something that will appeal to everyone. This month there's lasagne monsters, bat/turtle team-ups, know-it-alls, job-hunting heroes, World War II pilots and creepy insect women.
Don't forget to tell me in the comments below which comics you will be reading this month!
For those who missed it, you can see what new comics I highly recommended in October and November.
Batman/Teenage Mutant Ninja Turtles
Written by James T Tynion IV. Art by Freddie E Williams II. Published by DC Comics/IDW Publishing.
Yes, you've read that correctly, the Teenage Mutant Ninja Turtles and Batman will be teaming up! The deadly ninjas, known as the Foot Clan, have been making raids all over Gotham City and Batman and the TMNT are hot on their trail making sure that they're are stopped. Expect the best elements of both franchises to come together for plenty of action and maybe even a pizza or two.
Batman/Teenage Mutant Ninja Turtles #1 is available from December 9th.
The Totally Awesome Hulk
Written by Greg Pak. Art by Frank Cho. Published by Marvel Comics.
There's a new Hulk in town by the name of Amadeus Cho. Unlike Bruce Banner, the original Hulk, Amadeus is loving every second of being the Hulk and is having a totally awesome time with it. But what happened to Bruce Banner? Apparently will be an ongoing mystery throughout the series.
The Totally Awesome Hulk #1 is available from December 2nd.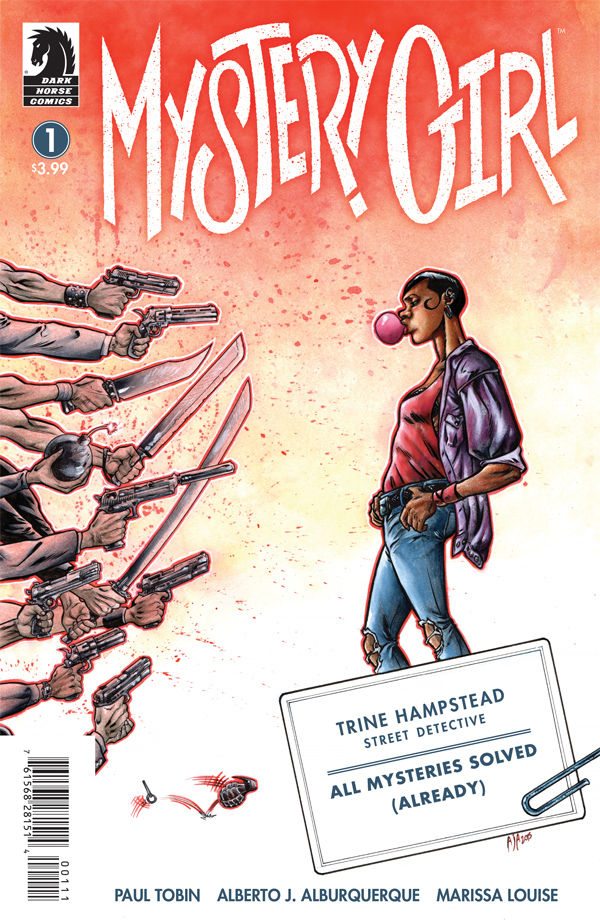 Mystery Girl
Written by Paul Tobin. Art by Alberto Alburquerque. Published by Dark Horse Comics.
Trine Hampstead is a private detective who know everything. When I mean everything, I mean everything. What she doesn't know is how she knows everything or what she has been doing with the last ten years of her life. Expect Mystery Girl to have plenty of humour, crime, action and even urban fantasy.
Mystery Girl #1 is available from December 2nd.
Black Jack Ketchum
Written by Brian Schirmer. Art by Claudia Balboni. Published by Image Comics.
Set in the old west, Tom Ketchum must clear his name when he is mistaken for the infamous outlaw "Black Jack" Ketchum. While he tries to do this he will cross paths with a gun-toting mute girl, a secretive gambler and some supernatural forces. Did I also mention that his gun can talk?
Black Jack Ketchum #1 is available from December 2nd.
Boom! Box Mixtape 2015
Written and art by Various. Published by Boom! Box.
The Boom! Box Mixtape is back for 2015. Last year's mixtape was a fun mix of odd stories and imprint favourites such as Lumberjanes. This year we can expect more of the same greatness with new stories for Lumberjanes, Munchkin, Cyanide & Happiness and swath of others. If you only pick up one comics anthology this year make it this one.
Boom! Box Mixtape 2015 is available from December 16th.
The Violent
Written by Ed Brisson. Art by Adam Gorham. Published by Image Comics.
The Violent follows Mason, an ex-con and former addict who is attempting to put his life back together and give up his old life in order to support his family. But when things get tough Mason falls back into his old life and the crime that comes with it. What follows is a string of violent crimes with big consequences. If you like your crime gritty then this is the comic for you.
The Violent #1 is available from December 9th.
Daredevil
Written by Charles Soule. Art by Ron Garney. Published by Marvel Comics.
After many years of Daredevil being under the guidance of Mark Waid, Daredevil has reinvented himself. Matt Murdock now works as a prosecutor in the District Attorney office and when he is Daredevil he fights crime with a young apprentice.  Additionally, Daredevil will no longer be focusing on Hell's Kitchen, but the dark and seedy underbelly of New York City's Chinatown. If you loved the Netflix series this is the perfect jumping on point, which should have enough familiarities while introducing plenty of new folds to the character.
Daredevil is available from December 2nd.
Symmetry
Written by Matt Hawkins. Art by Raff Ienco. Published by Image Comics/Top Cow.
This science fiction comic book series explores what happens when there's a little bit of trouble in a Utopian society. What if the Earth was too perfect? Expect to see plenty of social commentary in this story which has elements of forbidden love between the two main characters.
Symmetry #1 is available from December 9th.
InSEXts
Written by Marguerite Bennett. Art by Ariela Kristantina. Published by AfterShock Comics.
Set in the Victorian era, two young women discover a power that transform them into horrible insect-like creatures. Using their newly found gift they decent into high society and the occult to solidify a life for themselves. If you are a fan of horror and the supernatural then this comic might be the one for you.
InSEXts #1 is available from December 9th.
Patsy Walker, AKA Hellcat
Written by Kate Leth. Art by Brittney Williams. Published by Marvel Comics.
You saw her in Jessica Jones now read all about her in her own adventures as Patsy Walker, Hellcat, gets her own series. Patsy Walker is out of a job, but that won't stop her from trying to find one. While she struggles looking for one she must also deal with her past in the form of her romance novels, which are all based on Patsy's embarrassing teenage love life.
Also worth noting is this is Marvel's very first series in which every creator involved has been female.
Patsy Walker AKA Hellcat #1 is available December 23rd.
Garfield's Cheesy Holiday Special
Written by Mark Evanier and Scott Nickel. Art by Andy Hirsch and David DeGrand. Published by Kaboom!
Celebrate the Holiday Season with Garfield and his friends in two brand new stories made just for this time of the year. In the first story Garfield and Odie help a girl find her lost dog. In the second story Garfield must stop the Lasagne Monster who has stolen all the lasagne on Christmas Day.
Garfield Cheesey Holiday Special is available from December 2nd.
Dragon Age: Magekiller
Written by Greg Rucka. Art by Carmen Carnero and Terry Pallot. Published by Dark Horse Comics.
Personallu, I don't know a whole lot about Dragon Age but I'm sure if you're If you're a fan of the games then you'll want to check out this new comic series. What I do know about it is that it stars mercenaries, Tessa and Marius, who are eliminating those who use blood magic for nefarious purposes. As you can expect, the latest job they take might just be their last.
Dragon Age: Magekiller #1 is available from December 16th.
Weirdworld
Written by Sam Humphries. Art by Mike Del Mundo.
Becca is like any teenage girl apart from one thing – she's been flung into a strange and dangerous corner of the Marvel universe known as Weirdworld. This is a magical world of fantasy which an be anything and everything and is constantly evolving. Can she she survive this strange world? With the friends she makes along the way theirs always the possibility. It's also worth noting that with Mike del Mundo on art this is going to be a beautiful looking comic, which fleshes out this corner of the Marvel universe with enough justice.
Weirdworld #1 is available from December 16th.
Dreaming Eagles
Written by Garth Ennis. Art by Simon Colby. Published by AfterShock Comics.
Dreaming Eagles tells the story of the first African American fighter pilots in World War II and is inspired by true events. See how these brave pilots did their part in the war against the Nazis. Garth Ennis has written a lot of war comics in recent time and is one of the best in the genre at the moment.
Dreaming Eagles #1 is available from December 30th.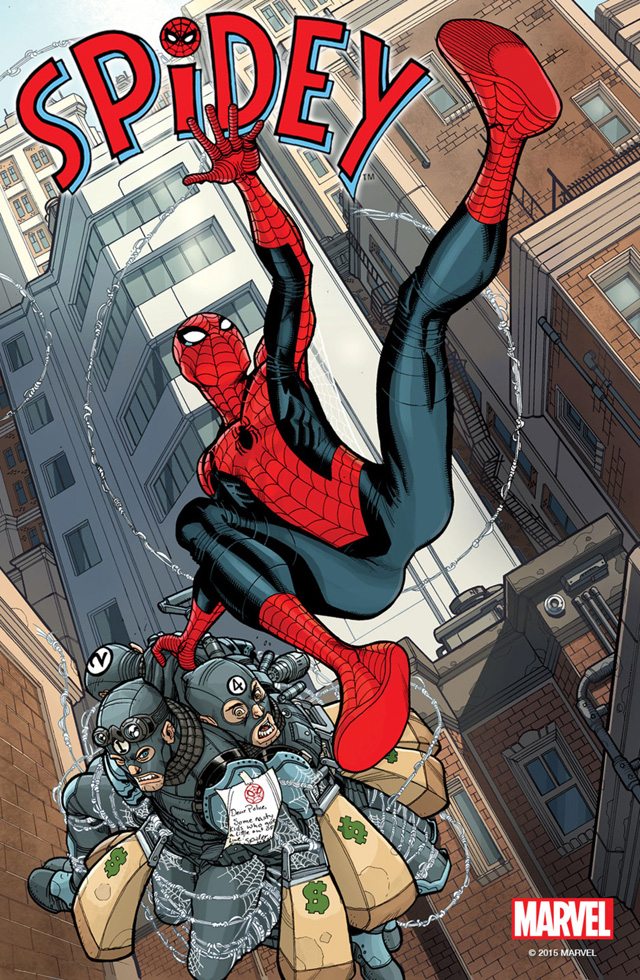 Spidey
Written by Robbie Thompson. Art by Nick Bradshaw. Published by Marvel Comics.
Peter Parker has headed back to school in this flashback series which revisits the early years of Spider-Man with brand new self-contained stories. There's plenty of unexplored territory as the comics back in the 60's didn't really spend much time with Spider-Man in high school, favouring his time in college and in the workforce more. With Nick Bradshaw on art expect plenty of fun and dynamic Spidey action.
Spidey #1 is available from December 2nd.
What Will You Be Reading This December?
Which of these cool looking comics will you be reading this month? Let me know in the comments below or via Facebook or Twitter.
Trevor Van As
Trevor Van As is the founder of How to Love Comics and has loved comics all his life. When he's not reading or talking about comics he can be found eating frozen yogurt and dancing like no one is watching.