"How do I get into comics?" That's a question I regularly asked get by curious readers who have no idea where to start reading comics. To those new to the medium, comics are seen as impenetrable. They notice that some series have been running in various forms for decades or there are just so many titles it's hard to know what to read or begin.
I'm here today to tell you that it's not as hard as you think to get into comics. This simple, yet comprehensive guide, aims to make getting into comics easy and enjoyable as possible. At the same time I'll wipe away some of the misconceptions some new readers have about starting and the medium as a whole.
If you're looking to get your friends into comics check out our How To Get Your Friends And Family Into Comics Guide.
Some Common Misconceptions
These are lots of misconceptions about about reading comics and sometimes these uninformed facts stop potential comic readers diving into the medium – which is a real shame. By removing the misconceptions it will make getting into comics a much easier task.
You Have To Start At Issue #1
Jumping into the middle of a comic book series is a little like turning on the TV and watching the 2nd half of a movie. While you might not know instantly what is going on you will soon figure it out and missing the first half doesn't hamper your enjoyment.
I read a lot of X-Men but I didn't start with issue #1, my first issue was 188. While I didn't know 100% what was going on I soon picked up on characters I was unfamiliar with and it didn't hamper my experience. For anything I was confused about Wikipedia had the answers I needed. As long as you are enjoying the story and/or art it doesn't really matter where you begin.
I've written about not having to read everything that has come before in greater detail.
Comic Books Are Hard To Find
Comics can be found in a lot of places. I wrote about this in Where Can I Buy Comic Books?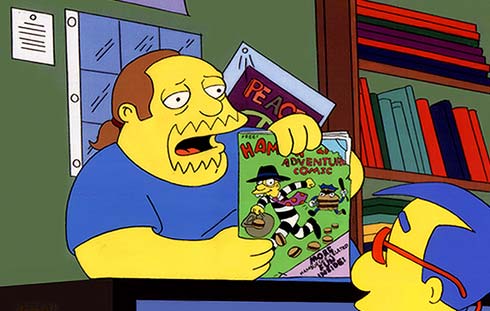 Comic Retailers Are Unfriendly, Like The Guy On The Simpsons
If your only contact with a comic book retailer has been this guy then you have been lead astray. Most comic book retailers are friendly and helpful people. They're willing to have a chat with you about all kinds of things and don't mind answering your beginners questions.
While the stereotype used to be true, in the past 15 years comic book retail has made leaps and bounds to become more professional and accommodating to a wide range of customers.
On the rare occasion that you do meet a retailer that is rude, I have written a helpful guide to combat the rudeness.
Comics Are Only Superheroes
While the most popular comics are superheroes there is a vast array of different genres represented such as science-fiction, humour, fantasy, slice-of-life, horror, crime and many more. Some genres you may need to dig a little deeper to find, but if it's a genre it has probably been done in comics.
Its Too Hard To Figure Out The History Of Series And Characters
While some series and characters have convoluted pasts, this day and age it not that hard to learn their history. With sites like Wikipedia, Comic Vine and a variety of wikis it has never been easier to learn about a character or past events of a series.
Furthermore, most comics are written in a way that will keep readers in the loop with what you need to know about their history. Others will include stories which require no knowledge of past history.
Further to this, it is not required to know the full history and way as most of the character's past is never referenced or after certain period of time is forgotten about.
Simple Steps To Starting
1. Think About What Kind Of Comics You Want To Read
This can be hard at first if you're unsure but here are some simple questions to help you find an answer:
What kind of movies, books, TV Shows or video games do you enjoy?
Which superhero movies did you enjoy?
What kind of stories do you want to read?
When you have those questions answered you can start to think about what comics you might want to read and find out comics which share similarities.
Another way of figuring out what kind of comics you'll want to read is by see what kinds of comics are available. How to Love Comics has an ever-growing reading recommendations section full of comics you should read. There's also a lot of Should Read lists on a variety of topics, characters and themes to help you get started.
2. Take Advantage Of Comics That Are Free
Before you put your money down on something you might not be sure about, you should take advantage of the free comics that are available. This way you can start reading comics without the financial risk. This will not only allow you to get your feet wet with the medium but also you can find out what characters or creators you like.
How to Love Comics regularly highlights free comics here.
2A. Borrow Comics From Friends
If you have any friends who read comics you should tempt them to let you borrow them. Not only is this a free source of comic books but they generally know what stories you dig and can point you in the right direction.
2B. Take Advantage Of Your Local Libraries' Graphic Novel Collection
If your local library has a graphic novels section then you should definitely check it out. The good thing about borrowing from the library is that you can borrow a range of titles and if don't like it you can always return it and borrow something new. Just like borrowing from a friend there is no financial risk – unless you return the graphic novels late!
2C. Comixology Has Free Comics
Comixology, the largest digital comics marketplace, has a feast of free comics that can be read on a variety of devices. Most of the free comics come in the form of first issues, previews and the occasional mini-series from almost every genre imaginable.
You can sign-up for Comixology here.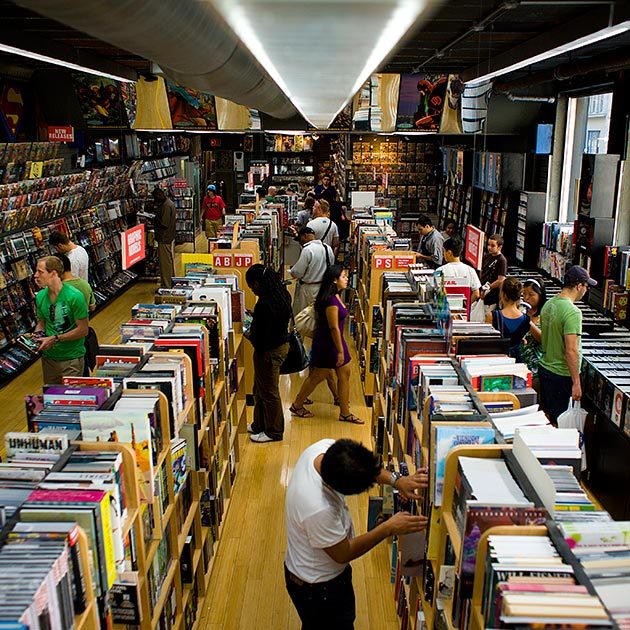 3. Visit Your Local Store
Once you have a feel for comics you should head down to your local comic book store. Don't worry, it's not a scary place. I suggest having a look around and browse the shelf to get a feel of what they sell and what kind of comics come out on a regular basis.
Based on the free comics you read you might have an idea of what stories you want to read. If you're still not sure then talk to a member of staff. They're a friendly bunch and love helping readers discover new comics to read. Don't be scared to tell them you're just getting started as retailers love new readers in their stores.
You can find your closest store using the Comic Shop Locator.
New comic books and graphic novels are released to comic book stores on Wednesdays. You can find out more about this here.
4. Return To Your Local Store Regularly
If you think reading comics is for you, try and make an effort to visit the store on a regular basis. This could mean visiting weekly, fortnightly or even once a month. Although, how regular you visit your store will generally depend on how many comic series you are reading or what your budget is.
If your local store is on Facebook or has a website I suggesting following it so you can keep up to date with all the news and events. Many stores post weekly release schedules, which can be handy for keeping track of when the next issue of your favourite comic comes out.
If you visit regularly enough consider starting a pull-list, something I discuss in Why I believe you should have a Pull List/Standing Order.
5. Slowly Broaden Your Horizons
After reading comics for a while you should slowly broaden your scope of reading. By doing so you will open yourself up to a whole new world of stories, ideas and art that you never knew existed!
This can be done by:
Checking out other work of your favourite creators
As other readers what they are enjoying at the moment
Browsing this website – I try to cover a wide range of comics
When broadening your horizons keep in mind of your budget and go at a pace that is comfortable for you.
6. Get Into The Community Aspect Of Comics
If you are really enjoying comics you might want to discuss them with other like-minded people. This could be by joining an online community such as Comic Vine or Reddit but could also be in the real world through participating in events at your local store or going to a convention.
If you have never been to a comic book convention, here are some handy survival tips.
By getting into the community aspect of comics you will meet people who share the passion of comics and you might even make life-long friends.
7. Get Your Friends Into Comics
Finally, if your friends are curious about comics try to get them involved. Not only will there be additional comic readers in the world but it is always fun when your friends share the same interests. I have done this and now they regularly join me on my visits to my local store.
I wrote about how you can get your friends and family into comics here.
Conclusion
Hopefully this guide has answered the age old question of "How do I get into comics?" as well as removed some of the misconceptions around reading comics.
If you ever have any questions about comics, don't hesitate to ask. All you need to do is get in contact and I will answer your questions as soon as I can.
If you have found this guide useful feel free to leave a comment below or get in contact with me through Facebook or Twitter. How to Love Comics is also on Good Reads.
Trevor Van As
Trevor Van As is the founder of How to Love Comics and has loved comics all his life. When he's not reading or talking about comics he can be found eating frozen yogurt and dancing like no one is watching.