Wolverine is hands down the most popular member of the X-Men and has been able to transcend comics into popular culture. Along with characters like Spider-Man he has become one of the most recognisable characters in the Marvel Universe. By doing so Wolverine has starred in countless video games, animations and films – along with thousands of merchandise items.
With the second film out in cinemas I thought it would be appropriate to spotlight some of the best Wolverine stories. Below are the Wolverine stories you should read.
Wolverine
Written by Chris Claremont. Art by Frank Miller.
A four issue mini-series, "Wolverine" acted as the first volume of solo adventures for the character and was created by industry heavyweights Chris Claremont (Uncanny X-Men) and Frank Miller (Sin City, Daredevil). This story sees Wolverine fight his way through Japan in order to stop the woman he loves marrying another man. Plenty of big action, ninjas, organised crime and, of course, Wolverine.
The Wolverine (the 2nd solo film) borrows many aspects from his classic story and is very much worth a read for the great story. The art by Frank Miller is also top-notch with it being in a similar ballpark to his classic Daredevil work.
Wolverine is available in trade paperback and hardcover and is collected along with Uncanny X-Men #172-173.
Wolverine: Origin
Written by Paul Jenkins. Art by Andy Kubert.
For the longest time Wolverine's origin was very much unknown, not even he knew much about his past. In 2001 that all changed with Wolverine: Origin when Wolverine was given an origin.
Set in the 19th century British Columbia, Wolverine: Origin tells the story of how childhood friends become bitter rivals. It also includes how Wolverine's mutant powers manifested and the consequences of it.
X-Men Origins: Wolverine borrowed many ideas from this mini-series, especially at the start of the film.
Wolverine: Origin is in the process of getting a sequel, which will be available some time in November.
Wolverine is available in trade paperback, on Comixology as well as being easy to track down on eBay.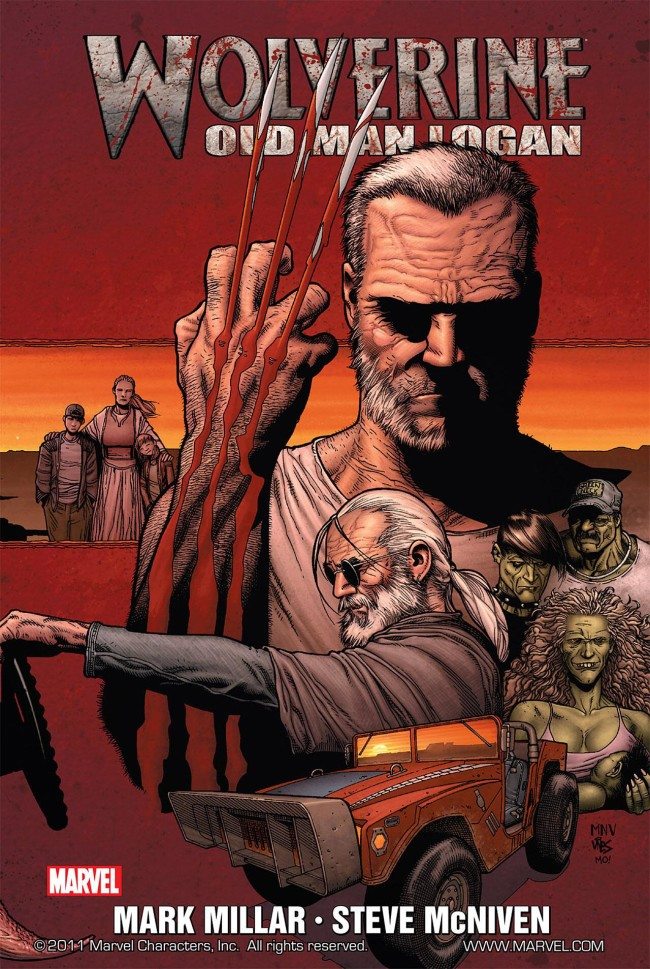 Wolverine: Old Man Logan
Written by Mark Millar. Art by Steve McNiven.
Set 50 years into the future, Wolverine is now an old ma vowed never to use his claws again. In this future all the heroes have been killed by the villains and parts of the country are ruled by inbred descendants of the Hulk. Then one day an old friend appears wanting his help. Wolverine must now travel through a villain infested America and be a hero once again.
The series was well received by critics and fans and is great self-contained read.
Old Man Logan was told in Wolverine (2003) #66-72 and has been collected in trade paperback, hardcover and on Comixology.
Wolverine: Logan
Written by Brian K Vaughan. Art by Eduardo Risso.
After the reality warping events of House of M (2005), Wolverine regained all his memories of past. This opened the door for some great Wolverine stories and Wolverine: Logan was definitely one of the best. Writer Brian K Vaughan (Y: The Last Man, Saga) and artist Eduardo Risso (100 Bullets) were able to take this new found freedom and used it to create a new take on the character.
Wolverine returns to Japan to settle an old score with someone that he met during his time in the 2nd World War. The mini-series has many references to Wolverine's time in Japan during World War II and there is even a scene that was used in The Wolverine. Although, I wont spoil which on it is.
Wolverine: Logan was a 3 issue mini series that is collected in trade paperback and available on Comixology.
Weapon X
Written and art by Barry Windsor-Smith.
Even though Wolverine had been around since the late 70s it wasn't until 1991 when Marvel finally explained Wolverine's metal claws and extreme rage.
The story details his time at Weapon X and the procedure to fuse adamantium to his bones that took place against his will. Due to the extreme nature of the procedure Wolverine has become pure rage and is desperately wanting revenge. The interesting thing about story is the majority of it is told through the perspective of three members of the Weapon X program. With this in mind the story takes on a slasher film formula with a berserk Wolverine looking for revenge.
Weapon X is able to flesh out everyone's favourite X-Man and explains how he became the person he is today. It is a story that has had various elements of it used in X-Men 2 and X-Men Origins: Wolverine.
Weapon X was serialised in Marvel Presents #72-#84 and is also collected in trade paperback, hardcover and on Comixology.
Honourable Mentions
Greg Rucka's Wolverine Run
Everyone's favourite X-Man must use all his abilities to defeat Waitresses, arms dealers, human traffickers, pregnant crime lords, bad dreams and feral female fighters. The series was critically acclaimed and enjoyed by the majority of fans.
All 19 issues of the run are collected in one large volume.
Wolverine: Enemy of the State
Mark Millar (Kick Ass) and John Romita Jr (Kick Ass, Daredevil) tell the story of a Wolverine who has been brainwashed by the organised crime group, The Hand. The brainwashed Wolverine then goes onto cut his way through friends and foes without any consideration to the consequences. Can the X-Men and Fantastic Four stop him before it is too late? Or is the damage already done?
Enemy of the State was a year long story serialised in issues #20-#32 (of the 2003 series). You can find this story collected in trade paperback as well as on Comixology.
Astonishing Spider-Man & Wolverine
Spider-Man and Wolverine are lost through time and things can only get worse for them.
The 6 issue mini series is collected in trade paperback as well as on Comixology.
Have Your Say
Do you agree with this list? Did you read any of the stories based on our recommendations? If so, you can let us know in the comments below or on via Twitter or on Facebook.